About this Event
PLEASE NOTE THAT THIS IS AN ONLINE CHALLENGE AND SO CAN BE DONE ANYWHERE IN THE WORLD.
YOUR $10 (accountability deposit) IS FULLY REFUNDABLE AND WE ARE ABSORBING EVENTBRITE'S FEE (so this will actually cost US money) AS LONG AS YOU COMPLETE THE SIMPLE TASKS DESCRIBED BELOW
All 'Profit' will be donated to a Charity - a poll will be taken in the group as to which charity will benefit.
READ THIS!
DON'T MISS OUT, YOUR HEALTH DEPENDS ON IT
It's Time!
To Get Out Of Your Own Way and make the necessary changes in your life so YOU can Wake Up and Step Out with that Smile!
Yes I'm 57, but I have refused to accept that as we age we are expected to look old and frail!
Ladies, it is a choice!
The good news is that I have done the hard yards and am making it my mission to be there for women and give them not only the HOPE, but the information and tools they need to enjoy every day of their life to the fullest!
So, we at Her Smile are inviting you to accept this Fitness Challenge.
I created Her Smile to help women discover their Gorgeousness so they can step out with confidence and a smile. Women are frightened to step out of their comfort zone, and for that reason they don't achieve their dreams and goals.
I understand, I know what that is all about. My journey to get to this point has been a really scary one, believe me.
Here at Her Smile we believe that you are what you Do, Eat, Think and Wear. We cover all these basis because if you get them all right you step out feeling amazing, confident beautiful and that's what we want YOU to do.
So, Where do YOU start?
I have worked hard to understand where the best place for YOU to start would be, and I have created the Ten Day 'Get Started' challenge.
It is very simple.
If you have two legs and can walk, then you can manage this challenge.
In this challenge we address the first 3 things that we believe and that is what you Do, Eat and Think.
Benefits:
1. Strengthen your Pelvic Floor
2. Learn creative ways to do your daily exercise
3. Meet like-minded women, have fun and make new friends.
4. Improve your posture
5. Learn some new healthy recipes
It is completely free except that there is an accountability deposit.
Why?
Because if you don't have some money in the game, experience has taught me that you just won't take it seriously, you'll opt out really quickly. But If you've paid ten dollars, then when you wake up in the morning you'll think "I better just get up and do it'.
But just know that the $10 is fully refundable, it is a free challenge, I'm giving it to you for nothing! It is highly motivating. The women that do it get the most amazing results and are so excited because they get wonderful support from the other women in the group.
It's so much fun!
In the January challenge there were 21 women from 5 different countries, which just goes to show that you can do it anywhere.
We are asking you for a $10 deposit. This is fully refundable if you COMPLETE ALL the tasks set for you each day for the total ten days. They won't be difficult and will be very motivating and a lot of fun.
They will include:
1. Completing the simple exercise task (variations of walking) set for each day, for ten days.
2. Posting a Photo OR a short video of you doing it into the private Facebook Group each day before midnight.
3. Completing the simple recipe task over the ten days.
I'm talking to YOU today and I'm saying, 'We need to get you started, it's not difficult, if you can walk you can do the challenge'.
What do you do next?
1. Pay your $10 deposit.
2. I will then invite you into the Her Smile 'Get Started' Facebook Group
The challenge starts on Saturday 15th February 2020 and ends on 24th February and you can do it anywhere.
STOP PROCRASTINATING!
It is the biggest killer of all dreams, but most importantly your Health!
If you don't have your health, you don't have anything.
You can't be smiling if you are not feeling well.
It is an Awesome experience and this is what some previous particpants had to say:
'Adèle thank you! Getting me up walking, let alone moving, in the morning, is thanks to you putting this challenge together and all the other ladies here on Facebook through the sharing and support. What a wonderful, friendly and fun group of ladies we all are.👍🏻💖💐😘'
'️Adele thank you for letting me participate in the challenge. It's been lots of fun. I loved meeting all the ladies, I learnt lots of lessons and I'm going to put them all to good use. 😊
If you complete it all you will be setting yourself up both mentally and physically for a successful start to a healthier YOU!
Let's DO this!
2020 is going to be YOUR year ❤️️
Please note that your participation is at your own risk. Please get the necessary medical clearance before you commence. Please also note that Adele Haussmann and her team at Her Smile are not responsible for you or your belonging's safety when actioning the tasks.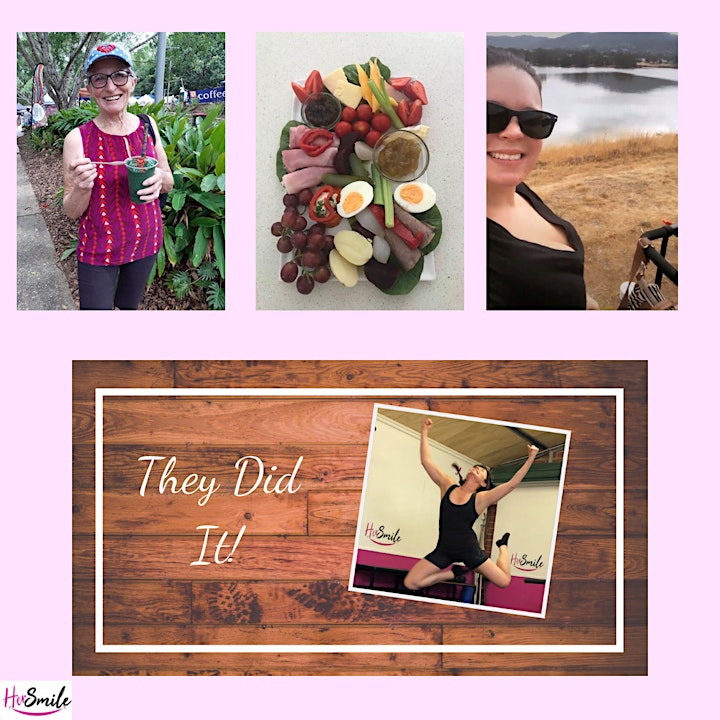 The Her Smile 'Get Started' January Ten Day Challenge was a Roaring Success!😊
We watched the ladies in the group's Confidence and Smiles Grow!
We are so excited to let you know that the Her Smile 'Get Started' January Ten Day challenge has just finished and we had 21 ladies from 5 different countries participate.
It was an extraordinary experience watching Women of all ages, from different countries under very different circumstances, successfully complete the tasks.
It has been an Awesome experience and this is what some of them had to say:
I had great fun sharing this challenge with you all. It was fun, easy to follow and changed my mind set about what I can really do when I really try. Thank you to Adele for being so creative and pushing us all to be the best we can for ourselves and others.
Traffic lights: pelvic floor on; walking: bottom muscles on! Stretching: great for waking up our body and after exercising; saying no to certain food: difficult but not impossible; dancing: having fun moving and great for emotional well-being; and the list goes on...
Thank you everyone for sharing this personal journey with the group. I hope we will see each other in another challenge! ❤️
'️Adele thank you for letting me participate in the challenge. It's been lots of fun. I loved meeting all the ladies, I learnt lots of lessons and I'm going to put them all to good use. 😊❤️️'
Our February Ten Day Get Started challenge commences 15th February.
We are limiting the numbers for individual attention, so get in quick!