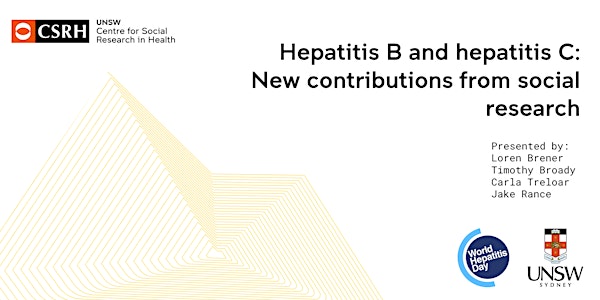 Hepatitis B and hepatitis C: New contributions from social research
Research findings presented by Loren Brener, Timothy Broady, Carla Treloar, Jake Rance and chaired by Joanne Bryant
About this event
Celebrating World Hepatitis Day, the Centre for Social Research in Health is hosting a seminar to showcase the newest research and outputs focused on priority communities for hepatitis B and hepatitis C.
Highlights include:
• The latest findings from the Australian National Stigma Indicators Monitoring Project, presented by Dr Tim Broady.
• An overview of recent surveillance and other research focused on hepatitis B in Australian Chinese and Vietnamese communities, presented by Associate Professor Loren Brener.
• An introduction to Vital Voices, an ARCSHS-led project that has produced an online website to share experiences about hepatitis C treatment, presented by Professor Carla Treloar.
• The launch of the 2022 Annual Report of Trends in Behaviour Viral Hepatitis edition, by Dr Jake Rance
Speakers
Associate Professor Loren Brener's research focuses on stigma and discrimination experienced by people living with blood-borne viruses such as HIV and viral hepatitis and the impact of this on health outcomes and quality of care. Her research is grounded in social psychology and aims to advance theoretical understanding as well as practical outcomes for marginalised and vulnerable groups.
Dr Timothy Broady is a Senior Research Fellow at the Centre for Social Research in Health. His current research interests include addressing stigma and discrimination among communities affected by blood-borne viruses, HIV prevention, and the lived experiences of marginalised groups within society.
Professor Carla Treloar is Scientia Professor and Director of the Centre for Social Research in Health and the Social Policy Research Centre. She conducts applied research that can be used by affected communities, policy makers and health practitioners to improve health system and societal responses.
Dr Jake Rance is a Research Fellow at the Centre for Social Research in Health and has worked for over two decades in the drugs and BBV field, as both clinician and social researcher.
Chair
Associate Professor Joanne Bryant leads a series of ARC and other funded research projects focussed on sexual health, viral hepatitis and substance use among young people. She is a social scientist trained in sociology and epidemiology.
Register through Eventbrite now, and you will be sent the Zoom link to this event before the start.
Need assistance to register for this seminar? Ring +612 9385 6776.