Multiple Dates
Helping Clients Succeed: Filling Your Pipeline 1-Day Workshop
Description
Most salespeople and sales teams may have already missed their goal and don't even know it!
After more than a decade of working with literally thousands of sales professionals all over the world, we've learned:
The prospecting techniques that worked so well in the past simply won't work today.
Sales pipelines are too small and full of opportunities that will go nowhere.
While sales teams are working harder and faster than ever, they are focused on the wrong activities.
Most companies won't realise they've missed their goals until it's too late!

A New and Effective Approach to Prospecting With a Measurable Return on Investment
Sales professionals face a great number of challenges and obstacles in their day-to-day initiatives. Chief among them - filling their pipelines with targeted high-quality leads and opportunities. They make hundreds of calls, send dozens of emails, and only have a handful of appointments to show for it at best - it's so frustrating!
What if there was an effective, predictable alternative to traditional prospecting that could turn the cycle around and generate unprecedented conversion rates - would you be interested?
FranklinCovey's Filling Your Pipeline program has been designed specifically for sales leaders, sales teams and for individual salespeople who are looking for new and effective alternatives to traditional prospecting methods.
Learn How to Increase Your Sales Pipeline With Alternatives to Prospecting
Helping Clients Succeed: Filling Your Pipeline has been designed to guarantee a clear and significant return on investment. From start to finish, participants work on current deals while tracking and reporting their progress.
OUR PROMISE: You and your sales team can get significantly better at filling your pipeline as you apply the mindsets, skillsets and toolsets of top performers over the course of this one-day workshop and by following an expert designed playbook process to help participants apply what they've learned over the following 12-weeks to ensure sustained behavior change.
In this one-day interactive work session, participants will:
Identify the mindsets and behaviors of top performers.
Establish specific prospecting goals to ensure a measurable return on investment at the end of the 12-week implementation process.
---
Challenge conventional, ineffective thinking and make a conscious decision to approach prospecting using "reason vs. random."
---
Learn to focus intent on helping their clients succeed by applying the science of persuasion and by seeking mutual benefit.
---
Uncover specific criteria that can predictably score prospects based on the likelihood of becoming clients.
Identify and target current prospects using the prioritize tool.
---
Discover new resources and tools for gathering research.
Develop a strategy to create and maintain a solid referral network.
---
Gain the confidence needed to overcome objections and push-backs by anticipating them beforehand.
Create carefully scripted opening statements that will pique interest and get meetings.
Develop a framework for creating effective sales kits.
---
Commit to implementing the strategies and tools over the course of 12-weeks to ensure a sustained change in behavior.
Follow a guide of practical weekly activities that deliver real world results
Be supported with a selection of implementation and coaching videos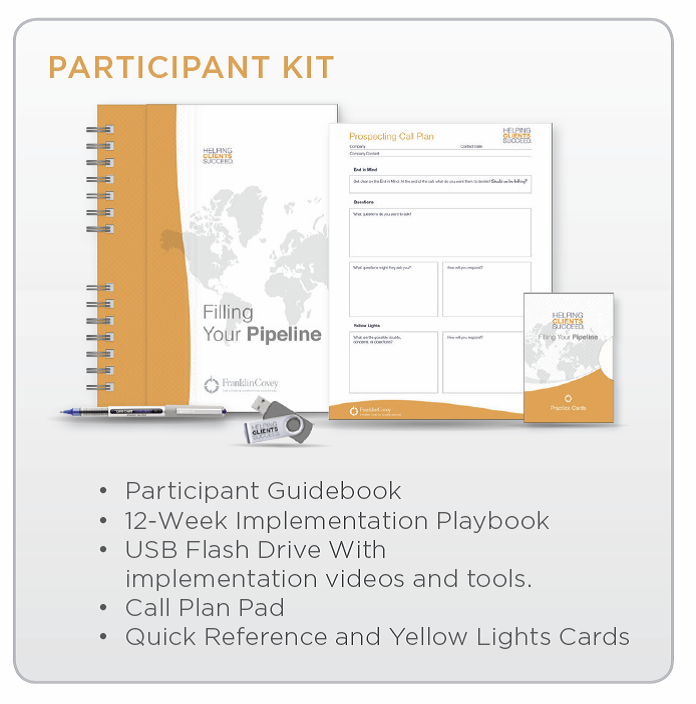 Helping Clients Succeed: Filling Your Pipeline 1-Day Workshop
This unique program has been designed specifically for sales leaders, sales teams, individual salespeople or anyone who finds themselves in a revenue generating role and are looking to significantly and immediately boost their sales pipeline through a proven approach that will produce lasting results.
Please keep in mind this is not a typical training event you attend for one day. This is a unique 12-week process that merely starts with an interactive workshop where we share a combination of proven, timeless principles connected with the new skills and tools you need to attain your prospecting goals.
Join us for a transformational experience that focuses on how sales professionals can implement new approaches that build strong, successful pipelines full of opportunities that close.