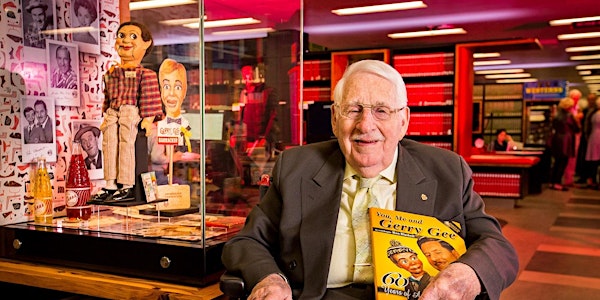 'Hello girls and boys': Early Melbourne TV ventriloquists
Event Information
Location
Dulcie Hollyock Room, ground Floor, Baillieu Library
Description
Clowns, magicians and ventriloquists were staples of live-to-air children's television during the 1950s and 60s. Derham Groves will briefly introduce some some early, live, children's TV shows in Melbourne, including The Tarax Show on GTV-9, The Happy Show on HSV-7 and The Children's Club on ABV-2. He will then discuss the fascinating careers of three, highly talented, local ventriloquists and their unforgettable dolls: Ron Blaskett and Gerry Gee, Ian Williams and Sylvester the Talking Sock, and Alan Rowe and Kimbo the Koala.
This free public program is presented as part of Tee Vee at Sixty - an exhibition at the University of Melbourne's Baillieu Library, marking the 60th anniversary of television in Australia. On display from 2 August to 30 January 2017, the exhibition is located on the ground floor and third floor of the Baillieu Library. The exhibition includes vintage TV sets showing news footage from the GTV-9 archive from the University of Melbourne Archives, as well as material relating to The Mickey Mouse Club, The Tarax show, TV Westerns, TV dining and TV knitting.
Re-live the early days of television in Australia by attending the public events to be held in the Dulcie Hollyock Room, ground floor, Baillieu Library, in conjunction with the exhibition. For further information about the exhibition Tee Vee at sixty and other public programs accompanying the exhbition, visit.
Date and time
Location
Dulcie Hollyock Room, ground Floor, Baillieu Library