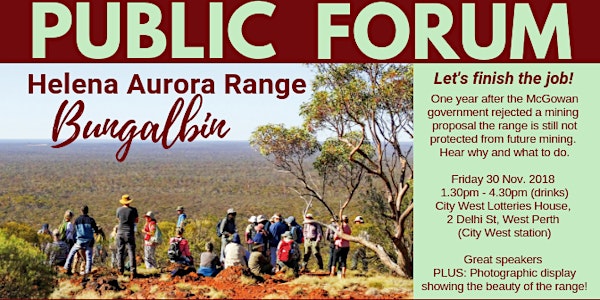 Helena Aurora Range (Bungalbin) - Let's finish the job!
Location
City West Lotteries House
2 Delhi Street
West Perth, WA 6005
Australia
Description
A FREE public forum – ONE YEAR since the McGowan government promised to protect Helena Aurora Range (Bungalbin) and 'explore options for establishment of a Class A reserve' – how far have we got? How and when will the government fulfil its commitment to securely protect the Range? While the public wants this to be an assured success, there is a sense of urgency that it be achieved in a timely manner. What's to be done?
Guest speakers will present what we know about Helena Aurora Range (Bungalbin) – its conservation values, existing mining tenements, tourism potential, significance in the Great Western Woodlands - and how each of these relate to the process of creating a Class A reserve over the Range. Government representatives have also been invited to explain the processes required to secure its protection.
The forum will feature a photographic display showing the beauty of the range and will finish with celebratory drinks to acknowledge that the Range has, for now, been saved from mining - thanks to strong community support. Venue: Conference Room at City West Lotteries House, West Perth.