Description
HEAVY VEHICLE ACCESS FORUM
The key objectives of the Forum are:
To inform industry, hauliers and Councils of their roles, responsibilities and opportunities under the Heavy Vehicle National law and what the National Heavy Vehicle Regulator (NHVR) is doing and has planned to assist them.

Showcase how some industries are changing truck configurations to improve productivity.

Showcase examples of local government and how they are reducing red tape and boosting their economies.

Sharing experiences by Councils, the NHVR and hauliers to find solutions to improve freight productivity.

Allow hauliers to identify regulatory and network issues to improve industry requirements.
Who should attend:
Industry

Hauliers

Council + NSW Government
For more information about this Forum event, please refer to the below Draft Agenda or contact the Economic Development Office via telephone: 02 4429 3388 or email: EDEvents@shoalhaven.nsw.gov.au
Register for this free event now by clicking on the REGISTER button on this page to secure your free ticket to this Forum. The Forum is to be held in The Gallery Room at the Shoalhaven Entertainment Centre located at 42 Bridge Road in Nowra on Tuesday, 8 August 2017. Lunch will be provided.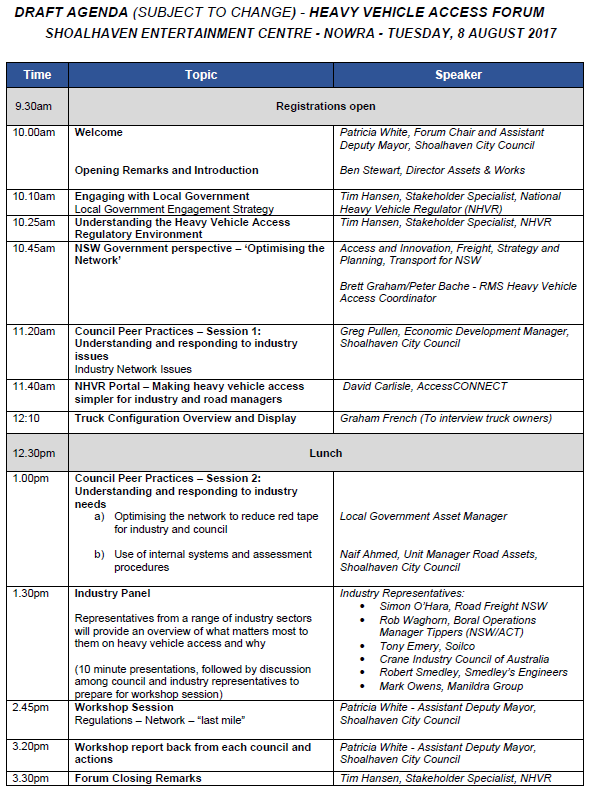 This event is bought to you by the Economic Development Office of the Shoalhaven City Council and the NHVR.