1/2 Day retreat. Return home to your radiant heart through a powerful breathwork journey guided by Adelaide Wilkinson from True to Self
About this event
Activate. Release. Awaken.
Return home to your heart center
Join us for a fun and beautiful retreat of heart expanding breathwork, movement, nurturing food and sharing circle to transcend the busy headyness of the mind and drop into your heart centre.
Held at the beautiful Swami's retreat surrounded by nature, we will be supported by this conscious space, connecting to the outdoors, the breath, likeminded people and nourishing food.
To begin: We will start with a heart expanding journey combining the powerful practices of breathwork, conscious movement and meditative techniques to open and connect with our body, nervous system and to activate our energy.
The breathwork Journey will take us on a beautiful sacred journey of releasing self doubt, self criticism, beliefs of not being good enough to allow us to return home to our radiant heart. To experience a greater depth of presence within yourself, full of love, compassion, trust and natural joy.
We use conscious connected Breathwork which is an activating, powerful technique for accessing, moving and releasing stored energy. letting go of all that which no longer serves you.
Through your journey, many things are possible, including accessing higher states of consciousness, releasing old pain and trauma, connecting to spirit, letting go of physical pain, forgiveness, release of heavy emotions such as anger, guilt, shame, and access to purer lighter states such as bliss, ecstasy, clarity of mind, peace and connection to purpose.
Closing with a sharing circle we will spend time integrating our experiences together and supporting one another in our new anchoring in the heart. We will share our experiences, discuss how to lead with the heart and identify self love practices to centre yourself consistently in the heart.
Closing the day with lighter hearts, feeling more connected and free.
EXCHANGE: $90 per person or $160 for 2
WHAT TO BRING: Bringing your own mat and cushion is essential.
ABOUT Adelaide:
Adelaide is a certified life coach, yogi, breathwork practitioner, adventure seeker and founder of True to Self.
Adelaide is a playful, humble and courageous woman devoted to living a life true to herself. She brings a lightness of being to her offerings that will encourage you to show up with complete sincerity; challenging you to expand and grow. She is a supportive big sister who sees your potential and is there with you every step of the way. She will help you rediscover what truly matters, reignite your passion for life and support you on a journey to living authentically and experiencing the fulfilment you deserve.
ABOUT TRUE TO SELF :
'True to Self' is about rediscovering your inner compass to navigate a path of living where you can show up every day authentically as yourself, whether at work, in the community, or with your friends and family.'True to Self' is about taking radical responsibility for your life, full ownership as the captain of the ship. Only then can you navigate a path forward aligned to who you are.The technologies and techniques offered by 'True to Self' will guide you on your journey of self-discovery and support you to express yourself authentically, courageously and wholeheartedly in the world.
WHAT CLIENTS SAY:
"Thank you for another amazing class. When I signed in, it's like you know exactly what I am needing. I finish each session with such a still and clear mind – It's amazing. I'm looking forward to the next few days". - Gria Meakin
Spring Reset Retreat - "Day 5 was my absolute favorite so far! Oh my goodness I loved it. Thank you! I feel so cleansed and activated and full of life energy. I was also able to drop into the most beautiful meditation afterwards. And, I loved the soundtrack - equally relaxing and uplifting. I have shared this with my whole family so they can enjoy the benefits too. Thank you for putting out such a helpful 10 day cleanse!!" - Sophie Gulliver
Booking early is recommended.
Please email Adelaide directly with any questions at all. info@truetoself.com.au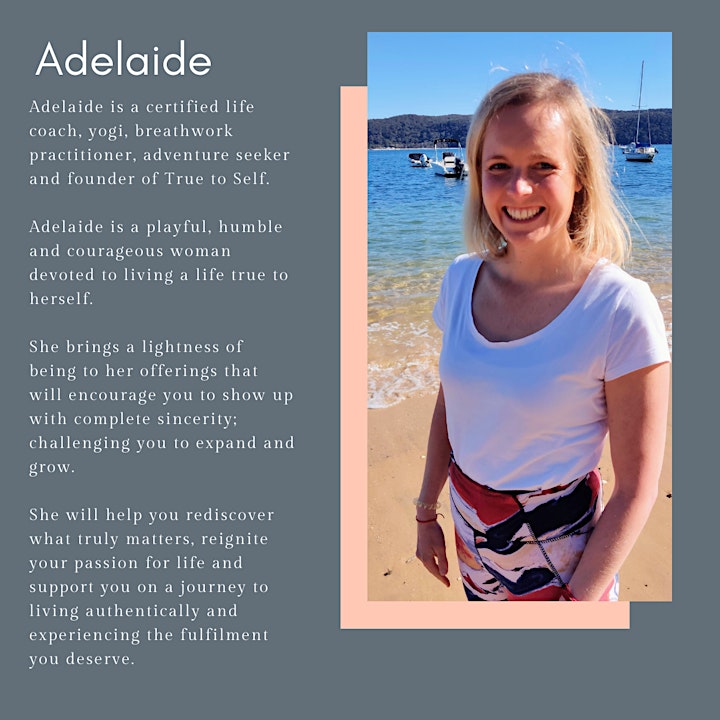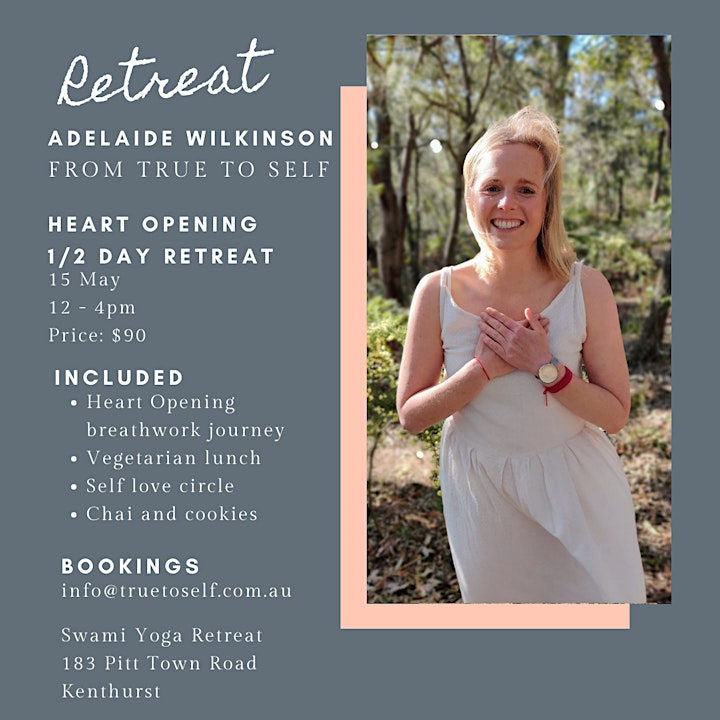 Organiser of Heart opening breathwork 1/2 day retreat ~ Swami's Yoga Retreat Kenthurst