Heart of the Feminine Workshop - St George
About this Event
Your teenage daughter is invited to attend a transformational and fun one day workshop which intends to provide practical skills for her to:
Cultivate lifelong friendships and connect with other girls her age.
Understand, process and communicate strong emotions
Create certainty in communicating her boundaries
Understand that she always has a choice in life - no matter what her circumstances are
And, that their ultimate beauty is found within [not on social media or a beauty magazine]
THIS EVENT IS FOR YOUR DAUGHTER IF:
She is a female bodied girl between the ages of 12 - 17
Perhaps she might be struggling at school socially, dealing with bullies
Maybe she finds it difficult to say "No" to people and feel pressure to do what everyone else is doing
She feels frustrated and would like to learn some simple but life changing tools to better deal with life's circumstances
She has trouble communicating and understanding her emotions
Or perhaps she would just like to come along to a fun local event and make some new friends
This full day program is designed to give your daughter a head start and empower her as she moves through this part of her life toward womanhood.
This fun and interactive program intends for her to learn to build confidence, real self love, understand how to develop deep and supportive friendships relating with her peers, certainty in her own boundaries (highly valuable as our teens begin to consider engaging romantically, as well as just generally feeling they are being respected), strengthen her body image and overall sense of excitement for her life.
Each ticket includes access to a 6 week online program where each girl will continue receiving continued mentoring and feel supported integrating all that they learned in the workshop and can continue to share their journeys along the way
A mother commented recently "This time can be tricky to navigate, for her, and also for us as parents, and knowing that there are programs like this that support our wishes for her feels so relieving"
If that sounds like the things you desire for your daughter to be learning in the holidays to complete her year and potentially transform the entire direction of her life, register her today because or get in touch directly.
>>> DATES AND TICKET PRICING<<<
Wednesday 22 January 2020 | 10:00am - 3:00pm | $210
Each ticket purchased includes access to a 6 week online program [valued at $150 FOR FREE] where each girl will receiving continued mentoring and feel supported integrating all that they learned in the workshop and can continue to share their journeys and cultivate lifelong friendships.
SPACES FOR THIS WORKSHOP ARE LIMITED. THIS EVENT WILL SELL OUT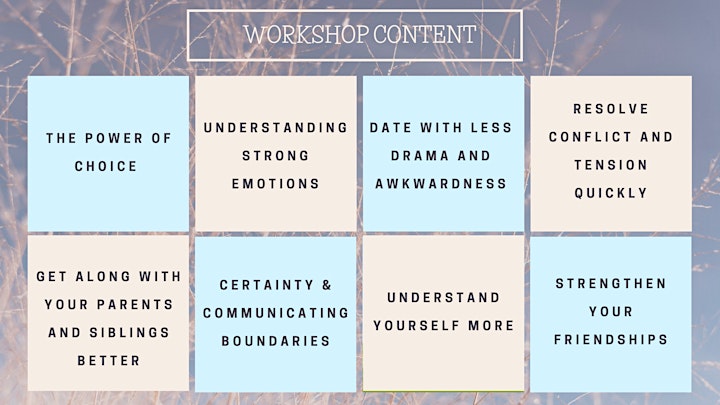 MUMS AND DADS WE HAVE A SPECIAL GIFT FOR YOU ASWELL
As a very special and FREE gift just for you, when you register your teen daughter into our upcoming workshops, we will GIFT you a downloadable training with myself and women's relational intimacy coach Belinda Wearne made especially for mothers on cultivating the intimacy you desire with yourself and in your relationships.
What better gift can we give to our daughters than a mother who's empowered in her life and relationships.
Dads, we have something special for you because we also want to empower you in your relations. If you register you daughter, we will provide you with a free downloadable training on 'Holding Space for a Woman's Strong Emotions'. Because we know how much better life can be when a woman has the experience of being heard - and there is a very powerful way that it can happen.
We feel this could be a win win for all.
At Sacred Pathways, we are committed to setting your daughter up for success in life and empowering her to be able to deal with any of life's tough situations and giving her the tools to understand and express with her strong emotions in a healthy way.
And empowering Parents in their lives to have the relationships they desire so they can feel fulfilled and nourished as well.
>>> FREQUENTLY ASKED QUESTIONS <<<
Q: Will lunch be provided?
A: Yes, A light lunch and refreshments through the day will be provided. Should she has food allergies, please communicate this on the registration form when you purchase your ticket.
Q: Do you have a blue card?
A: Yes - Business Blue Card Number - 1856540 / 1
Q: Will my daughter be supervised at all times?
A: Yes. Your daughter will not be allowed to leave the event space once you drop her off in the morning until you collect her in the afternoon.
Q: How many girls attend the workshops?
A: The workshops will be limited to 25 girls each workshop. This will allow for a more personalised approach for your daughter.
Q: When does the online program start?
A: The online program starts on Monday 01 December. Due to the Christmas holidays, there will be a break for two weeks and we will finish the last two weeks of the program early in the new year.
Q: My daughter can't attend in person. Can she do the online program anyway?
A: She most certainly can. There is an option to purchase the online program on its own.