Heart of the Feminine [BNE #1 - SEPT 19]
About this Event
This unique two day school holiday program for teenage girls between the ages of 13 - 17, has been created to:
Empower young women to connect to their hearts,
To love themselves first and foremost,
To learn about the importance and sacredness of sisterhood,
To understand the importance of communicating boundaries,
That they have a choice in life - no matter what their circumstances are
And, that their ultimate beauty is found within.
This will be a transformational two day event and we will be joined by other beautiful and powerful co-facilitators who are passionate about empowering the lives of this generation of young women stepping forward into this world.
I'm pleased to announce that 30% of the profits of this event will be contributed to Women's Shelters in Brisbane helping women and children who's lives have been impacted by domestic and family violence.

> You are a female bodied girl between the ages of 13 - 17
> Perhaps you might be struggling at school, dealing with bullies (this was TOTALLY me btw - i know how this feels AND i've done the work to heal the sisterhood wound from all those days I'd come home from school crying my eyes out to my mum)
> Maybe you find it difficult to say "No" to people and feel pressure to do what everyone else is doing and it doesn't feel very fulfilling
> You feel frustrated and would like to learn some simple but life changing tools to better deal with big emotions and life's circumstances

Day 1
8:00 Drop off and registrations
8:30 Opening Circle and Check In
10:00 Workshop: Sisterhood, Trust + the Power of Choice
Midday Lunch [to be provided]
12:30 Workshop: Boundaries
1:30 Workshop: Inner beauty
3:30 Closing Circle
4:30 Day 1 finishes
DAY 2
8:30am Opening Circle
10:30 Workshop: Creating the life you choose
12:30 Lunch [to be provided]
1:00 Workshop: Responsibility + Circle of Influence
2:30pm Closing ceremony
4:00pm Event Finishes
POST EVENT SUPPORT
Each girl will receive three months post event support via a secret fb group where they will receiving continued mentoring and feel supported integrating all that they learned in the workshop and can continue to share their journeys and cultivate lifelong friendships.
PLACES FOR THIS WORKSHOP ARE LIMITED. THIS EVENT WILL SELL OUT.

This two day program designed to give your daughter a head start as she moves through this part of her life and toward womanhood.
This program intends for her to learn to build confidence, real self love, understand how to develop deep and supportive friendships relating with her peers, certainty in her own boundaries (highly valuable as our teens begin to consider engaging romantically, as well as just generally feeling they are being respected), strengthen her body image and overall sense of excitement for her life.
If that sounds like the things you desire for your daughter to be learning in the holidays to complete her year and potentially transform the entire direction of her life, have a look at the link below or get in touch directly.
A dear friend of mine commented this week "This time can be tricky to navigate, for her, and also for us as parents, and knowing that there are programs like this that support our wishes for her feels so relieving"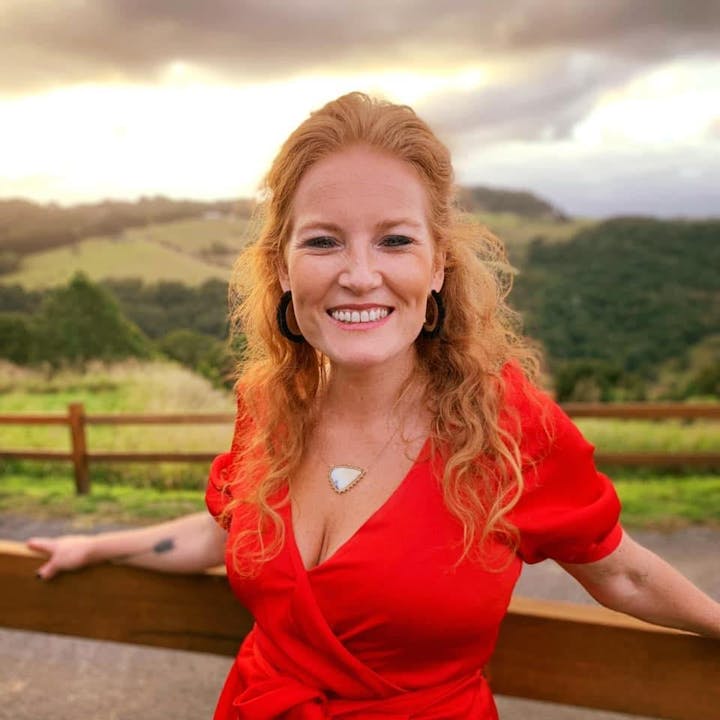 Jasmine Cherie is a speaker writer and a mentor who believes that the heart of the feminine can be the catalyst for change and transformation in the world.
Born and bred in Brisbane, Jasmine has travelled the world and worked for the business world's elite for 16 years as an Executive Assistant. In more recent years, she has embarked on a journey as a management consultant; coaching and consulting corporate clients unleashing their human potential and leadership capabilities and also working with their teams on maturing their effectiveness.
Jasmine's insatiable fascination for the conversation of what it is to be a human being, has been the driver for her professional, personal and spiritual development over the last decade. She has immersed herself in leadership transformation modalities and journeyed deep feminine embodiment practices
2019 has been a rebirthing year for Jasmine. Her passion project is to empower the lives of young women in learning about self love, inner beauty and how the heart of the feminine can be the catalyst for change and transformation on the planet.
Hence the Heart of the Feminine was born.

Jasmine whole heartedly believes that conscious currency creates change, a term coined by Kate Chiffey-Gray - The Spiritual Compass.
Hence being, 30% of the profits of this event will be contributed to Women's Shelters in Brisbane helping women and children who's lives have been impacted by domestic and family violence.
"I have a vision that will impact the lives of both teenage women and also my beautiful sisters who are living in women's domestic violence refuges in both Brisbane and the Gold Coast.
I've said "YES" to open my heart even further and share with a younger generation of teenage women how the Heart of the Feminine will be the catalyst for change and transformation in a world that is starving of heart centred women connected to their purpose and mission in this lifetime.
Why this cause?
Well, I believe a life cycle exists and within that cycle we are all connected. Teaching the younger generation the importance of self love, sisterhood and caring for those in need, who might be less fortunate or dealing with a situation in their lives that is tough creates awareness, cultivates compassion, and teaches courage in a way that is heart centred and empowering for our younger women."

There are two ways you can register for this event.
OPTION 1: Pay in Full. Tickets are $300 which includes the retreat plus a 6 week post workshop online support group
OPTION 2: Payment Plan are available with a deposit of $100 to secure your ticket. Tickets purchased with payment plan option will be $330.