Heart-leadership is a digitally-savvy, human-centred design approach to the three pillars of a thriving modern enterprise
About this event
This is the inaugural peer group program for the modern leader. Are you looking for a pathway to thrive in your business/professional practice AC (after corona) without sacrificing anything at all in your personal life? Heart-leadership is such a pathway.
Over 4 online sessions using Zoom I will be helping you to apply the 3 pillars of heart-leadership in your own best way. (Sessions 2 - 4 will be scheduled during session 1)
1) Hear Your Heart (People leadership) is the art of seeing, sometimes unearthing, mostly magnifying and enhancing people's essence including your own.
2) Ask Your Head (Process innovation) is the collaborative work of ensuring processes make it simple for people to bring their essence to their work. (NB processes include policies, procedures, practices, philosophies, principles, structures and systems).
3) Engage Your Hands (Progress sustainability) is the joyful craft of ensuring progress towards possibility (desired new reality, shared goal/objective/aim) is kept visible.
In this program I will be taking a deep-dive into The Heart-Leadership Map.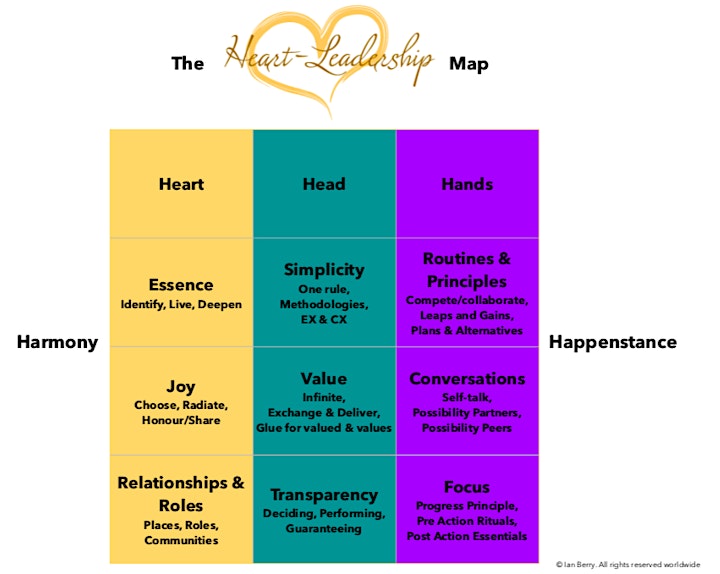 Learn more about heart-leadership here.
For over 30 years I've been working with leaders to stay ahead of the curve in the world of work. Leaders in privately owned and family businesses, proven purpose driven organisations and corporations, professional service firms, and solo professional service providers.
I've had the privilege of working with more than 1000 leaders, women and men, in over 40 countries. One thing has stood out - the very best leaders lead from their hearts.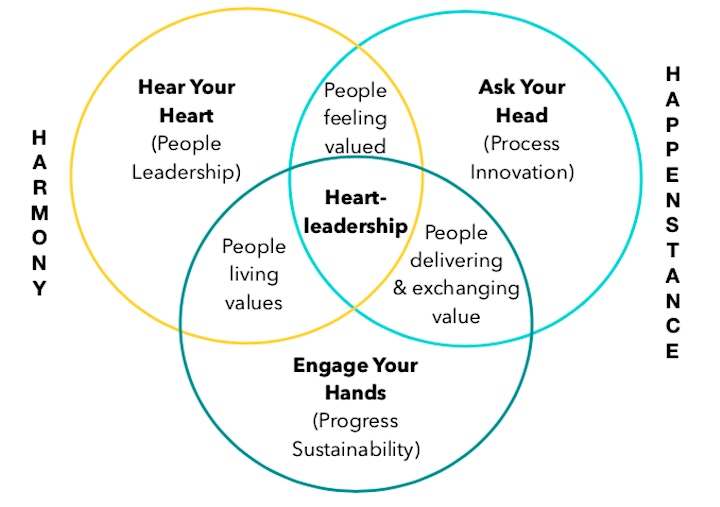 What I sense, say and shine a light on in this program is important yet nowhere near as important as what you hear your heart say, ask your head to work out, and then engage your hands to do your one-of-a-kind work.
"I've had the pleasure of working with Ian for close to two years in one-on-one and group settings. Ian's unconventional in his approach (refreshing!) but works to a brilliantly simple yet powerful philosophy that centres around our experiences as human beings (shocking I know!!). He's a purpose and values-driven mentor and team builder who I'd recommend to anyone."
Chris Pike
GENERAL MANAGER – CULTURE & COMMUNITY, SURF COAST SHIRE COUNCIL
Organiser of Heart-leadership is the new normal peer-group series
Hello I'm Ian Berry, Possibility Activist, Mentoring with heart for leaders with heart since 1990. Plans on a page pioneer. I can help you to advance your heart-leadership meaning you'll have a unique way to thrive in your busines without sacrificing your personal life.
Your people can make or break your business.
I've been helping leaders to grow their businesses by getting the best out of their people for more than thirty years.
In that time, the business owners and leaders I've worked with have continuously improved how they work and discovered that their people do better work when they feel fully supported.
I've had the privilege of working with more than 1000 business owners and leaders, women and men, in over 40 countries. 
Leaders like Sarah, who was frustrated by 30% employee turnover and with my help turned the problem around and reduced the number to 15%.
You can read more examples of how I've worked with people like Sarah and you to transform their businesses and reach their goals at the testimonials/case studies link at my website.
From 1974 - 1991 I enjoyed a very successful corporate finance career including leading a 100million business unit. I held Branch, Regional, and State manager roles in three Australian states receiving numerous awards for his leadership, development of people, and results. 
Since 1991 I've played active roles on the boards of eight diverse organisations and have been instrumental in their sustainable and profitable growth, with one of these organisations (Townsend Building Services) achieving 570% growth in just under 5 years.
My clients include leaders from AVIS/Budget Western Victoria, AXA Asia Pacific, Ballarat Grammar, Ballarat Regional Industries, Bendigo Bank, Bombardier, Cavehill Creek, EMI, Eureka Concrete, Gallagher Bassett, Haymes Paint, Jones Lang LaSalle, Metro Trains, Plan Australia, Oxfam Shop, Queenslanders Credit Union, Singapore Chinese Chamber of Commerce and Industry, and Smurfit Kappa UK, to name just a few.