Description
Heart Chakra Connection is an open event for everybody interested in connecting with their heart chakra, self love and self healing.
Our day event will be held in our open garden in Elwood, including acoustic music, henna, local artists, tea and healthy heart nourishing foods.
You are welcome to come relax in our garden, with heart healing rituals and workshops available to you with our advanced instructors and healers. We hope this is a chance for you to enrich your current state of heart and explore new intuitive modalities of healing.
All of our workshop times are now online and available to book. Please ensure you reserve your workshops prior to the event to secure your place.
We invite you with us, either alone or with a friend to connect with others who want to inspire self love, spirituality and intuitive healing.
.................................................................................
- Workshop Schedule -
6:00 - 7.45
Devotional Singing and Opening circle, followed by homemade Chai. $15
--------------
8:00 - 9.15
Kundalini Heart Healing Yoga. $20
--------------
8.45 - 10.15
Expanded Heart Crystal Vibrational Healing. $40
---------------
11:00 - 12.30
Aromazen - Chakra Meditation | Essential Oils | Yoga Nidra | Sound Bath. $35
-----------------
1:00 - 3:00
Love and Forgiveness Ritual. $40
-----------------
3.30 - 5:00
Reiki Share. Reiki Circle Healing. $25
----------------
5.30 - 7:00
Meditation Journey to the Temple of your Inner Heart. $30
----------------
5:00 - 7:00
Advanced Eye Gazing with 'The Human Connection Movement'. $35
----------------
7.30 - 9:00
Rhythmic Heart - Bringing breath to the beat, yoga dance Fusion. $15
-------------------
9pm
Closing Ceremony. Welcome to all attendees. Dancing, Music, Chai.
------------------------------------------------------------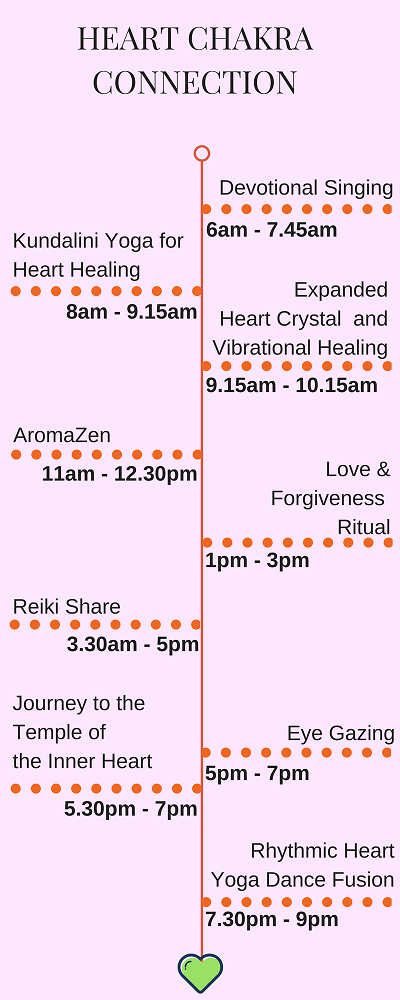 -------------------------------------------------------------
6 am to 7.45 am
DEVOTIONAL SINGING & OPENING CIRCLE followed by 'CHILL & CHAI' Time
with Yvette. In the Healing room. 1hour followed by chill & chai time in the Garden.
Yvette owner of Natural Forces studied Traditional West African percussion in Mali for 3 years & has been holding percussion circles since 1999, she holds an Add Dip in Jazz Improvisation & B.A. of Music Composition. Her music workshops focus on connection, meditation & timeless trance zones.
Heart Chakra Connection will be opened with group chanting & hand percussion to pay homage to the Natural Elemental Forces that support our existence & set the love vibe. A lovely morning practice to open and connect your heart & throat chakras, followed by 'Chill & Chai' time.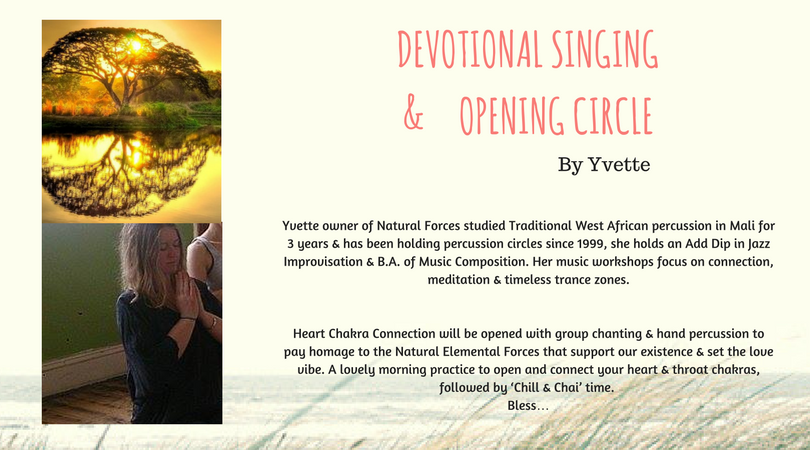 ------------------------------------------------------------------
8 am to 9.15 am
KUNDALINI YOGA FOR HEART HEALING
with Julia. In the Garden. 1hour 15min.
Julia was trained by Gurmukh at Golden Bridge in New York & continues to receive mentoring by Kundalini international teachers. She brings her deep personal practise, experience (having taught over 500 Kundalini classes in Melbourne, Florida, New York & London) & yogi joy.
Julia's natural compassion has lead her to try provide more help for people struggling to cope with life-style pressures, pain, heart break & illness. This Kundalini practice will include a series of movements designed to strengthen the magnetic field & heart centre, followed by a meditation to bring love and compassion.
Open to all.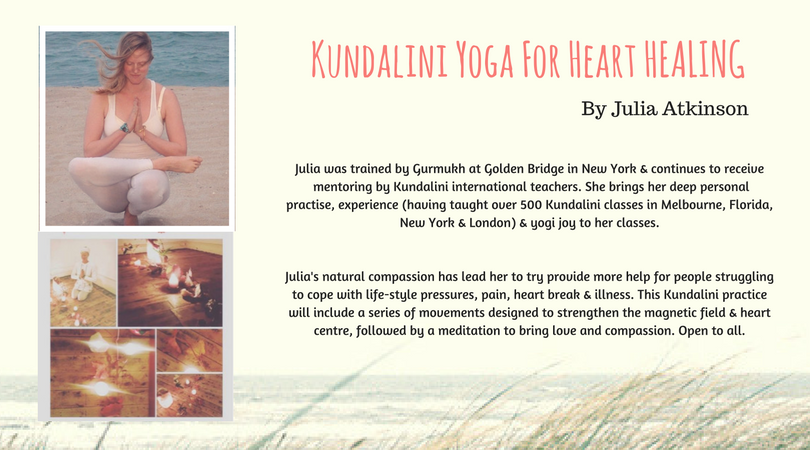 ------------------------------------------------------------
8.45 am to 10.15 am julia.png
EXPANDED HEART CRYSTAL and VIBRATIONAL HEALING
with Adam Chamberlain. In the Healing room. 1hour 30min.
Adam is a Crystal and Vibrational Healer located on the Gold Coast. Sessions incorporate the use of Crystals, Reiki, Medicine Drum, Crystal/Tibetan Singing Bowls and other Vibrational tools as well as Guided Meditation.
The Expanded Heart is a powerful Healing Technique to clear and heal all matters of the Heart. It is a Healing through connection : to Universal Light, to Crystal Medicine, to your breath, your body and to your Heart.
Give yourself permission to Receive and allow yourself to drop deep into your Heart centre to experience a profound expansion as you journey with crystals, guided meditation and sound.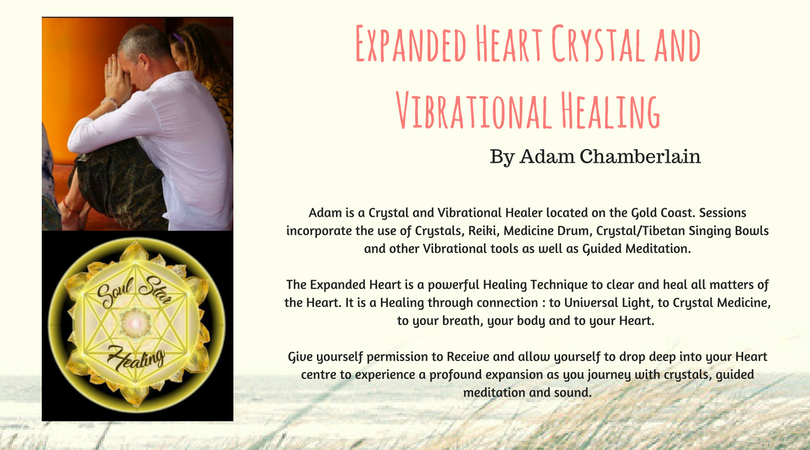 -------------------------------------------------
11 am to 12.30 pm
AROMAZEN : CHAKRA MEDITATION|YOGA NIDRA|SOUND BATH
with Micelle Mullins. In the healing room. 1hour 30min.
Michelle is the founder of aromaLife, aromaZen and aromaWild and runs programs and teacher trainings at Natural Forces in Elwood. Following a calling to educate, inspire and create awareness, Michelle, a certified Hatha Yoga Teacher, Energy Worker, Tantric Women's group facilitator and Founder of aromaZen Facilitator Training Certification Process.
What is aromaZen?
aromaZen is a unique , new healing modality created by Michelle aimed at restoration, healing and balance using guided chakra meditation, essential oils, yoga nidra and sound healing.
We move through the chakras, bringing our awareness to each energy centre and what emotions and qualities lie with them. We inhale our oil and softly notice and breathe into each chakra.
Following that we lie down and move though a yoga nidra style deep body relaxation. Letting go of tension and anxiety that we hold in our body and mind and easing the nervous system. In a state of deep relaxation we set our intention of what we are truly seeking to manifest.
Our heart chakra aromaZen will guide you into your heart, soften the edges and allow a deeper connection to trust, forgiveness and presence.
To finish the journey, when in a state of deep relaxation we bathe in a high vibrational healing sound bath, listening to the gongs, the hant drum, percussion and harmonic chimes.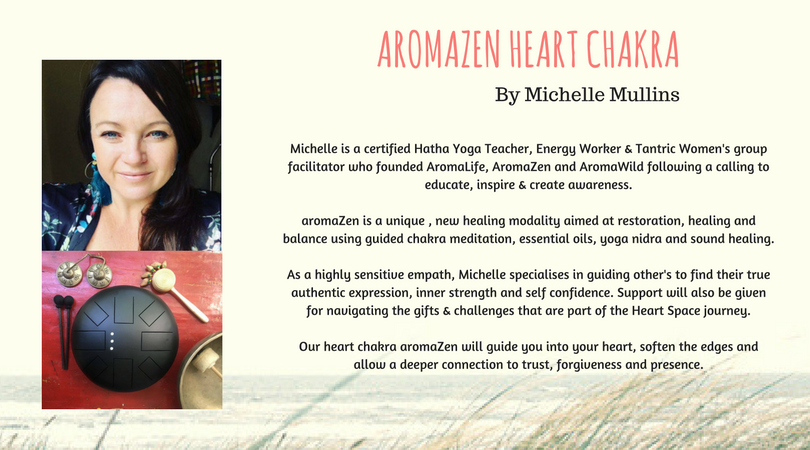 ---------------------------------------------------------------
1 pm to 3 pm
LOVE & FORGIVNESS RITUAL
with Yvette. In the healing room. 2hours.
Yvette was lucky enough to partake in cutting the ties, tarot, rebirthing, circle, self-development, old school magic & ritual as a teen with community elders, carefully selected by her parents. The following workshop is a return to the old ways & a sharing of some simple techniques that are always available.
In this ritual we will explore what's getting in the way of our love, heart expression & connection through taking a loving look 'in' from both a personal & universal perspective using self awareness techniques. Then, from our super illuminated space we will locate where we hold old stuff & lovingly take the time & space to say goodbye using the O'pono Opono prayer.
Following we will intend a new vision for ourselves & use Tarot, crystals the 5 elements, creativity & Magic to breath life into our future selves in a new way.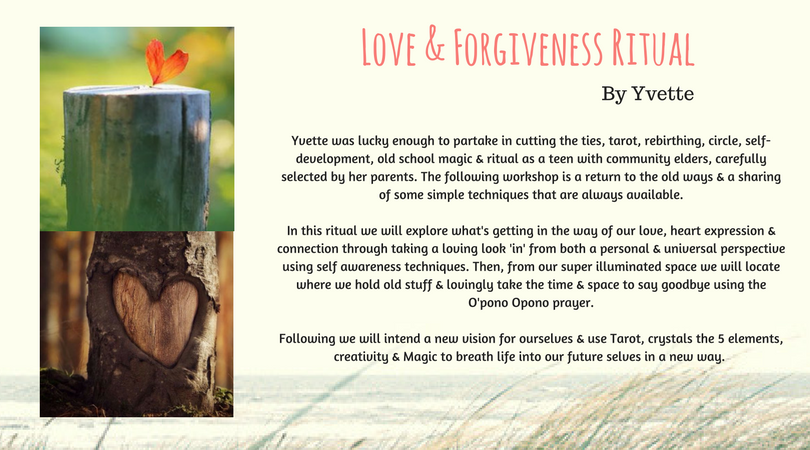 ---------------------------------------------------------------
3.30pm to 5pm
REIKI SHARE
with Bridget Erica. In the healing room. 1hour 30min.
Bridget Erica is the founder of the Alchemista healing clinic in Elwood and the Australian Centre for Clinical Reiki. Bridget is a certified Nutritional Therapist and Usui Reiki Master. Passionate about the body's natural ability to heal, Bridget is a dedicated Reiki Specialist who is sensitive to her patient's needs and journey.
This special Reiki Share is open to everyone, whether you are Reiki attuned or not. It is a great way of receiving and sharing the precious gift that is Reiki. The main purpose for this Reiki share is to give and receive Reiki in a casual atmosphere with positive energy, focused on opening and balancing your heart chakra.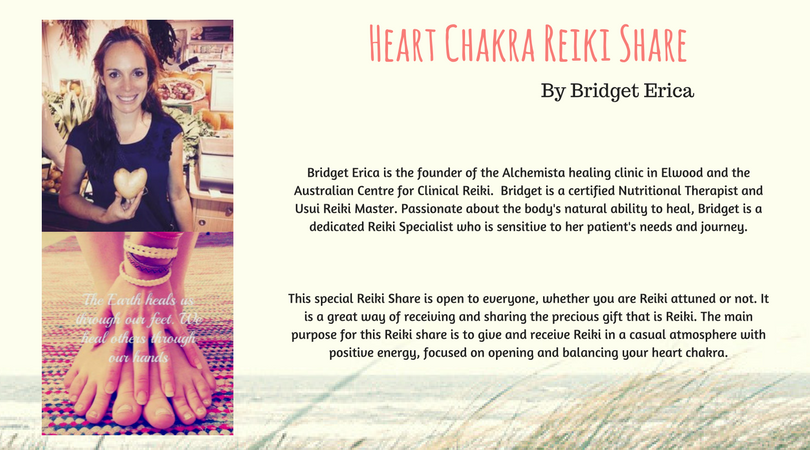 ----------------------------------------------------------------
5.30 pm to 7 pm
JOURNEY to the TEMPLE of the INNER HEART
with James Sargeant. In the healing room. 1hour 30min
What if your Heart was a House? The Chambers of your Heart its Rooms? How would they look? How would they feel? Would they be open, flowing, free? Would they be closed, locked and barred shut? How would it be to wander these rooms and see what is held there in?
At the Core of your Heart exists a Hidden Sanctum, the Temple of the Inner Heart. Here in this place Love flows freely, unrestricted and unhindered. Do you feel this flow? Are you open to its rivers?
The Journey to the Temple of the Inner Heart is an invitation to explore these places, to enter into and awaken the Inner Heart Being that exists within us all awaiting our arrival and embrace, allowing the flood of love that it flows with to wash clear and clean all that has gone before, harmonizing and aligning our Hearts to its true center, the Divine Heart;
Heart Beat of the Body,
Heart Beat of the World,
Heart Beat of the Universe!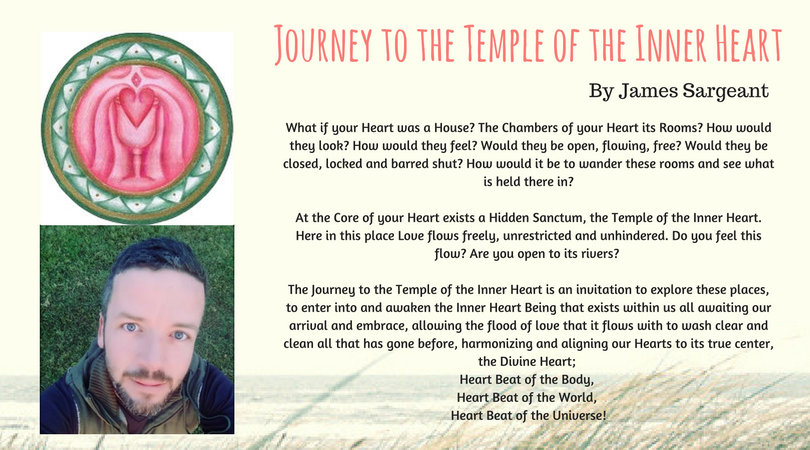 ---------------------------------------------------------------------------------
5 pm to 7 pm
EYE GAZING
with The human Connection Movement. In the Garden. 2hours.
Human connection has been scientifically proven to reduce stress, depression, social anxiety, substance addiction, loneliness and cognitive distortions.
Sometimes words can be a barrier from being able to connect with the part of ourselves that has a message to send across.
93% of what we communicate is non-verbal, therefore the simplest of truths can be often communicated with no force, the only requirement is presence.
HOW DO I EYE GAZE?
Instructions:
Step 1. Find a partner and sit with them, if no one is free please take a seat and someone will sit with you shortly..
Step 2. Take a deep breath and let go of any expectations..
Step 3. Be present.
Step 4. Allow whatever it is that comes up to move through you.
Step 5. Move on to the next person...
Please note:
This event is about exploring non-verbal eye contact, therefore please only have a small chat after you have completed each gaze and be mindful of others around you. When you are ready you can move onto the next person.
Want to learn more? Check out our videos on our FB page and check out our website.
Facebook Page: Facebook.com/thehcmovement
Instagram: The Human Connection Movement
Website: www.thehumanconnectionmovement.org.au
Eye Gazing Community: https://www.facebook.com/groups/thcmovement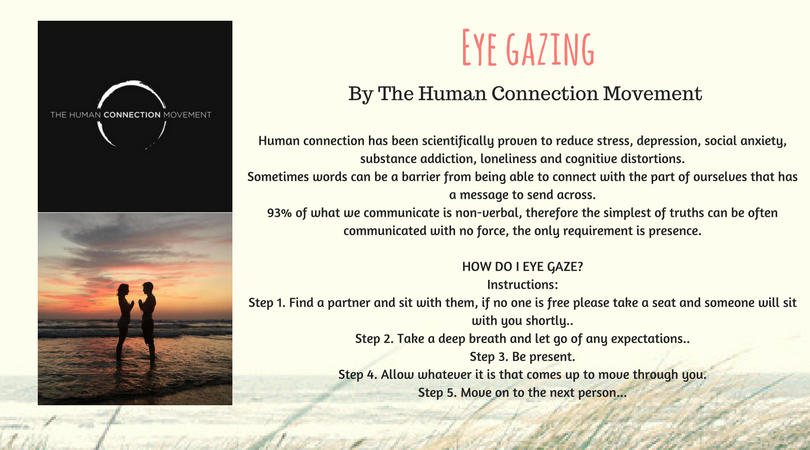 ---------------------------------------------------------------------------
7.30pm to 9 pm
RHYTHMIC HEART - Bringing breath to the beats 'A yoga-dance fusion'+ CLOSING
with Denia. In the Garden. 1hour 30min.
This practice is a moving meditation that links breath to movement, movement to the beats and mindfulness to the spirit. Rhythmic heart is a creative and physical experience that will invigorate the senses.
We begin with some meditative breath work to centre and ground ourselves together in the space. A vinyasa yoga sequence warms us up, leading to some guided african isolation movements accompanied by percussive beats, awakening the rhythm within.
The musical landscape invites you to explore a journey of free form dance movement, where we allow our bodies to respond to the beat and feeling of the music. We dance to express, creating a liberating atmosphere of acceptance and fearlessness, to dance, learning to release inhibition.
Some slow hatha yoga stretches calm and cool us into stillness and a guided meditation concludes the journey. One which, I hope can be as insipiring for you as it is for me...