Join us for a free chat about how to manage children's health in times of crisis - mind, body & soul.
About this event
Teachers, principals, support staff, parents, and support people all welcome.
Sign up for your free spot now, ticket numbers are limited!
Three startup founders from the Future Minds Accelerator will share their points of view and solutions and will discuss:
1. Mind
How are we creating healthy minds in K-12 education?
How can we better support youth and also teachers who often find themselves acting as counsellors/therapists?
How do we give youth a sense of agency and help build resilience when going through major events like bushfires, coronavirus, and other crises (growth mindset etc)?
2. Body:
How do we move beyond PE class and school sports?
How can we better understand the correlation between physical and mental health and learning?
3. Soul:
How can we help students find balance, connection to community/supporting others (and why is that important for teens)?
Our Panel Experts
Dr Louise Metcalf, CEO & Founder of Gheorg
Gheorg, a friendly robot designed to help your child improve their emotional intelligence and mental wellbeing, began as a concept in 2014 with the birth of Dr. Louise Metcalf's child as she began to realise the increasing prevalence of children with childhood anxiety in daycare and in preschool.
Kym Hunter, CEO & Founder of Champion Life
Champion Life is an innovative online resource for schools that engages students in physical activity and health challenges and supports them one day at a time to develop the physical literacy skills to get and stay active as well as the education necessary to implement positive physical and mental wellbeing practices into their life.
Margaret O'Brien, CEO & Co-Founder of Young Change Agents
Young Change Agents help youth see problems as opportunities through social enterprise. They do this at scale through building an eco-system for youth entrepreneurship, capacity building teachers and youth leaders, creating lifelong learning opportunities and amplifying the voice of youth. Their programs are underpinned by their proprietary technology.
About the Future Minds Accelerator
The Future Minds Accelerator, a partnership between Rio Tinto, BlueChilli and Amazon Web Services (AWS), has been designed to support and inspire startups and the education ecosystem to tackle a 21st century challenge: How can we prepare Australia's young people to thrive in the jobs of the future?
Facilitated by BlueChilli, this panel discussion will explore education (K-12) and student health, innovation and emerging technology.
Suitable for teacher professional development (PD / NESA)
Experience new techniques and frameworks you can apply in class, network with progressive educators and people from government and business, and learn about emerging technologies and innovation processes.
Come with an open mind and prepared to contribute.
Tickets are free. Ticket numbers are limited.
Schedule
3:30 – 3:45 :: Introductions
3:45 – 4:15 :: Panel discussion (10 min per topic)
4:15 – 4:30 :: Q&A
4:30 – 5:00 :: Networking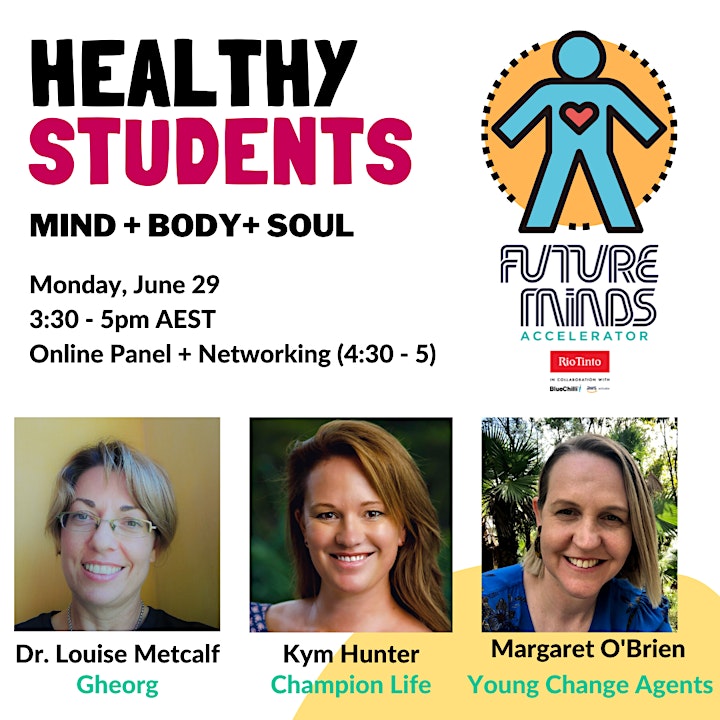 Organiser of Healthy Students: Mind + Body + Soul