Healthy Cities Illawarra are running FREE workshops for Calderwood children aged 7-12 in the January 2021 School Holidays.
About this Event
Who: Calderwood Children aged 7-12, from the 2527 postcode only. (Albion Park, Albion Park Rail, Calderwood, Croom, Tongarra, Tullimbar, Yellow Rock)
What: Exciting school holiday activities with plenty of active play and healthy things to do.
When: 3 workshops during January school holidays.
Rebound Nutrition with Tim Coenraad Monday 18th January, 10am- 2pm
'Come and Try a Sport' with Illawarra Academy of Sport athletes Tuesday 19th January, 10am – 2pm
Learn to Cook - Kids Cooking Wednesday 20th January, 10am – 2pm
Cost: FREE - with thanks to the Calderwood Valley Seedling Fund grant, we are able to offer the Calderwood Holiday program free of charge.
What we will be doing: Physical Activity, Healthy Eating, Games and more!
Things you need to know:
PLEASE BRING: Water bottle, hat, enclosed shoes and medication if required.
Sun Safety - sunscreen will be supplied, however we encourage children to bring their own as well as a hat to be sun safe while outdoors.
COVID-19: Healthy Cities Illawarra will enforce COVID-19 guidelines for the safety of staff, children and their families. These procedures are based around social distancing, hygiene, cleaning and record-keeping. Please assist by talking to your children about listening to instructions provided by staff. Children may not attend our work shops if they have any of the following:
Close contact with a confirmed COVID-19 case in the past 14 days.
Travelled to Australia from overseas or have been in close contact with someone who has arrived in Australia in the past 14 days.
COVID-19 symptoms: fever or acute respiratory infection (e.g. shortness of breath or cough) with or without fever.
In the case of a child becoming unwell during the program, parents or guardians will be required to immediately pick up their child when contacted by staff.
For more information on our Active In-Betweens School Holiday Program in Calderwood, contact Jessica on 4283 8111 or email jessica@healthycities.org.au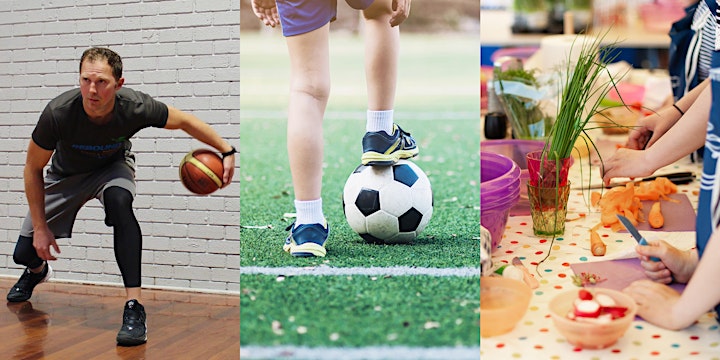 Dates and Activities
Monday 18th January - Basketball Workshop Rebound Nutrition with Tim Coenraad
Tuesday 19th January - 'Come and Try a Sport' with Illawarra Academy of Sport athletes
Wednesday 20th January - Learn to Cook - Kids Cooking Workshop