Event Information
Refund Policy
Contact the organiser to request a refund.
Eventbrite's fee is nonrefundable.
Get your mindset right, create a healthier body and then invest to build wealth - Sounds good! "Tell me how ?"
About this Event
How to retire when you want, not when you have to. START THE JOURNEY NOW.
What will you learn from this webinar: Simply strategies and options on how to become the healthiest version of yourself and how to build that secure financial wall around you and your family.
Three amazing speakers: Heather Rickard from Isagenix, Susan Farquhar from Calla Property and Helga Eichmann a fabulous Personal Life Coach.
Heather Rickard - Long distance runner and just ran her first Marathon in May this year!
Her passion is helping men & women to be the best version of themselves & achieve goals that begin as dreams. As she is now in my 60's, she believes in helping people retire when they want to rather than when they have to. This can be achieved by building a secure financial wall around yourself and your family and health wise living from a place of prevention, this in turn ensures to the best of our ability you can enjoy your retirement years to the fullest..
Susan Farquhar - One of the country's leading investment property experts, Susan Farquhar built Calla Property on a proven research methodology that achieves consistent capital growth for her clients.
"Calla Insights" is a detailed and holistic approach to building an investment portfolio and has been developed by Susan after many years of buying and selling property for herself and her clients.
Backed by her MBA studies with mortgage and financial planning components, Susan is in a unique position to understand how individuals feel about money and debt and will empower them to make better finance choices.
Helga Eichmann - Personal Life Coach.
Helga works with anyone wanting to make changes in their life but finding they are stuck in frustration, anxiety, sadness or simply exhausted from life. Her structured and supportive approach helps clients cultivate deeper conscious awareness and to get to the core of what is blocking them from achieving the results they want. She has clients remain firmly in the driver's seat while she facilitates coaching conversations and processes to bring about resolution and to spark insights and open the way for greater choice and constructive change.
Incorporated in the way Helga works are various coaching modalities including NLP, Results Coaching and Matrix Therapies. This is all built upon a foundation of 20+ years of meditation and connection with Spiritual teachers.
Helga Eichmann is a double-qualified Life Coach with deep life experience.
REGISTER NOW!!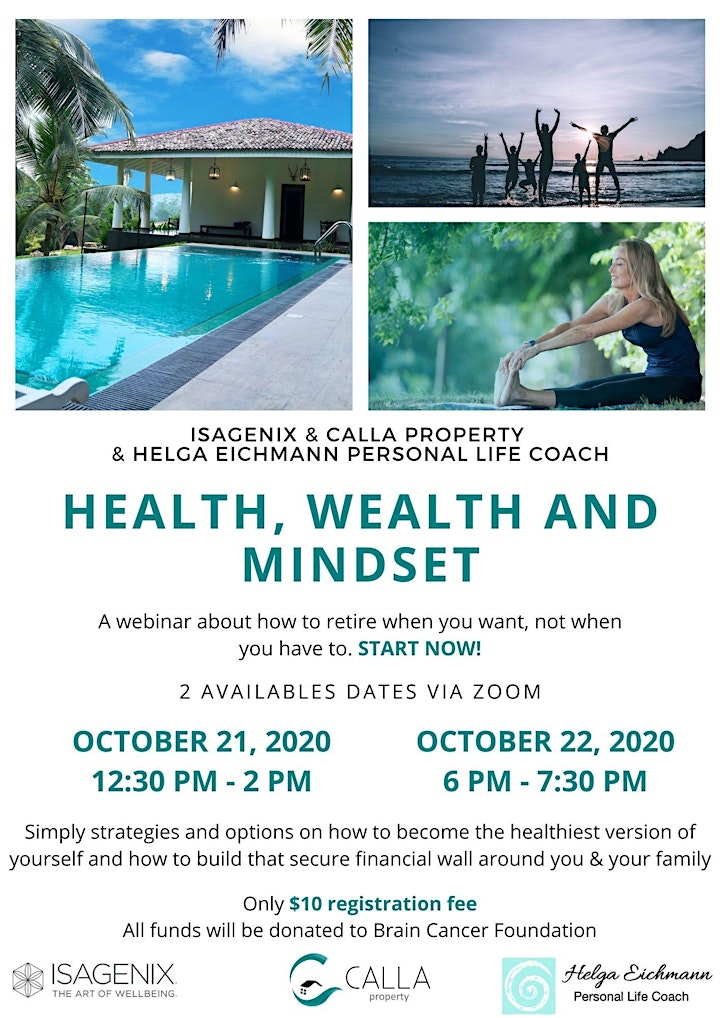 Location
Refund Policy
Contact the organiser to request a refund.
Eventbrite's fee is nonrefundable.