Description
The Health Consumers Excellence Awards #HCEAWARDS honour the everyday heroes in health care, from the administer to the clinician. We also recognise health consumers who go out of their way to make a difference to our health system.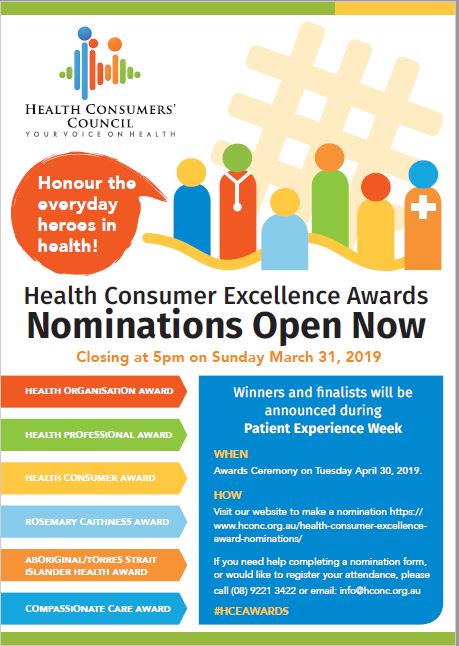 Winners and finalists are announced at the Awards Ceremony following our Patient Experience Week event on 30th April 2019.
You can nominate excellence here: https://www.surveymonkey.com/r/FXLNY5J or via our website www.hconc.org.au. If you require assistance in completing a nomination form please contact the HCC on 92213422 or info@hconc.org.au
---
Please note that this event may be photographed/filmed. Images from this event may be used on Health Consumers' Council WA's website and/or social media sites, newsletters, and publications, which are publicly available and distributed to members. No personal information (such as names), will be used in any publications or materials without expressed consent. If you would like to discuss this in further, please speak to a Health Consumers' Council WA staff member at the event.
---