Description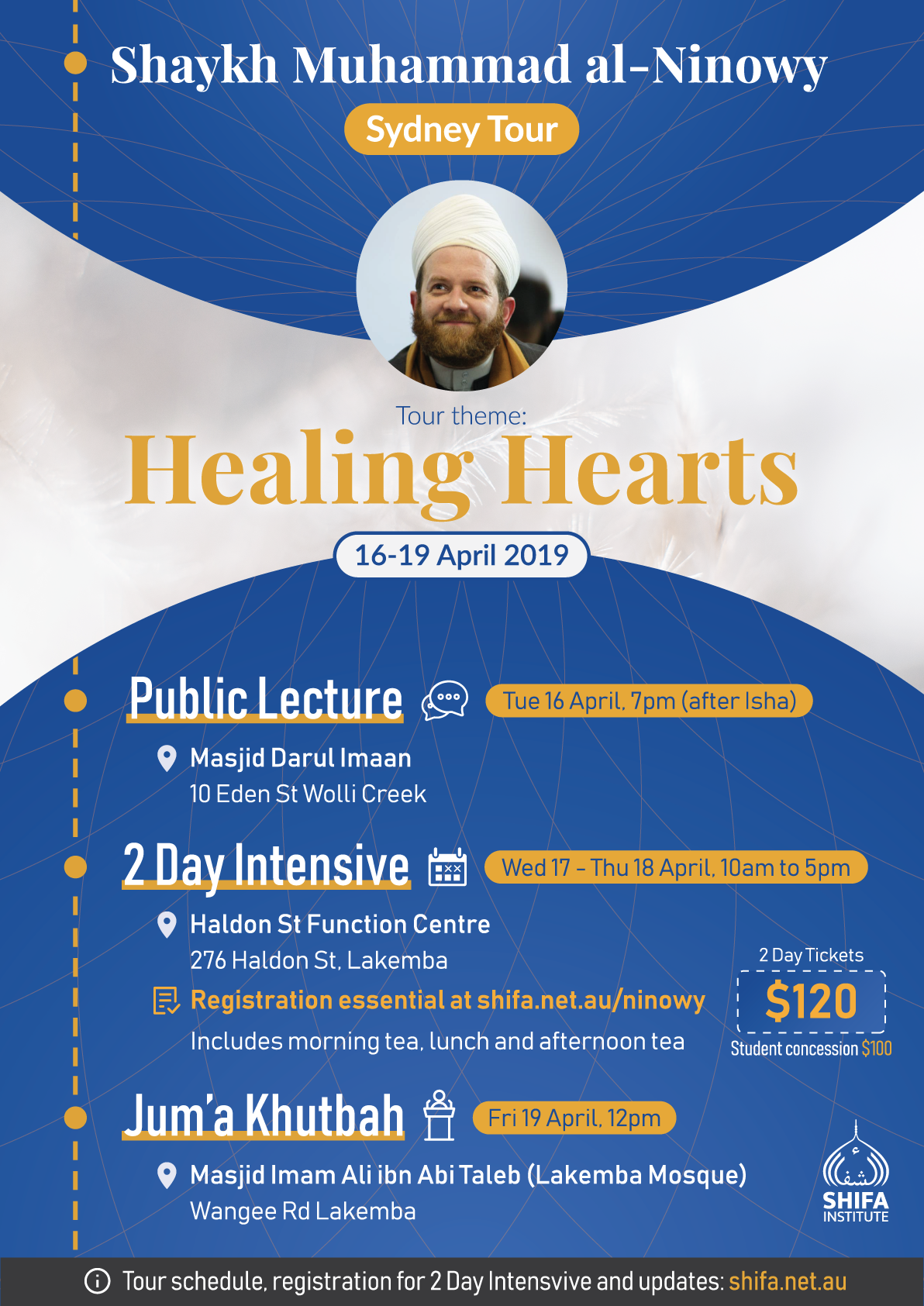 The Language of Love - al-Hikam al-'Ata'iyyah
2-Day Intensive
with Shaykh Muhammad bin Yahya al-Ninowy*
Join us in delving deep into the classical text of al-Hikam al-'Ata'iyyah as Shaykh Ninowy explains and elucidates key concepts and ideas over a special 2-day intensive.
This text is a primer and must when it comes to travelling the path of Love to Allah.
Limited seating!


2-Day Intensive Details:
Day 1: Wednesday 17 April 2019, 10am to 5pm
Day 2: Thursday 18 April 2019, 10am to 5pm
Venue: Haldon Street Function Centre
276 Haldon St, Lakemba NSW 2195
Cost: $120 per person - covers entry for both days (includes morning tea, lunch and afternoon tea)
Student Concession rate is $100 for the two days (Student ID Card to be shown at registration table)
If you have any enquiries regarding the tour or tickets, feel free to email info@shifa.net.au or call us on 02 8094 1564
* Shaykh Dr. Muhammad bin Yahya Al-Husayni An-Ninowy was born and raised in Syria. He began his study under his father, Sayyed Yahya (Rahimahu Allah), and many of the senior scholars of Aleppo at the time, memorizing the Glorious Qur'an and acquiring knowledge in many of the Islamic disciplines, such as Tawheed, Hanafi/Shafi'i Fiqh, Usool, and Ihsaan
Besides graduating from the Faculty of Usul-ud-Din at Al- Azhar University, Shaykh Dr. Muhammad delved further into the fields of Hadeeth and Ihsaan under the tutelage of many of the foremost scholars worldwide, who resided in Syria, Hijaz, Morocco, Egypt, and others.
Shaykh Ninowy has established a global network of Madina Institutes which all strive to carry the same message. Shaykh Muhammad focuses on reviving the call to Deen with a Back to Basics approach i.e. the Qur'an and Authentic Sunnah, in addition to teaching tolerance, peace and compassion. Shaykh Muhammad is the senior-in-residence scholar at Madina Masjid and institute in Atlanta, Georgia since 2000. He has authored many books in the science of Tawheed, Hadith, and Usul, some of which are being translated into English and published, such as: The concept of Bid'a and its application, Nisf-Sha'ban virtues in the authentic Sunnah, Hadithi commentary on the Shamaa'el of Imam Tirmidhi, Explanation of the Nukhba Text in Hadith sciences, Explanation of the Al Fiyyah in Hadith terminology, Hadithi commentary on Imam Nasa'iy's Khasaa'es, Expressing Delight for the birth of the Light, and more
Shaykh Muhammad is the founding director of "Planet Mercy" and Madina Institute & Seminary in the UK, South Africa, and Canada, and the USA. Shaykh Muhammad also holds a Bachelor's Degree in Mircobiology from the University of Illinois and a Doctor of Medicine degree. Some of Shaykh Muhammad's lectures can be viewed on: www.madinainstitute.org.