Event Information
Refund policy
Contact the organiser to request a refund.
Eventbrite's fee is nonrefundable.
I specialise in Adoption & Abandonment Constellations Stand in your family soul, step into your life fully COVID safe & restriction free!
About this event
In Family Constellations therapy we look for the source of patterns that repeat within families. When you go to a Dr or Psychologist or many other types of therapists you are working on present day issues in your life. Not all presenting symptoms in a persons life are ' present day' sometimes they are linked to your family of origin. When you are born, you are born as part of an existing family system - two in fact ! Your mothers' and your fathers', the burdens and wisdom of both family lineages flow through your DNA into your life:
What does having an affair have to do with your deceased sister?
How does endometriosis relate to being a twin in utero?
How does feeling disgusting relate to a grandmother or great grandmother being sexually abused?
Why does the same illness manifest in the men in a family at the same age, each generation?
Why do some families have many generations of mis-carriages in the female line?
How can an illness be a symptom of something else that needs to be seen?
How can a great grandfather who stole impact on poverty cycles in a family?
Systemic and Family Constellations therapy provides a reference point beyond your current life and looks deeply into your ancestral family ( both parental lineages ), where you might be carrying ancestral trauma, shame, hidden actions, war, etc etc It is a deeply respectful process that enables you to acknowledge actions, illness, cultural impacts in your family lineage that may be impacting you and your behaviour today.
Once 'seen' acknowledged and processed most people are able to move forward into life and away from the presenting issue but still taking their ancestral wisdom and support with them.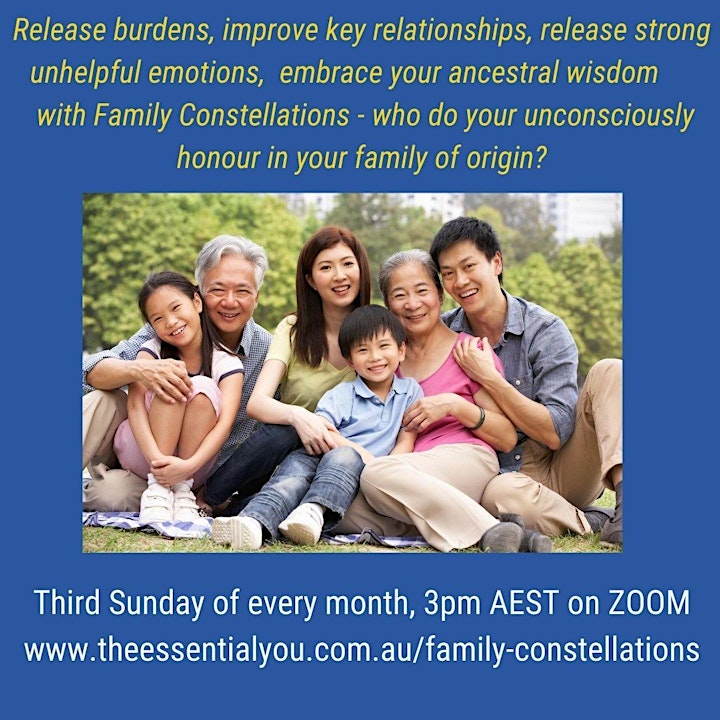 Date and time
Location
Refund policy
Contact the organiser to request a refund.
Eventbrite's fee is nonrefundable.
Organiser of Healing abandonment - with Family Constellations
I host everything on line at the moment whilst we are navigating the virus
Group Family Constellations
Private individual Family Constellations
Sound Baths with a guided meditation for healing, releasing stress and anxiety ( Friday nights 8pm AEST fortnightly via ZOOM )
Circles for women
Deep transformational healing programs : Repair with Rosey | Thrive with Rosey | Ascend - life mastery
I also offer counselling and Hypnotherapy in private sessions