Save the date for the wildest night of art in the South West!
About this event
The Bunbury Biennale is a major contemporary art exhibition in Western Australia. For the first time in the history of the Biennale, artists have been invited to explore a theme.
HE | SHE | THEY is a journey into gender identity. The exhibition will explore notions of inclusion and diversity, celebrating the heterogeneity of gender within Western Australian culture and community.
This exhibition is among the most extensive surveys of contemporary art about gender in Western Australia to date. 37 WA artists explore the theme with performance, painting, photography, sculpture, video and more.
The aim of the inaugural Bunbury Biennale, held in 1993, was to acquire new artwork to expand and diversify the City of Bunbury Art Collection. Now, 28 years later, the exhibition presents a survey of cutting-edge contemporary art from Western Australia to the public.
Over the years, the Biennale has supported visual art in the South West. The exhibition provides high quality contemporary art to the local community, as well as attracting visitors from afar.
Accompanying the Bunbury Biennale 2021 is an exciting program of events, artist talks and workshops. We highly encourage the public to attend and participate. These events provide a wonderful opportunity to connect with the exhibition in new ways and learn from the artists themselves. We look forward to seeing you at the show!
The Bunbury Biennale 2021 will run from 6 March - 7 June 2021 at the Bunbury Regional Art Gallery.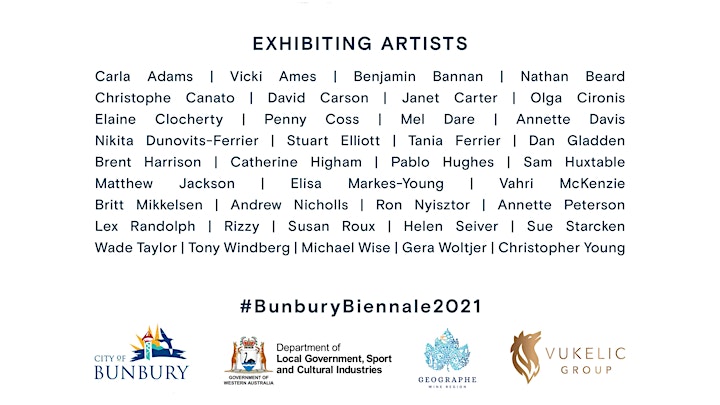 Organiser of HE | SHE | THEY - Opening Night Party
Bunbury Regional Art Galleries (BRAG) is the premier public art gallery in the South West, Western Australia.
BRAG is an icon in the South West community, giving regional artists and audiences valuable exposure to contemporary and traditional art, and providing exhibition and artistic development opportunities for artists working in regional and remote locations. Through our diverse programme of exhibitions and workshops focusing on community access and engagement, BRAG invites you to experience the arts through discovery and creativity.
Bunbury Regional Art Gallery is owned and operated by the City of Bunbury.
BRAG is open daily, 10am - 4pm. Entry is FREE
Location: 64 Wittenoom Street Bunbury WA 6230
Phone: 08 9792 7323
Email: artgallery@bunbury.wa.gov.au