HASS Week WA 2018 Invited Public Lecture with Dr Cindy Solonec, School of I...
Description
The HASS Week WA Organising Committee invites you to join us for a public lecture by Dr Cindy Solonec, Honrary Reaserch Fellow at the School of Humanities, UWA, and tutor in the School of Indigenous Studies.
Protecting Ngajanha Marnta: Eastern Guruma v FMG
Abstract
Under section 10 of the Commonwealth Aboriginal and Torres Strait Islander Heritage Protection Act 1984, Eastern Guruma in the Pilbara are seeking protection of Ngajanha Marnta (or Spear Hill) and the valley below, south of Tom Price. It is where at least 50 culturally significant and sensitive sites are in danger of being desecrated and destroyed if Fortescue Metals Group (FMG) build a railway corridor through this area. Part of FMG's intended 120 km railway spur is along the actual pathway that Eastern Guruma and their neighbours, Banyjima, Innawonga and Yindjibarndi, have followed for thousands of years. On the hill itself, is unique spear wood that is harvested annually for ceremonial purposes—a wood that is not found anywhere else. The only access to the spear wood is from the western side of the hill, where FMG propose to build the railway line. Eastern Guruma therefore are asking that the railway line be realigned by about 3 km to avoid the area.
Permission was granted to FMG under s.18 of the Western Australian Aboriginal Heritage Act 1972. Eastern Guruma however claim that complete consultation with the Traditional Owners was never carried out by FMG. Eastern Guruma are not anti-development. They believe that there need be no losers with a realignment, but rather both can be winners as the country's wealth continues to enhance the livelihood of not only Aboriginal peoples, but the nation.

Considered in this lecture are Aboriginal histories which are revealed by oral, documentary, and material cultural evidence. As a member of the History Council of Western Australia I argue that as historians and citizens we must protect our nation's oldest heritages and ensure they are not thrown in the waste-paper basket of irrelevance.
Author Details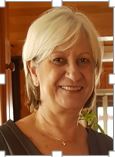 Dr Cindy Solonec is a Nigena (Nyikina) woman from the West Kimberley. She has lectured and tutored at the School of Aboriginal Studies at Curtin University; Curtin School of Midwifery and Nursing; and, Notre Dame's Broome campus. In recent years Cindy has worked at UWA's School of Indigenous Studies. Cindy is an Honorary Research Fellow in the School of Humanities at UWA and is currently preparing her PhD thesis - based on the lives of her parents and extended family in 1900s West Kimberley - for publication.