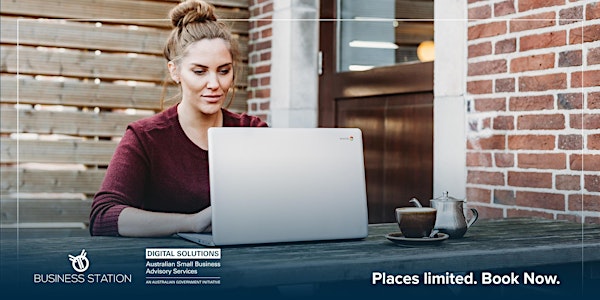 Harrisdale-Lead Yourself, Lead Your Business by Pink Owls Consultancy [FW]
Location
Timber Cafe Boardroom
51 Wright St
Harrisdale, WA 6112
Australia
Lead Yourself and Lead your business: how to understand and recognise opportunities for growth every day.
About this event
PLEASE NOTE: To register for this event you must be a business (0-19 employees)  and provide your ABN. 
Delivery Method: Face to Face Workshop (the session will not be recorded)
Level : Beginner
A 'self coaching' approach is as important for your business as seeking out a Business Coach. What goes on in your mind will always dictate your day, your plans and ultimately, your success. There are fundamental steps involved in Coaching yourself which include filling your cup of wisdom long before you need it. In this workshop, consider how leading yourself well will set you up for personal growth and business success.
This workshop is brought to you by Business Station and AusIndustry under the Digital Solutions Program.
ABOUT PRESENTER
Pink Owls Consultancy, which has more than 30 years of experience in small business start-ups, business development and executive leadership was founded by business partners, Kate Hewett and Kelley Chisholm.
Kate has worked in small business in both the accommodation and home-based business spaces. She has built these additional income streams whilst working as a teacher and raising a family. She is passionate about helping women build other streams of income to supplement their family wealth and is a certified Life Coach with skills to support people with holistic development.
Kelley co-founded a building demolition and recycling business that expanded to importing goods across Australia and establishing a local mill. She spent a decade working in a COO role for a large social enterprise and community development organisation. She currently leads an international charity focussed on helping women in the developing world establish businesses for independence and self-sufficiency.
Together Kelley and Kate's specific expertise is best seen in the following fields:
– Growing the Leader
– Strategy & Execution
– Sound Foundations for Business Practice
– Maintaining Values in Parallel with Brand Consistency
– Training for High Performance
Kelley and Kate are equally effective in group facilitated training workshops or 1:1 mentoring or coaching.
#womeninbusiness #womeninbusinesswa #perthgirlbosses #womeninbusinessrock #womeninbusinessaustralia #perthmums #resilience #small business #womeninbusiness #unbreakablebusinesswoman #sidehustle
About Digital Solutions - Australian Small Business Advisory Services
The Digital Solutions program is built to help small business owners develop their digital marketing skills, from social media to building a better website, making online sales, creating Google and Facebook Ads, and more. All with the advisory and guidance of experienced industry experts who keep you on the right track and help you learn with step-by-step support and check-ins.
In almost four years we've helped over 15,000 small businesses in QLD, WA and NT to become more confident with digital marketing. With generous support and sponsorship from the Australian Government, you can access over $1,000 value in business advisory, training and online resources for only $44.
At this event, we'll discuss how our program works and how we can help you to build a more resilient business.
Important – Participating businesses must be aware that this information will be provided to the Commonwealth Department of Industry, Science, Energy and Resources for program evaluation and reporting purposes; and businesses may be approached by a representative from the Department to complete a survey on the services provided.