About this Event
Thank you for your interest in the Confucius Institute at UWA and Perth Festival event Harp of the East scheduled for Saturday 15 February 2020.
Due to the current travel restrictions for people from China this performance will be rescheduled to later in the year. The event will not take place during Perth Festival 2020. You are welcome to register with your email address and we will contact you directly when the new date is confirmed and invited to rebook.
We have been delighted with the strong interest in the performance and hope to see you all at the concert later in the year. The Silk Road Konghou Art Group musicians are very much looking forward to performing in Perth.
Concert Information
Professor Cui Junzhi from Beijing's Central Conservatory of Music is considered the foremost exponent of the konghou and will lead this performance by the international award winning Silk Road Konghou Arts Group. Audiences will be transported back to ancient times and then immersed in the exquisite sounds of the konghou on a musical journey back to the present.
The Chinese konghou dates back to 770 BC. It was popular during the Han Dynasty and died out during the Ming Dynasty. It was revived in the 20th century by experts working from historical records and ancient murals. Over the last 40 years a more modern double-bridged version has been developed that looks similar to the Western classical harp and allows advanced playing techniques such as note-bending. Harp of the East will showcase both the modern and ancient konghou.
The konghou has been a catalyst for the fusion of eastern and western classical music. This program will include landmark konghou pieces, traditional Chinese folk music, award winning compositions from the 20th century and a new arrangement created especially for this performance.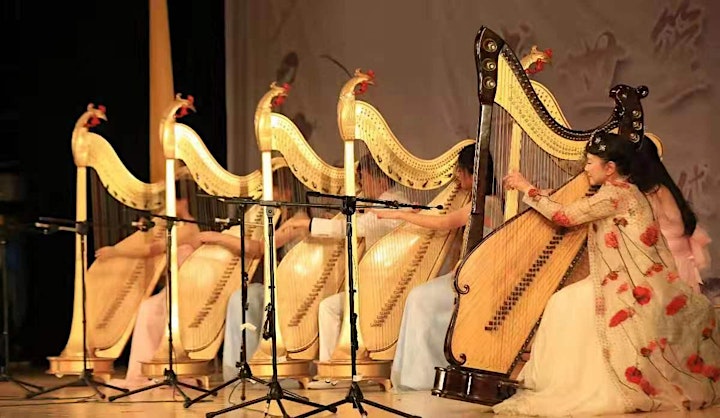 We would like to help Australian animals following the recent devastating bushfires. You can help us to help them by making a donation to the WWF's Bushfire Appeal when booking your free tickets HERE.