Harness your passion to change the world
Presented by: Dr James Muecke, Australian of the Year 2020 and Dean Kilby, Scientific Director at Simplr Health
About this event
Sydney Investors, Professionals and Business Networking Group (SIPBN Inc.) invites you to a free webinar proudly presented by: Dr James Muecke, Australian of the Year 2020 and Dean Kilby, Scientific Director at Simplr Health
Key Note Speakers:
Dr James Muecke - Australian of the Year 2020
James is an eye surgeon, humanitarian and social entrepreneur, and for 30 years has been fighting blindness in Australia and some of the poorest countries of the world. In this fascinating and at times confronting keynote presentation, James uses powerful stories from his work with social impact organisation Sight For All, to outline the three key elements of social entrepreneurship - a spirit of adventure, a humanitarian spirit, and an entrepreneurial spirit.
He also discusses the ingredients that make up an entrepreneurial spirit and how you can harness your passion and use these ingredients to change the world for better. James is now exploring social entrepreneurship in the context of chronic disease and, in particular, the epidemic of metabolic dysfunction.
Dean Kilby - Scientific Director at Simplr Health
True to this context, Dean Kilby, a biomedical scientist and transformational coach, has followed in James' footsteps and shares how he demonstrated this difference making approach with Simplr Health.
He has created an environment in which health consumers gain access to real science, real coaching, and are effectively empowered and enabled in being accountable for their own personal well-being, and that of future generations.
About SIPBN Inc:
Sydney Investors, Professionals and Business Networking Group (SIPBN Inc) is a not for profit organisation which provides a premium platform to connect business, markets, capital and projects with investors, opportunity, and information at one place through our global contacts in the investor community, business, trade missions and government departments. Our focus is to facilitate international investment to and from Australia particularly Western Sydney.
Our members include business owners, CEOs, professionals, investors and entrepreneurs from different business sectors including not for profit organisations.
For more information, please e-mail info@sipbn.com.au or visit www.sipbn.com.au.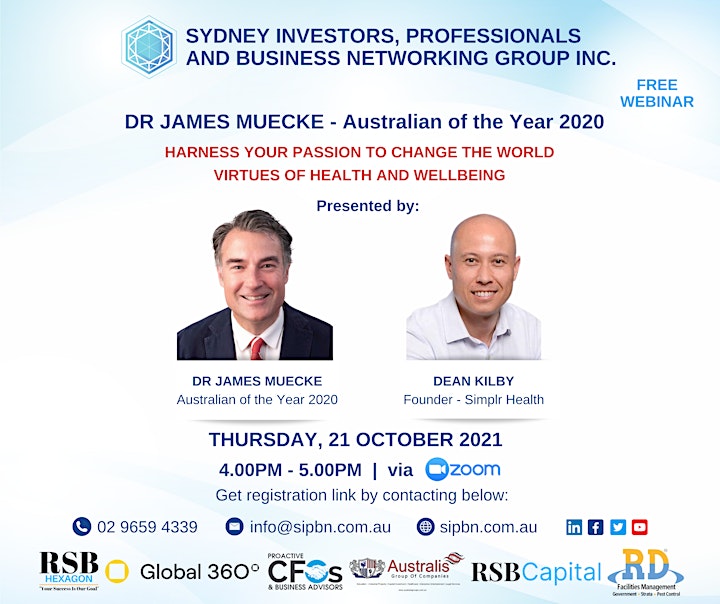 Organiser of Harness your passion to change the world