Harmony Week: Tea and Harmony
Description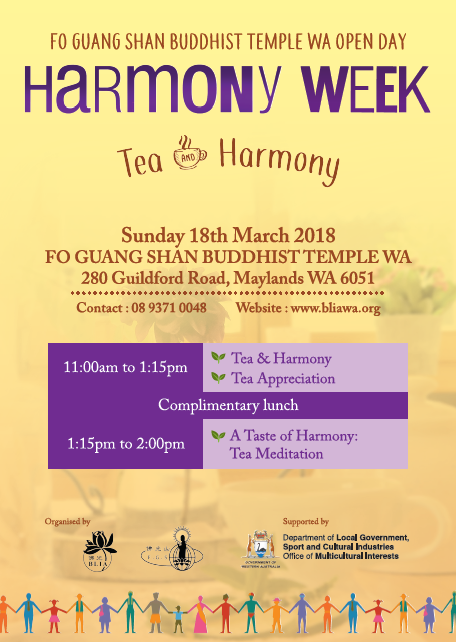 In response to the Western Australian State's initiative, Buddha's Light International Association of Western Australia is celebrating one of the State's largest annual events in the calendar year called "2018 HARMONY WEEK" on the 18th March 2018.
As Fo Guang Shan Buddhist Temple of Western Australia is located within your neighbour area at the City of Bayswater, we are hoping to invite you and your family members to be part of the City of Bayswater's 2018 Harmony Week program.
Our theme this year will be "Tea & Harmony". Tea is a beverage that almost everyone in this nation would consume daily, and it has become central to the cultures of many people from diverse backgrounds. We aim to promote the "Tea & Harmony" event as a cultural and social event for the local community in the City of Bayswater and throughout the Perth metropolitan area.
On the day of the event, we have invited people of different ethnic backgrounds, including Japanese, Indian, Turkish, Russian, and English as well as Chinese backgrounds. They are going to demonstrate their tea ceremony and traditional tea sets while sharing with all our audience the history of how tea was incorporated into their culture. We have also prepared Taste of Harmony: Tea Meditation for everyone to participate in and enjoy the calmness and tranquillity that comes with meditation and tea appreciation. As our neighbourhood residents, you and your family members will also be given the opportunity to taste the various tea presentations presented by our fellow partners.
We hope you can bring your whole family to join us in this special occasion and celebrate 2018 Harmony Week.
As the event registration starts at 10:30 am and event commences at 11:00 am, please mention your invitation code "NEIGHBOURS" so that we know you are part of the bigger family in the City of Bayswater community. All neighbourhood residents who attend this event will also be given a token of appreciation gift to show our gratitude to the local community.