Event Information
Location
Cudgewa Football Ground Res., Cudgewa
Cudgewa Football Netball Club
Cudgewa, VIC 3705
Australia
Free outdoor screening of Happy Sad Man with dinner from 7.30pm at the Cudgewa Football Netball Club. Q&A and supper afterwards.
About this event
The Cudgewa Football Netball grounds will be host to a free outdoor movie screening on Friday 5th March with a free dinner from 7.30pm (pizza from Corryong Pizza shop). Bar also open to purchase drinks. Relax into the long weekend and get a group of friends/family together for this touching and unforgettable film documenting the stories of 5 Australian men, including Cudgewa's John Anderson.
Movie starts at 8.30pm followed by a Q&A with the Australian movie producer Genevieve Bailey. A free supper with tea/coffee also on offer.
Please bring warm clothing and blankets, a picnic rug or comfy camping chair (chairs also available for use at the football club). Insect repellent might also be handy!
HAPPY SAD MAN is a charming and uplifting insight into the lives of five very different Australian men.Following her smash hit I AM ELEVEN, Australian filmmaker Genevieve Bailey was inspired to find more diverse and positive portrayals of men exploring their emotional selves. We journey from Bondi Beach to the outback; we laugh and cry alongside a war photographer traversing global conflict zones, we visit a farmer and outreach worker from rural Victoria, a musical nomad and a sensitive dog-loving artist. Each portrait is an intimate and heart warming look into vulnerability, friendship and compassion.HAPPY SAD MAN gives unforgettable voice to the complex emotional landscapes we can all traverse. Touching, funny and tender, this must-see documentary is set to shine a light on and change the dialogue around masculinity and mental health today. Exploring hopes, anxieties, joy and darkness the raw vulnerability of these stories will inspire you to hold some of the men in your life that bit closer.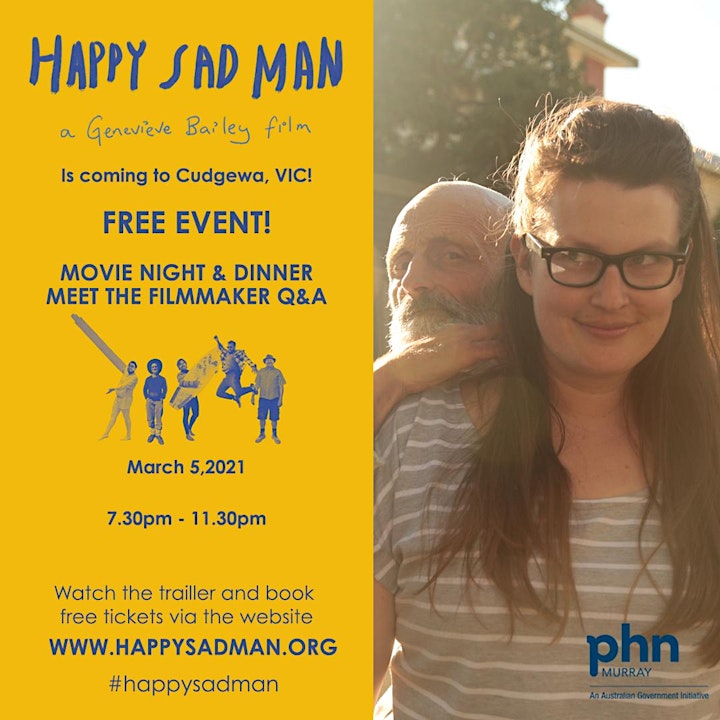 Date and time
Location
Cudgewa Football Ground Res., Cudgewa
Cudgewa Football Netball Club
Cudgewa, VIC 3705
Australia