Handwriting & CO-OP: Evidence to Practice by Assoc. Prof. Elspeth Froude
Event Information
Refund policy
Contact the organiser to request a refund.
Eventbrite's fee is nonrefundable.
Handwriting intervention & CO-OP (Cognitive Orientation to daily Occupational Performance) Approach: Putting Evidence into Practice!
About this event
Handwriting & CO-OP: Putting Evidence into Practice! 1 hour CPD online webinar event for therapists & educators working with children who are struggling with handwriting!
This webinar is in follow-up to last year's hugely successful webinar and the current need of clinicians and educators working within this area to be using evidence-informed interventions. Hence, this time Elspeth will be sharing more details regards putting existing research-based evidence into everyday handwriting therapy practice.
The Cognitive Orientation to daily Occupational Performance Approach™ (CO-OP) was initially developed to use with children with developmental coordination disorder (DCD), (sometimes known as dyspraxia) and is now best practice for children with DCD. It has also since been shown to provide successful outcomes for children with a range of diagnoses who find motor-based skills difficult to learn or re-learn.
It is a child or client-centred, performance-based therapy approach with the potential to benefit many children who struggle with everyday living tasks like handwriting, dressing, using cutlery, playing musical instruments, playing sport etc.
As handwriting is a such complex task, which many children, who are referred to occupational therapy, struggle to do proficiently, Elspeth will be providing some introductory information on:
1. What CO-OP is? and
2. "How's and Why's of using the CO-OP approach in your clinical practice.
3. Evidence guided practice for handwriting intervention - debunking some myths!
There will also be aprox.15 mins allocated to Q&A time.
**This online event will be conducted via a LIVE ZOOM Webinar and the Zoom Webinar link will be sent via email, one week prior to the scheduled date of the event.
**Also, for all those who register closer than 1 week prior, the ZOOM Webinar link will be sent out to all registrants 2 days prior and then again 2 hours prior to the event!
**Please note: It will also be recorded and the recording link will be made available to all registrants after the event for unlimited viewing only for a set period of time.
**PLEASE BE SURE TO CHECK YOUR JUNK/SPAM folder for all emails concerning this event. And also that when you registered that you correctly entered your email:)
Elspeth is an experienced occupational therapist, certified CO-OP instructor and currently she is Associate Professor (Head of Discipline) in Occupational Therapy, Deputy Head of School, NSW, School of Allied Health, Faculty of Health Sciences Australian Catholic University.
I have arranged this 1 hour CPD event to benefit occupational therapists, occupational therapy assistants, occupational therapy students and educators from around the world, who are interested in learning more about this CO-OP approach and evidence based practice from an well-respected expert in the field.
Trust you will all enjoy! Thank you so much!
PLEASE NOTE: TICKETS SALES CLOSE on Monday 19th July at 1130am AEST - 8 hours before the event!
For any queries, please email me directly on melissaot@ricardoreadingmouse.com.au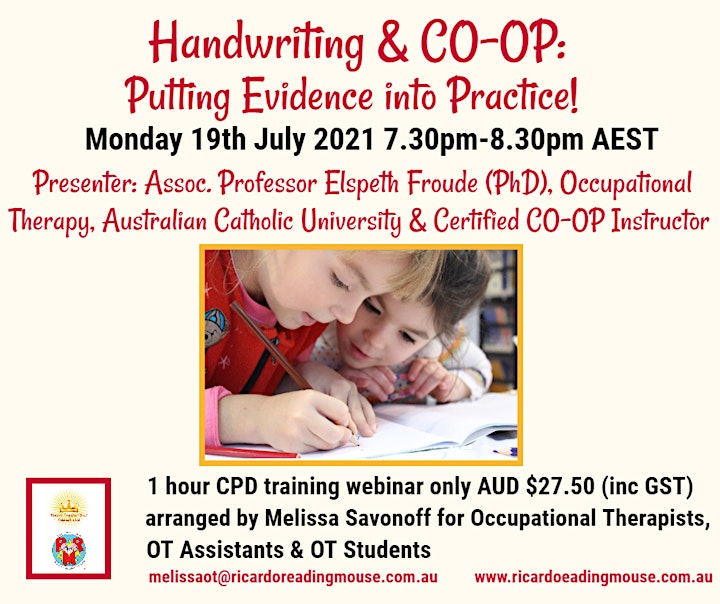 Date and time
Location
Refund policy
Contact the organiser to request a refund.
Eventbrite's fee is nonrefundable.
Organiser of Handwriting & CO-OP: Evidence to Practice by Assoc. Prof. Elspeth Froude