Event Information
Location
Guildford Primary School
125 Helena St
Guildford, WA 6055
Australia
Description
Join us for a hands on, fully coached bicycle maintenance workshop.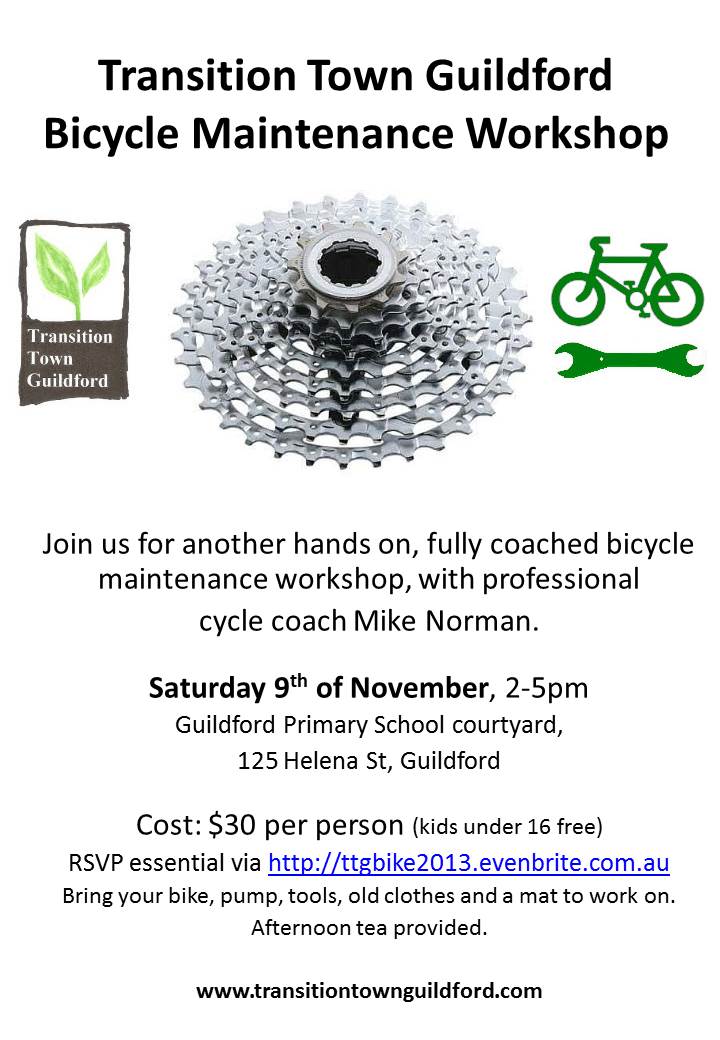 Learn how to service your own bike, including:
Intro – you can do 90% of bike maintenance yourself!

"

ABCD" bike check – what to look out for to ensure your bike is roadworthy and operates efficiently

Basic bike fit adjustments – seat hight, seat fore/ aft etc

Cleaning and lubing chain, edge of jockey wheels etc.

Dropped chain – how to fix it

Taking wheels on and off – correct use of the quick release lever

Taking off a tyre and changing a tube easily.

Plus many more, even for experienced cyclists..... including break pads, gears etc...
When: Saturday 9th of November
Where: Guildford Primary School courtyard, 125 Helena street, Guildford
Time: 2-5 pm
Cost: $30 per person (bike services usually cost $50 and upwards)
Note, kids under 16 can attend with an adult for free, with their own bike included, as long as they are supervised and work together with the adult.
Payment Options: With credit card via eventbrite, or via bank transfer to
Transition Town Guildford
BSB: 633000
Account no.: 150317758
If paying by EFT please enter your surname and initial for reference.
What you need to bring: Your bike, plus any bike tools you already use. And to keep clean: old clothes, and if you have them, rubber gloves and a sheet of plastic to work on.
The workshop will be run by Mike Norman, professional cycle coach from the Secret Cycling Business. He will demonstrate each step and then participants get to work on their own bikes with assistance.
Afternoon tea provided.
Places strictly limited to 30 adults with bikes (kids can accompany adults for free). RSVP and pre-pay essential.
Date and Time
Location
Guildford Primary School
125 Helena St
Guildford, WA 6055
Australia