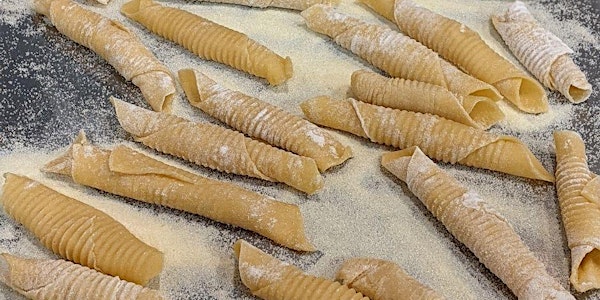 Handmade Winter Pasta with The Coastal Italian
Location
The Essential Ingredient Newcastle
Junction Fair Shopping Centre
200 Union Street
The Junction, NSW 2291
Australia
Combining hand-rolled and filled pasta, this is your next level Italian experience.
About this event
Born and raised in a seaside town on the Italian east coast, Davide's (The Coastal Italian) passion for food was ignited as a child, watching and helping his mamma and nonna making fresh pasta. He'll continue this tradition with you in our Winter Pasta Class. 
Combining hand-rolled and filled pasta, this is your next level Italian experience. Davide will show you the techniques behind making Garganelli and Tortelli, then prepare a beautiful salad for you to eat with your tiny masterpieces. 
A love for fresh seasonal produce is what drives Davide as he prepares classic and modern dishes- always with an equal portion of both Italy and Australia in his heart. Join him in a little getaway to the Italian coast...
Your Menu...
Aperol Spritz or Prosecco with Antipasto on arrival
Garganelli with Zucchini, Prawns, Lemon Zest and Fresh Basil
Pumpkin  & Native Pepper Tortelli  with Burnt Butter, Sage, Hazelnuts and Gorgonzola Fonduta
Fennel, Radicchio and Orange salad
To avoid the online booking fee, or if you would like to redeem an Essential Ingredient Gift Card, please contact us directly and we will enroll you into this class over the phone (on 02 4926 1991), or visit us in-store.
To Do List:
Wear closed toe shoes (we love your toes where they are),
Pull long hair back off your face ("waiter, there's a hair in my soup"),
Inform us of any dietary requirements prior to purchasing your ticket/s. Please also be aware that some requirements and/or allergies cannot be catered to – depending on the class.
No refunds/transfers/credits on cancellations, regardless of illness or a change in personal circumstance. For a complete look at the Terms & Conditions of The Cooking School at The Essential Ingredient Newcastle, visit our website.