Description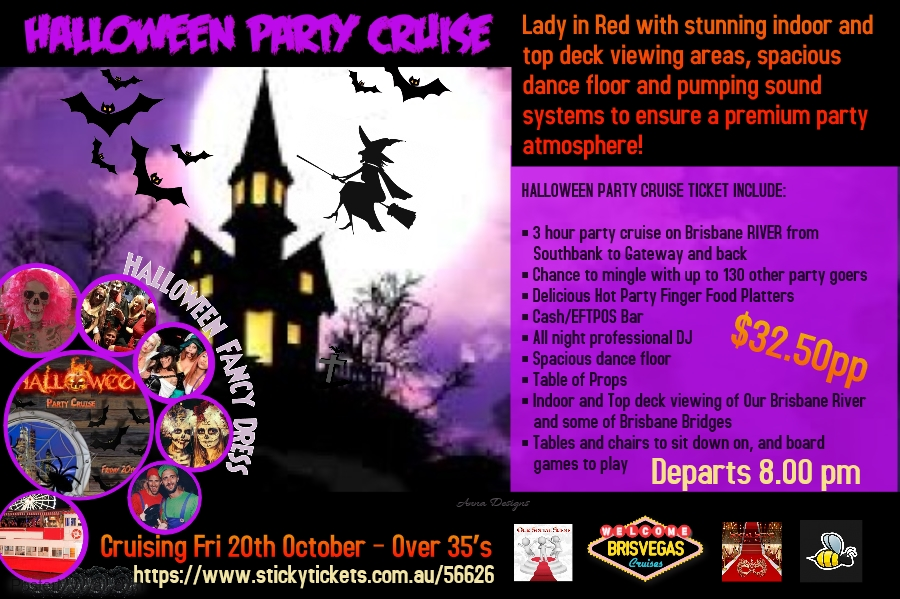 This Halloween, get your mates together to experience this MYSTERIOUS voyage along the Brisbane River.
The excitement begins as you arrive on the dock...just in time to board. The Skipper will greet you, and you will be welcomed aboard. Please BEWARE! there are many PROCESSED TOYS on the upper viewing deck DANCE FLOOR.
This WICKED cruise sold out last year, NOW BACK! By very popular demand, one of our best events for making new friends!

HOT FINGER FOOD PLATTERS are included into the price, there is also a LOWER VIEWING DECK where you can chill-out and take in the Brisbane River City Lights.

Onboard this 3-hour cruise our DJs always create a fun-filled atmosphere that makes you get up and dance, you will be able to request your own music on the night and drink prices will be especially affordable, a lot lower than most nightclub prices.

This cruise is for the Over 35's community, anyone over the age of 18 is still welcome to join us…

There is a second Halloween Party Cruise on Friday 27 October for the over 20's & 30's community >>


Tickets are only $32.50 and include;

➥ 3 hours party cruise on the Brisbane River – From South Bank to the Gateway Bridge and back!

➥ Hot finger food platters

➥ Professional DJ with spacious dance floor with an elevated stage area and pumping sound system to ensure the ultimate party atmosphere! Disco lights...

➥ Lower Deck Games Room with Tables, Chairs, Game etc…


⚓ ABOUT THE BOAT.....

➥ The Lady Red is built for maximum space and comfort this wide-bodied cruiser caters for groups of up to 130 people.

➥ Plenty of room on the upper deck dance floor, there is also an elevated stage area!

➥ The large bottom deck is the perfect place to relax and take in the views of the Brisbane River.

➥ The Lady Red is made of steel which makes her a very solid and stable boat that cruises up and down the river in comfort.

➥ There is a designated smoking area at the back of the boat on the lower level.