Description
Calling women with big visions!
If you are up for PLAYING BIG and REALISING your vision - maybe a huge goal or dream you have for your business, your community or the world -then join me for a morning of getting powerfully and joyously on track creating that very thing you're here for!
GAIN 3 KEY LIBERATING LEADERSHIP STRATEGIES TO IMPLEMENT IMMEDIATELY:

1. Connect powerfully with both your vision and reality - with an increase in power!!
2. Identify and clear the top mindset block holding you back from living your best life - so that you own and operate from your magnificence.
3. Take that audacious next step into being in action audaciously living your courage.

In addition, gain my trusted system to confidently move forward in realising your full potential and being joyously unstoppable - ON YOUR TERMS.

Get present to the difference that would make for you, for your clients, your business, your community and the world.

NOT QUITE 'READY' ENOUGH?
This workshop is not saying it's for women who are READY, for whom it feels comfy or right to step up and play big. This is for women willing to give yourself a go!

If you sense you're self-sabotaging or undermining yourself ...if your inspiration is flagging ...if you don't have a continuing inspiration and context to hold you powerfully to your game ... or if you'd love to have a community that really gets you ....THIS IS FOR YOU!!
This is for women whose passion or hunger or commitment is great enough for you to take your one next step DESPITE the fear and all the rest. You are the truly courageous. Once you've taken that next step, you'll be astounded at what opens up - and you'll know yourself as a different person. True.

I'll share favourite tips that I've synthesised from some 35 years working with women in education leadership, project management, activism and the arts.



EXPERIENCE YOUR NEXT ZONE

If YOU have a big vision - and if in any way you feel it's time to be more connected, more on track, and give that next step a go to be able to make the decision for your life ....
See you there?
Yayyyy!

ABOUT CHRIS HENDERSON

Chris Henderson empowers business women leaders and world changers through her work as Courage Catalyst, Coach, Speaker and Community Builder.

Chris' genius lies in activating women to be their own passionate catalysts in accessing and transforming their creativity + courage + connectedness - and of course the pure joy of stepping into their full potential.

Chris is committed to contributing to a better world for all. She walks her talk through leading and mentoring of women's empowerment networks and sisterhoods, and her volunteer national leadership role as Australian President of the international not-for-profit peace organisation, the Women's International League for Peace and Freedom. Chris' goals for women and for the world are audacious, and she's on track for realising them - and energising all others in going for THEIR visions.

INTERESTED?

If YOU have a big vision - and if in any way you feel you could be more connected, more on track, or at least give that next step a go to be able to make the decision for your life - can you afford not to come?

WOMEN TALK ABOUT WHAT THEY'VE GAINED FROM CHRIS' WORKSHOPS AND PROGRAMS

From participants in Courageous Women Leaders workshops
Gabrielle Conescu and Mary Wong comment on their experience of the workshop:
"I spent an invigorating and inspiring morning of connection with a group of awesome women, led by this awesome woman, Chris Henderson. Thanks for the experience. I am feeling #empowered" - Heidi Nemme.
"It was such a beautiful experience and to share the day with such incredible soulful women made it even more amazing" - Sharon Armstrong.
"a truly inspiring gathering" - Lisa Groom.
"It was a spectacular day, a great start to some fun adventures" - Julie Gillespie.
"Thank you Chris Henderson. An inspiring and thought-provoking day" - Hilary Jane Rogers.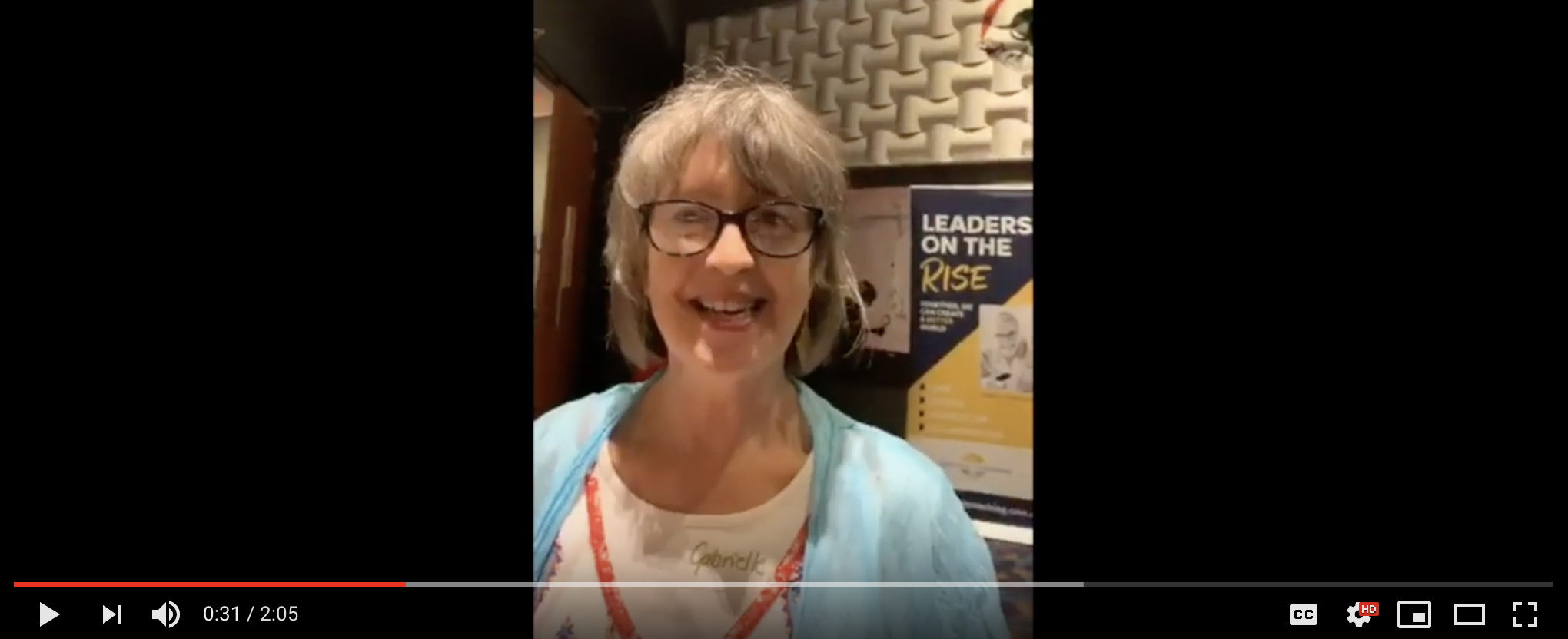 Gabrielle Conescu (artist) and Mary Wong (Optimal Solutions coaching and speaker training) on their experience of the workshop. (above)
"...through the workshop with Chris Henderson, I found myself understanding I was enough. I was getting in my own way. All I had to do was reach out and fill those gaps with the amazing women around me who were incredibly supportive, smart, courageous and fun! Chris helped facilitate that mental shift for all of us; we all felt ourselves move from our perceived 3/10, unable to achieve our goals, to being a 10/10 in living our goals. All of the women there were making connections with others to support their goals and visions, establishing an ongoing support network to maintain that self belief. It was amazing. Thanks so much Chris for giving us this space and opportunity to swish our fabulous tails and shine!" - Julie Gillespie, Connect Mind Matters.
From Chris' attendees and clients
"Chris's tools help me every day in juggling my family of 5 boys, staying on track with the Ph.D I am doing, completing my novels, paying attention to my health and spiritual goals and maintaining an arts practice. I highly recommend this to women who are unafraid to let their light shine! ... It's about giving to yourself and honouring the gifts inside you. "
- Fiona Vander Poorten Sawyer, Ph.D., Director, Can Film Festival.
"I was struggling getting my head around a business strategy. After battling my own blocks, I contacted Chris for some advice. "Chris is a superstar who helped me see clarity in my situation. By the end of our talk, I had a clear understanding of the direction of the steps I needed to take along by new path."
- Denise Olbertz, Denise Olbertz Coaching
You need a catalyst, yeah, and in my case it was Chris Henderson. You need something like this impulse and you need the inspiration.
- Elina Juusola-Halonen, author