Gus Balbontin on Disruption

Wednesday, 6 May 2015 from 6:30 pm to 9:30 pm (AEST)
Event Details
A deserted beach in Thailand, an obscure Umbrian Hill town, a bar under a bridge in Brooklyn. It is rare for a company to possess an emotional pull powerful enough to invoke a sense of longing. It is even rarer for a company to instill feelings of freedom, adventure and exploration.
Ever since its inception in the 1970s Lonely Planet has provided the blueprint, the lodestar and more importantly the inspiration for generations of travelers: From scruffy backpackers to the not-so-scruffy-I-can-afford-a-room traveller.
But even a beloved company and brand such as Lonely Planet is not immune to the forces of disruption. As the Web and mobile became more widespread travelers began the shift from analog (printed books) to digital (the Web, mobile apps).
Enter Gus Balbontin. Former CTO, Executive Director and  Board Member of Lonely Planet Global. Gus led the company to its reinvention from book publisher to travel tech company through product and content innovation. He has worked in cutting edge technology with some of the biggest tech companies in the world including GoogleX, Apple, Nokia and more.  He is currently an Advisor and Investor in many start ups and regularly speaks on topics of innovation, business transformation and tech. Gus will regale us with his story of how he navigated this challenging change.
An Argentinian born, intrepid traveller himself - Gus has a fascinating story to tell.
Please join us for this our first Keynote event for 2015!

See you there.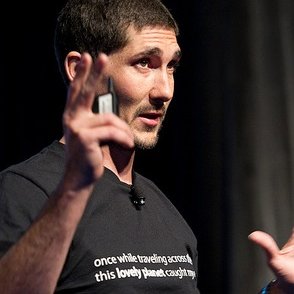 Image: Gus Balbontin
Event format:
6.30pm - Arrival and Networking.
7-8pm - Keynote and Q&A.
8-9.30pm - Networking and close.
When & Where

Shebeen
36 Manchester Lane
Melbourne, VIC 3000
Australia

Wednesday, 6 May 2015 from 6:30 pm to 9:30 pm (AEST)
Add to my calendar
Organiser
What if the status quo is wrong?
To us 'Disruptive' means questioning the way things are currently done. New ideas and technology are changing business. Standardized workers working in standarized jobs building standarzied products are becoming a relic of the past as we move from the industrial economy to what Seth Godin refers to as the connection economy.  If such a shift is on the horizon what are the tools we need to prepare? This event series is not about having the answers, but asking the questions. We are creating a network of people who currently think along disruptive lines, and thrive on change for the better. The three areas we look at are good business, meaningful work and disruptive innovation.
If you are one of the mavericks, game-changers and revolutionaries who care about these issues, we invite you to come along.