Sales Have Ended
Registrations are closed
Thanks for your co-operation & support!
Sales Have Ended
Registrations are closed
Thanks for your co-operation & support!
Join online for this interactive free festival with your family & friends to celebrate special day of our Guru.
About this event
Chinmaya Misson Sydney Invites you to join this Special Interactive Guru Purnima celebrations Online on Zoom.
Due to COVID safe restrictions we will not be having our function at Chinmaya Sanndihi Ashram.
Reserve your spot by REGISTERING NOW!
Registration will close on 23rd July, so that we can prepare for the festival in a COVID friendly way. Thank you for your support & co-operation.
ONLINE SPECIAL PROGRAM
Saturday 24th July
10.00am: * Opening Prayers  * Guru Purnima Sankalpa. *108 Names of Veda Vyasaji * Chanting of Guru Paduka Stotram
10.15am: * Sharing by Devotees
10.35am: * Bhajans in the Glory of Guru
10.55am: * Announcements * Arati * Pledge * Closing Prayers
All can Participate in the festival by following these preparatory steps:
Clean your home. Setup your altar with a picture of your Guru / Guru Parampara. Gather 112 flowers / petals for offering. Make a favourite dish to offer your Guru. Keep a cup of water with spoon. Setup an Arati tray. Dress your best. Keep your laptop in a position that we can see you and the family with your altar. Join us online.
Make your Guru Dakshina offering
As gratitude to our Guru, you are welcome to make an offering so that the Guru can continue His work in uplifting not just you but many many more. Click link below to giving your special offering. [Click to give Guru Dakshina]
Registration
Registration will close on 23rd July!
For Further Details:
Call Nandu on 0408 445 941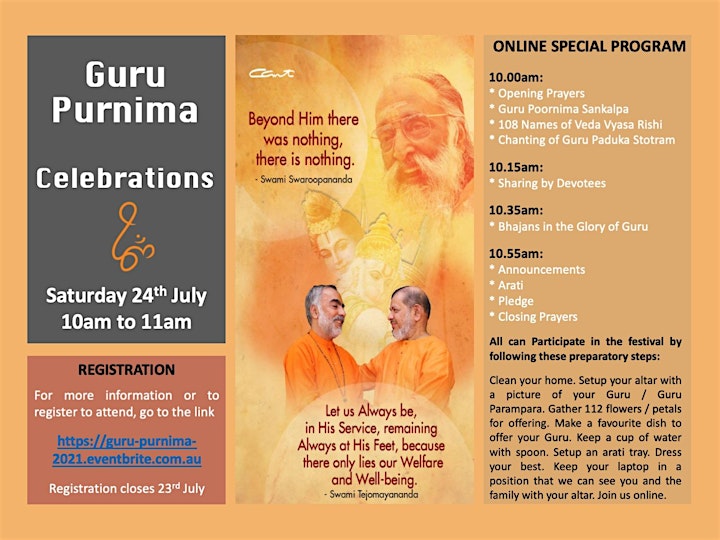 Organiser of GURU PURNIMA CELEBRATIONS