About this Event
Mirosuna sound meditations are tranquil experiences for those who are stressed or need unwinding and rejuvenation. They will help you live with more purpose and perspective, with lessons that you can take away at the end of each class.
What is Sound Meditation?
"Sound meditation is a practice used for centuries for physical healing, clarity of mind and deep meditation. It harnesses the soothing sounds and vibrations of singing bowls to help you feel truly at peace and present in the moment.
It is an easier alternative for those who find meditation or 'switching off' challenging. Helping to make mindfulness more accessible, to begin your practice all you have to do is lay down, close your eyes and focus single-pointedly on the transcendental sounds played to you live in our guided session.
Meditation physically changes the structure of your brain in ways that bring about healthier feelings, thoughts and behaviours. Those who meditate 10-30 minutes a day, are able to stay noticeably calmer in stressful and difficult situations.
By creating space for change, you welcome more happiness and all of the beautiful emotional states that our physical, spiritual and mental body desire." - Sally Kellett, Founder of Mirosuna
About Sally Kellett:
After over a decade of working within fast-paced, multinational corporate environments, Sally found that those surrounding her are stretching their mental capacity and strength to the point of neglecting their own physical, emotional and mental health. Whilst on her own journey of well-being, Sally found the benefits of mindfulness to be foundational to her own development and stability, though based on her experience acknowledges that it's challenging for anyone to begin their own spiritual journey.
Sally explains that a mindfulness practice is something that can be extremely beneficial when done with guidance and methodology. She also believes that it is nothing to be overwhelmed with and that each have their own journey. Those experiencing considerable stress, anxiety or a desire to invite a sense of calm in their life turn to Sally and her guided experiences.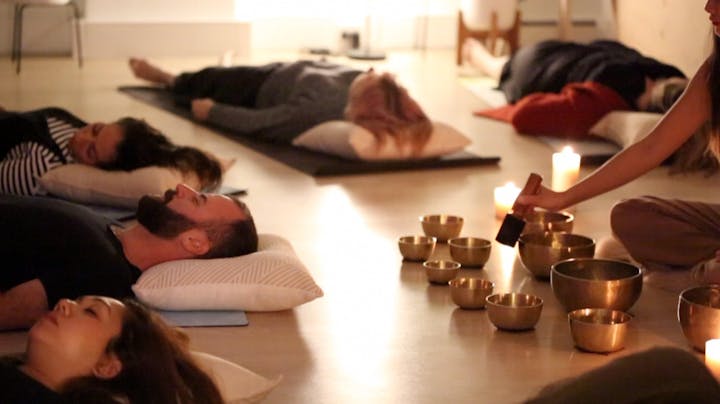 Please arrive 10 minutes before the session. Doors will be shut at 10:30 am to avoid any disturbance to the guests in the meditation.