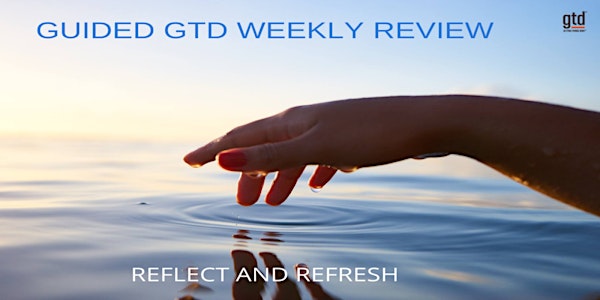 Multiple Dates
Guided GTD Weekly Review Webinar
Guided GTD Weekly Review Webinar
About this event
Come Join us for a Guided GTD Weekly Review!
Your GTD system is your Total Life Management System and the GTD Weekly Review is a Critical Success Factor in maintaining your GTD practice upto scratch.
Most people find their first weekly review difficult. Have you been struggling with doing the weekly review yourself?
Session Objectives:
A GTD Weekly Review consists of 3 parts and 11 steps. Let us take you through the 3 parts and the 11 steps of the GTD Weekly Review and demystify it for you. 
Get clear
Get Current
Get Creative
Who is it for?
It is for you if you have attended our Level 1 GTD Fundamentals Course or have read the book, practice the 5 steps and have a GTD system in place.
What if I am not sure?
Please contact us if you have any questions about whether this is for you or would like us to help you with your GTD.
We look forward to seeing you at the event.
Organiser of Guided GTD Weekly Review Webinar
Productivity First is an International Partner of the David Allen Company in Australia certified to teach the Getting Things Done® (GTD®) methodology - the leading approach to productivity enhancement for individuals and teams. 
Sydney | Melbourne | Brisbane | Canberra | Adelaide | Perth
Our Services:
PUBLIC SEMINARS | COACHING | CORPORATE TRAINING | TRAIN THE TRAINER
Contact 
P: 1800 800 483 (1800 800 GTD)
info@productivityfirst.com.au