Description
Save the date: Strengthening the Support Sector
When: August 30th, 9:30am-4:30pm
The Royal Children's Hospital
In 2018, GSNV hosted a very successful inaugural Strengthening the Support Sector Workshop. This workshop developed a work program for the GSNV informing our work in 2019.
The purpose of this event is to engage with the Victorian Support Sector to:
- Establish future advocacy priorities
-Have the next level of discussion around what a collaborative sector can deliver for people with genetic conditions and those who support them
The concept is to:
- Strengthen the support sector/strengthen the individual
- Update on where we are at and what we've learnt
- Develop a new support sector model: extending the functional approach to the support sector, creating multi-disciplinary support sector hubs
Time
Activity
10.00- 10.05
Welcome and Workshop opening
10.05-10.20am
Parliamentary Secretary – Anthony Carbines
Public Engagement in achieving Health Outcomes
10.20 – 10.35am
Report Card on STSS2018
What did we identify as important and how are we doing
10.35am –10.45am
Sector Landscape - The current policy and engagement environment
What's changed and how does it impact? What does the international landscape look like?
10.45am-11.00am
Lived Experience Presentation
11.00am –11.30am
An engagement case study – Mackenzie's Mission
11.30am –12.00pm
Lived Experience Presentation
12.00pm-12.30pm
Rare Disease National Action Plan
How this may impact you, your support group and the sector and the importance of sector engagement
12.30pm-1.30pm
Lunch
1.30pm-4.00pm
Engagement Workshops – The 'Hear our Voice' Project
Working out the How
What does/should a true patient/consumer partnership look like in research development and policy development?

In what ways should patients/consumers be engaged?

Are current efforts to encourage partnership with genetic, undiagnosed and rare disease patients sufficient? What are the bottlenecks and how can they be overcome?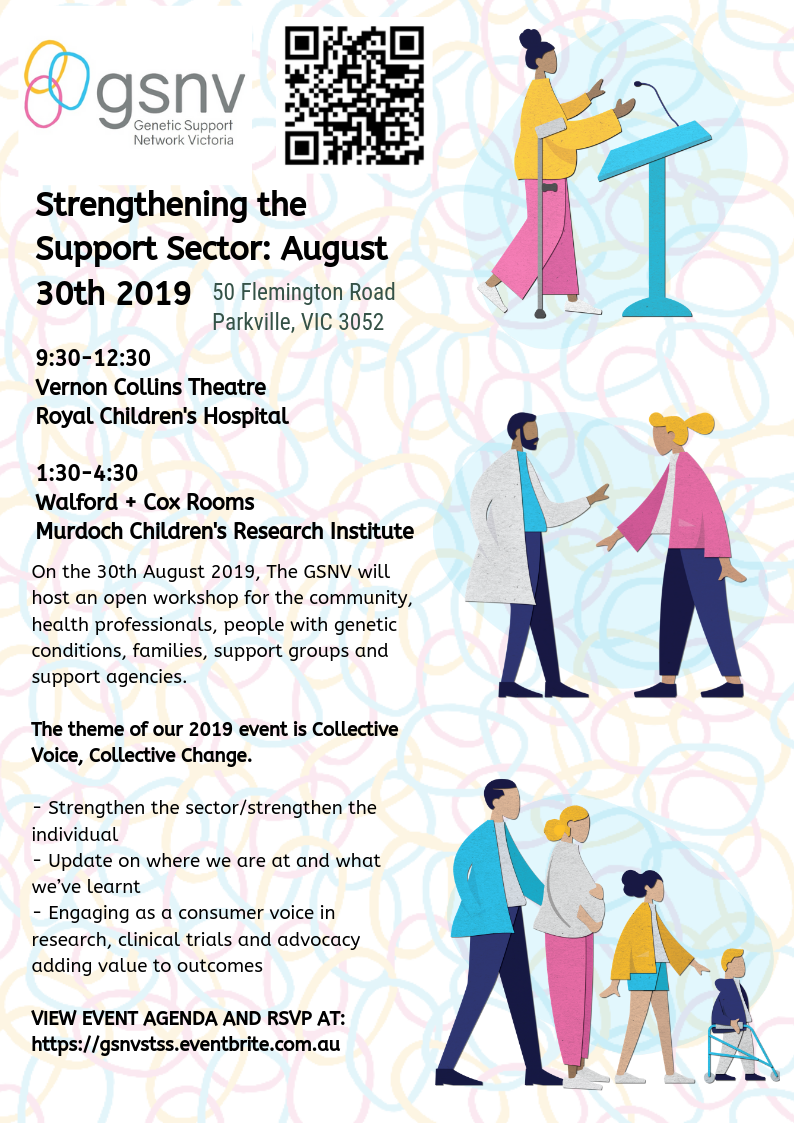 Directions to Health Education and Learning Precinct.

Make your way to Ground level also known as Main Street
If you entered through any of the main entrances you are on Ground level G
If you came by car take any lift to Ground level G

Locate the Main information desk on Main street a large white desk next to the "Creature" sculpture. It is North of the Silver, Blue, and White lifts and South of the Green lift

Proceed to Yellow lifts opposite main information desk
or take the stairs just north of the information desk to Level 1

The entrance to the HELP is a short distance to the LEFT from the Yellow lift entrance on Level the stairs lead to the HELP main entrance also.


We are starting the day in Vernon Collins Theatre, 1.050.

If you get lost call Gus 934 57881 or David 934 54646