SPEED FRIENDING - Get to meet your newest best friend, that will be with you throughout your time at the University of Melbourne.
About this event
Speed friending introduces you to new friends in a playful way.
Enjoy creating genuine connections with other Melbourne University grad students.
Whether you're confidently social, or a bit shy and reserved, you'll quickly warm up and make new friends during this virtual event.
HOW IT WORKS
Meet other grad students as you participate in multiple rounds of face-to-face video chats.
You have plenty of time (approximately 8-10minutes per round) to chat in small groups, or one-on-one.
We provide ice-breaker questions on interesting topics which make conversation a breeze.
Feel how easy it is sharing stories, thoughts, ideas, and feelings as we play a variety of fun games in the online space.
KEEP IN TOUCH
Share your email address with new friends or join our online social group to stay connected after the event.
WHO IS THIS EVENT FOR?
This is a unique online experience for grad students who want to make new friends and feel connected.
Speed friending is a convenient way to be social during times when venue limits and social distancing restrictions limit our ability to catch up in person.
OUTCOMES BY DESIGN
Meet students from your university
Expand your social network
Experience excitement and have fun
Develop rapport using curious questions (supplied)
Gain social confidence
YOUR HOST
Your charismatic host for the session is Sarah; a health-care professional (medical imaging), semi-retired world traveller (50+ countries), trained teacher, confidence coach, business owner, connections designer and friend to all.
DON'T FORGET
Bring a sense of adventure, curiosity and your dancing shoes 😉
FAQS
Dress code: Neat casual.
Gender balance: Please do not attend our event if an exact gender balance is important for your enjoyment of this event. Attend with an open mind, and a sense of adventure, ready to make new friends and connections.
Group size: 6-100 (varies event to event)
By registering for this event you consent that any information submitted in this registration form will be shared with event provider 'Mojo Mingle' to allow successful facilitation of this event.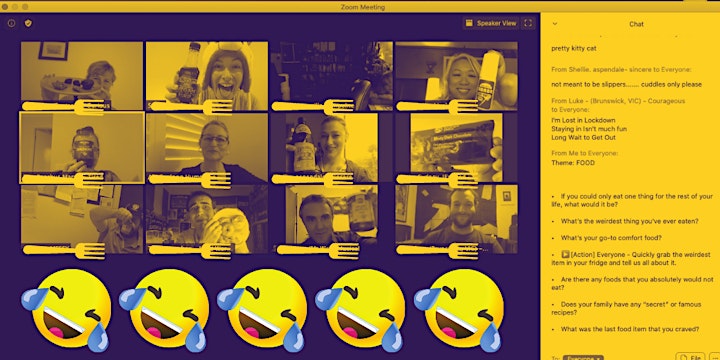 Organiser of GSA Speed Friending with Mojo Mingle #3