GSA SA Division Annual General Meeting
About this event
The GSA SA Division will be holding their Annual General Meeting on the 13th of May 2021. This will be both in person, in the Mawson Lecture Theatre, and on zoom (link provided before the day).
The GSA SA Division will also be hosting a short lecture from Chris Mays, who investigates environmental change, both past and present, recorded in plants to help understand how life on Earth has responded to past intervals of extreme warming.
Not only will we be having a seminar but we will have the presentation of the recent AESC medals to the four amazing people in the SA division.
Caroline Tiddy has been awarded the Garry Davidson Medal. The Garry Davidson award is awarded to an early to mid-career scientist across all fields in applied geochemistry. This award is essentially a "rising star award" in that it includes active involvement in the geological community, recognising someone who is not only an accomplished research scientist but someone who has the ability to inspire younger geoscientists and promote geoscience.
Barry Cooper has been awarded the Tom Vallance Medal (2021) from the Earth Sciences History Group. This medal recognises people who have made a significant contribution to researching, recording, investigating, documenting and/or publishing about people or places or events of historical importance to the geological sciences in Australia or Australasia.
The S.W. Carey Medal was awarded to Alan Collins. This is given to a person distinguished in the field of tectonics.
Alice Clement is the 2021 recipient of the E.S. Hills Medal. The E.S. Hills medal is awarded to a young Australian who has outstanding contributions in geological sciences.
Lastly, we will be presenting the 2020 Earth and Environmental SACE Prize!
The night will end with a lovely dinner at Amalfi on Frome Road.
This is something not to be missed and a wonderful way to support our division.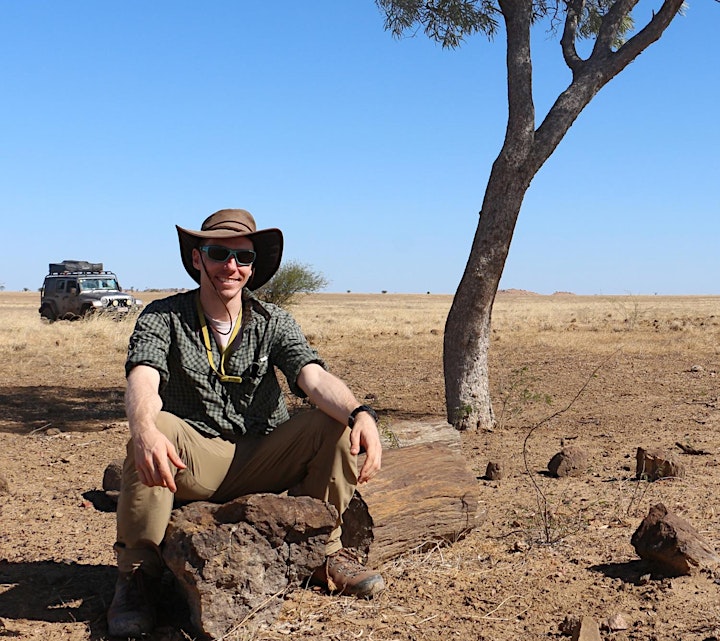 Title
The end-Permian mass extinction: A song of slime and fire
Presenter
Chris Mays
Abstract
Most mass extinction events have been linked to rapid warming, driven by massive injections of greenhouse gas from magmatic sources. The most devastating extinction event in Earth history, the end-Permian event (EPE; c. 252.2 Ma), was no exception, and provides the end-member for our emerging model of warming-driven mass extinction. Oceanic fossil records of the EPE indicate several warming-related extinction drivers that are becoming increasingly common today (e.g., acidification, algal blooms). However, the intermediate causes between warming and continental (land and freshwater) mass extinction have remained poorly understood. Our recent findings from the stratigraphic successions of the Sydney Basin indicate that rapid climate warming led to an increased frequency of wildfires, which in turn, was the likely catalyst for a cascade of biodiversity loss across the Gondwanan supercontinent. Wildfires cause widespread forest habitat destruction, and this deforestation leads to soil loss and enhanced nutrient into freshwater bodies, promoting toxic algal blooms. Our fossil, sedimentary and geochemical data reveal extreme bloom events following EPE forest ecosystem collapse. Microbial communities proliferated in lowland fresh and brackish waterbodies, with algal concentrations typical of modern blooms. These initiated before any trace of post-extinction recovery vegetation but recurred episodically for >100 kyrs. During the following 3 Myrs, algae and bacteria thrived within short-lived, poorly-oxygenated, and likely toxic lakes and rivers, inhibiting the recovery of freshwater ecosystems for hundreds of millennia. Given that the present rate of warming is likely faster now than during the EPE, such mass extinctions of the past provide timely lessons about the chain of causation between global climate change and biodiversity loss.
Biographic summary: Chris Mays
Dr Chris Mays' research interests have focused on the past environments and floral ecosystems of the south polar and sub-polar regions during past greenhouse intervals. Chris received his B.Sc. (Hons) in 2008 from the University of Melbourne, Australia, and his Ph.D. in 2012 from Monash University, Australia.
From 2012–2017, Chris was Lecturer and Postdoctoral Researcher at Monash University's School of Earth, Atmosphere & Environment. His research focused on the sedimentary successions and plant fossils of New Zealand (the Chatham Islands and South Island), Australia (Victoria and Tasmania), and the Antarctic Peninsula. In order to document the fossils from a series of previously unknown localities, he has developed and employed a range of emerging imaging and 3-D 'virtual palaeontology' techniques, such as neutron tomography and synchrotron X-ray tomography. In 2016, he was awarded the inaugural Mary Wade Prize by the Australasian Palaeontologists for the publication of his monograph on the mid-Cretaceous plant fossils of the Chatham Islands. Last year, he published his first popular book, which highlights his ongoing palaeontological work in New Zealand.
Since 2017, he has undertaken a Postdoctoral Fellowship at Naturhistoriska riksmuseet (the Swedish Museum of Natural History, Stockholm, Sweden). This project focuses on the extinction and recovery trends of flora during the end-Permian mass extinction, the most severe extinction event in Earth history. In 2020, he was awarded the Dorothy Hill Award by the Australasian Palaeontologists for his foundational work on the end-Permian fossil floral record of the Sydney Basin, Australia. He is also Associate Editor for Alcheringa: An Australasian Journal of Palaeontology.
Organizer of GSA SA Division Annual General Meeting