Description
No matter who you are, most of the smartest people work for someone else – Joy's Law


What is the Growth Lab:
The Growth Lab is designed to discover, explore, and validate big opportunities across organisations in a very short period of time. It is designed to create ecosystem innovation – innovation beyond any one organisation. Participants in the growth lab not just create new opportunities for growth, they build capability in Business Models Inc's globally recognised tools and methods drawn from design thinking, lean start-up, and business model innovation.
Focus: Health, Ageing and Disability
The health, aged and disability sectors are the fastest growing sectors in South Australia. They can no longer operate as silos. They are fundamentally converging. This means the business and customer value propositions are fundamentally interlinked.
New products, services and business models are not possible without collaboration and partnerships across these sectoral boundaries. In fact, real customer value propositions occur when new value propositions are created in partnership with a technology company or a bank or a startup or the defence industry. With organisations not from the health, ageing and disability sectors.
These multi-sector business models are the future. The Growth Lab has been designed by Business Models Inc to enable this.
The Lab Process: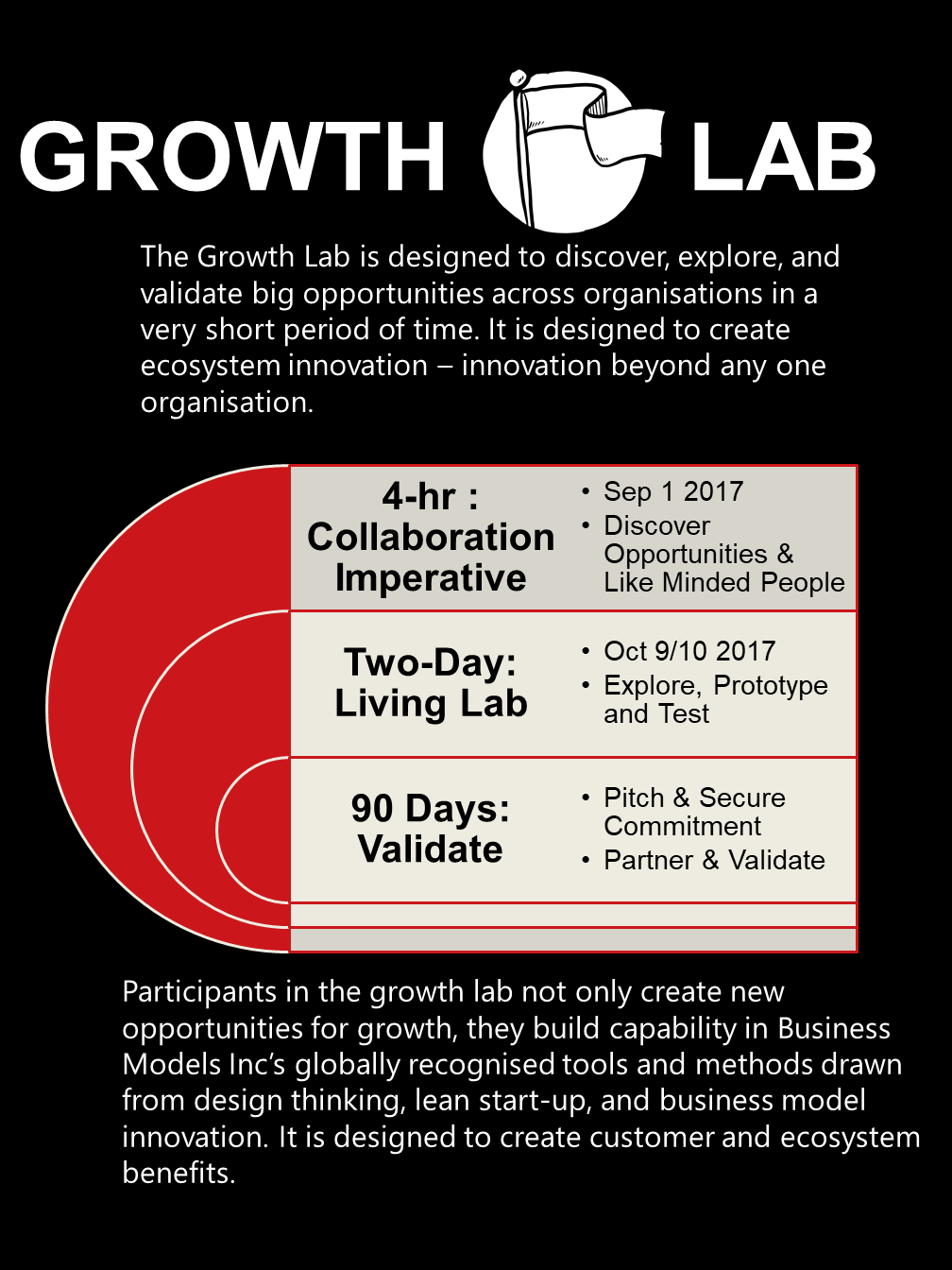 The first phase is a 4-hr event on September 1st focussed on finding priority areas and like-minded partners for growth followed by a two-day event – The Growth Lab, in October that moves the needle on how fast we can create, deliver and capture value through collaboration in this new world.
Participants who attend the Sep 1st event will have an opportunity to be invited into the most visible and exciting part of the Lab - the two-day event in October. More detail is provided in the attached event flyer.
For the Health, Ageing and Disability Sectors
This is an opportunity to go beyond your normal day to day and really find a new way of creating value for your customers, to target new market opportunities and build capability.
For other Industries
How can you be part of the fastest growing sectors in South Australia? How can you bring your capabilities and talent to bear? What new business opportunities can you create? Come and explore.
Who should come:
Leaders in the Health, Ageing and Disability Sectors who are focussed on growth and opportunities
Leaders in sectors such as technology, creative industries, marketing, food, advanced manufacturing, financial services and startups who are keen to explore new opportunities
Why you should come:
To understand and explore a new way of collaboration for creating growth
To explore what these fundamental opportunities can be.
To partner with likeminded people
To commit to action in finding new value propositions, revenue streams and business models
To participate and build capability in creating ecosystem innovation
Why you should not come

If you just want to talk about collaboration
If you don't believe in partnering
If you are not interested in action and commitment
If you believe you know exactly where your competition is going to come from
If you believe that technology is not fundamentally transforming your industry
If you are absolutely sure that your strategy is rock solid
If you don't want to build capability in a new way of working
If you don't want to grow