Sales Have Ended
Ticket sales have ended
Registrations for Growing Up Uniting have now closed.
Sales Have Ended
Ticket sales have ended
Registrations for Growing Up Uniting have now closed.
Uniting Church National History Society Conference
About this event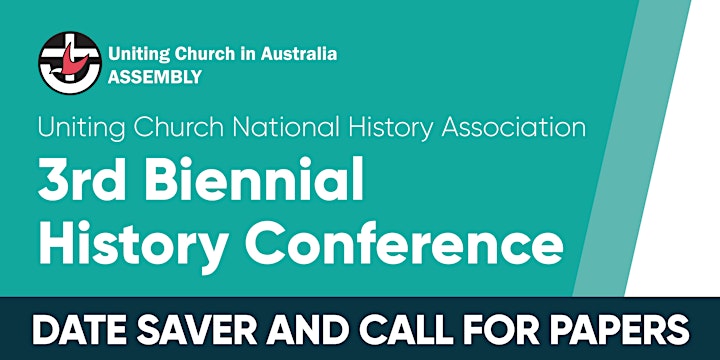 You are welcome to attend the 3rd Biennial History Conference with guest speakers, Dr Deidre Palmer, "Roundtable Conversations with Uniting Church Young People", Associate Professor Ruth Powell, "Growing up Uniting: an inside out perspective and Rev. Dr William Emilsen and Dr Elizabeth Watson, "Growing up Uniting: Insights to ponder; lessons to heed" along with other speakers and events organised over the three day conference.
Call for Papers currently open, download information by clicking here
If you have any issues with registration or any questions please contact the UCNHS 2021 Conference Planning Committee at: ucnhs2021conference@gmail.com
PUBLIC TRANSPORT OPTIONS
Parramatta is the nearest train station to the Centre for Ministry.
From there you can catch a bus (from Stand A2):550 (Macquarie Park, via Epping) or 625 (Pennant Hills Station), then alight at Burnside Public School, Pennants Hills Road, North Parramatta, followed by a 5 minute walk to the Centre.
See transportnsw.info for more information.
ACCOMMODATION SUGGESTIONS
Uniting Venues – North Parramatta
(located in the grounds of the Centre for Ministry)
The venue has comfortable accommodation for 22 people.
Deluxe Rooms
7 x double rooms with extra single bed (ensuite)
1 x double room with extra single bed (ensuite and accessible facilities)
1 x single room (ensuite)
1 x 2 Bedroom Flat first bedroom 1 double, second bedroom 2 singles (ensuite)
Pillows, bed linen, towels, blankets, soap and self-serve breakfast are all included.
Uniting Venues North Parramatta
175 One Hotels and Apartments
175 Hawkesbury Rd, Westmead NSW 2145 (an activity of Parramatta Mission) (a short drive, or bus and train ride, from North Parramatta)
175 is a 3.5 star, 59 room property providing accommodation to guests staying for a variety of reasons such as hospital/medical, corporate/business, local events and leisure, with modern amenities and 24 hour reception.
Conference Program
Friday 11 June
From 5.00 pm
6.30 pm – 7. 30 pm
7.30 pm – 8.30 pm
Opening of Conference: Rev. Dr Glen O'Brien, President of UCNHS
Opening Address: Dr Deidre Palmer, President, UCA, 'Creating Christian communities of welcome, hope and liberation'
8.30 pm – 9.00 pm
Mascot Wesley Uniting Church Choir
9.00 pm – 9.30 pm
Saturday 12 June
9.00 am – 9.30 am
From 9.15 am
Devotions: Rev. Viniana Ravetali
9.30 am – 10.30 am
Keynote Address: Associate Professor Ruth Powell, Director, NCLS Research, 'Growing up Uniting: an inside out perspective' (Chair: William Emilsen)
10.30 am – 11.00 am
11.00 am – 12.30 pm
Session 1: Talanoa session (Chairs: Viniana Ravetali and Andrew Thornley)
Session 2: 3 x papers by - Eland, Jonathan Barker and John Dacey, Richard La'Brooy (Chair: Judith Raftery)
12.30 pm – 1.30 pm
1.30 pm – 2.15 pm
'Growing Up Uniting: Insights to ponder; lessons to heed' with Rev. Dr William Emilsen and Dr Elizabeth Watson (Chair: Patricia Curthoys)
2.15 pm – 2.45 pm
Launch of Growing Up Uniting by Rev. Charissa Suli
2.45 pm – 3.30 pm
Archives Updated and Illuminated (Co-ordinator: Christine Gordon)
3.30 pm – 4.00 pm
4.00 pm – 5.00 pm
Session 3: 2 x papers by - Warren Talbot, Katalina Tahaafe-Williams (Chair: Steve Orme)
Session 4: 2 x papers by - Leanne Davis, Clive Jackson (Chair: Janeen Barker)
6.00 pm – 7.30 pm
7.30 pm – 9.00 pm
Panel discussion with Rachel Collis, Hee Won Chang, Viliami Fililava, Adrian Sukumar-White and Radhika Sukumar-White (Chair: Matagi Vilitama)
Followed by musical items, by Rachel Collis, Andrew Elia, Ellie Elia, Rozanne McLeod, Radhika Sukumar-White
9.00 pm – 9. 30 pm
Sunday 13 June
10.00 am – 11.00 am
Worship Service Preacher: Rev. Peter Walker
11.00 am – 11.30 am
11.30 am – 12.30 pm
12.30 pm – 1.30 pm
1.30 pm – 3.00 pm
Session 5: 3 x papers by - Margaret Reeson, Sarah Lim and John Cox, Tony Floyd and Amelia Koh-Butler (Chair: Andrew Thornley)
Session 6: 3 x papers by - Alison Longworth, Damian Palmer, Mark Hillis (Chair: Patricia Curthoys)
3.00 pm – 3.30 pm
Session 7: Douglas Simper workshop (Chair: Judith Raftery)
3.30 pm – 4.00 pm
4.00 pm – 5.00 pm
Plenary Session, with keynote speakers + roundtable reflections on the conference