Sales Have Ended
Ticket sales have ended
Sorry - ticket sales have now finished for this event. Check out www.seedlabtasmania.eventbrite.com.au for future Masterclasses and Workshops Any queries - Please email hello@seedlabtasmania.com.au
Event Information
Refund policy
Refunds up to 7 days before event
Eventbrite's fee is nonrefundable.
Sales Have Ended
Ticket sales have ended
Sorry - ticket sales have now finished for this event. Check out www.seedlabtasmania.eventbrite.com.au for future Masterclasses and Workshops Any queries - Please email hello@seedlabtasmania.com.au
Creating Authentic Agritourism Experiences. Hear from Agritourism Experts from around the world, and Tassie! A Seedlab Tasmania Masterclass.
About this event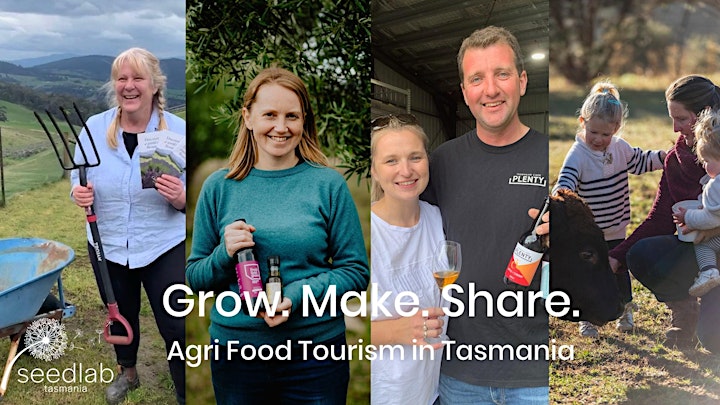 Creating Authentic Agritourism Experiences. Hear from Agritourism Experts from around the world, and Tassie!
A four hour Masterclass (including networking) discussing ways to bring an authentic agritourism experience to life - creating fabulous experiences for visitors, and building sustainable incomes to the farm. Truly a Global Masterclass!
Who: Brought to you by Seedlab Tasmania.
When: Wednesday June 30th, 2021. 6pm - 10pm (Tassie time) Via Zoom.
Who: Our speakers for this event are truly Global Gurus. We will be bringing the Northern and Southern hemisphere speakers together live, to discuss opportunities for Agritourism.
Program:
6pm-6.10pm Dr Hazel MacTavish-West, Seedlab Tasmania
6.10pm – 6.45pm Campbell Naish, New Zealand
6.45-7.15pm Cecilia Alderighi, Bologna, Italy
7.15-7.45pm Anne Bennett, Ashgrove Cheese, Tasmania
7.45-8.15pm Rachel Jacka, Guide Falls Farm, North-West Tasmania
8.15-8.45pm Julia Fisher, Freycinet Marine Farm, Coles Bay Tasmania
8.45-9.15pm Caroline Millar, Scottish Agritourism, Scotland UK
9.15-9.45pm Trevor Jonas Benson, Culinary Tourism Alliance, Canada
9.45-10pm Discussion and Close
Note all times are Tasmanian time.
We suggest you order a scrumptious Network & Nibble Pack (it's an Add On at the ticket ordering experience) - and munch and crunch and sip your way through Tassie tastes and tipples while we talk about agritourism.
Who for: Tasmanian tourism, agritourism, food, beverage and agribusinesses who are looking for to expand their offer and attract more international (and other) visitors. Tour operators and tourism gurus.
Check out all the rest of our 2021 Masterclasses and Workshops at https://seedlabtasmania.eventbrite.com.au/
Seedlab Tasmania: The Seedlab Tasmania Project is supported by the Australian Government through the Entrepreneurs' Programme . In addition to sponsorship from other institutes/companies.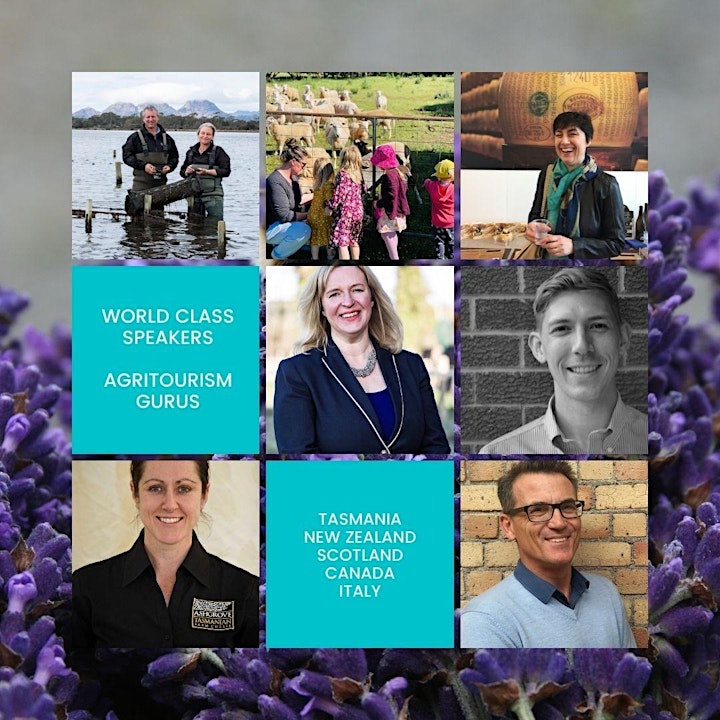 Speakers
Campbell Naish, New Zealand.
Not only has Campbell over 20 years experience working with export-focused businesses, but he has also been an advisor to Black Estate Wines in North Canterbury, one of New Zealand's most successful boutique wine and restaurant destinations. He is also a mentor for the Mt. Albert Grammar School Food and Fibre Experience Centre. This is one of the most ambitious projects to build the rural/urban divide in agribusiness, via reaching urban students with high quality agri-business education.
Caroline Millar, Scottish Agritourism
Caroline lives in the county of Angus, in Scotland on the family farm located just north of the City of Dundee. The farm produces Scotch beef, Scotch lamb and malting barley. The farm has 80 cows and 250 breeding ewes and covers 650 acres of hill and arable land. Caroline and her husband Ross also run a 5-star accredited tourism business on the farm called The Hideaway Experience which provides luxury escapes for couples. This business has been running since 2005. The farm also offers farm tours to day visitors and the guests staying at the Hideaway.
Caroline was brought up on her family farm in nearby Perthshire where her parents ran an agritourism business offering farmhouse bed and breakfast, so she has had an interest in agritourism all her life. In 2012 Caroline undertook the Scottish Enterprise Rural Leadership Programme and along with three others, developed the concept of "Go Rural" to help encourage City dwellers into the countryside and on to farms. At the same time, Caroline undertook a Nuffield Scholarship to study agritourism in 10 countries. The report was presented at the Oxford Farming Conference in 2014 and has been shared wildly to stimulate debate on the development of agritourism in Scotland.
Following her Nuffield Scholarship Caroline has worked to promote the importance and opportunities from agritourism, lobbying government and others to recognised its significance. A strong network of agritourism businesses exists in Scotland and this was recently formalised by the creation of Scottish Agritourism. In addition to undertaking work to develop agritourism sector, Caroline has run her own business consultancy specialising in rural tourism since 2007. She currently has a contract from Scottish Enterprise, the national economic development agency in Scotland to deliver two agritourism monitor farms. More information can be found at www.agritourism-monitorfarm.com. Caroline sits on the board of the National Farmers Union of Scotland, the Council of the Scottish Tourism Alliance Council and is a former director and Chairman of the Oxford Farming Conference.
Julia Fisher, Freycinet Marine Farm, Tasmania.
Julia has held a variety of positions throughout the adventure end of the spectrum, ranging from cave guide, river guide, driving backpacker buses throughout tropical northern Queensland, and hosting multi-day sea kayak expeditions through the Great Barrier Reef.
Formal qualifications include a bachelor's degree in applied science majoring in recreational planning and management, from the University of South Australia. This led to many years of hands-on experience with outdoor adventure for school children and disadvantaged youth, culminating in gaining the position of managing what was then Tasmania's peak adventure therapy program for at-risk youth, called Project Hahn.
Freycinet Marine Farms offers three different tour options to national and international visitors through its partnerships with Saffire Freycinet and Oyster Bay Tours and through its own relationships with National and International wholesalers. www.freycinetmarinefarm.com
Anne Bennett, Ashgrove Cheese, Tasmania
Anne is an experienced brand and marketing expert. With over 12 years of small business experience from 'start-up' to 'fix-up' and 'sell-up' and 10 years working on Ashgrove a Tasmanian family-owned branded 'paddock to plate' food business.
Driven by brand authenticity Anne will tell you 'it is not enough to tell a good story you have to back it up". With an MBA Professional in creative communications and a knack for making meaningful connections with lived hands-on experience. Anne will guide you through the process of reimagining Ashgrove newly developed flagship tourism experience. https://www.ashgrovecheese.com.au/
Rachel Jacka, Guide Falls Farm, Tasmania
Rachel owns Guide Falls Farm: Nestled just above the infamous Guide Falls on the North West Coast of Tasmania is Guide Falls Farm. Set on a large acreage, come along and wander through the native gardens and feed the growing family of animals.
Bring the family and your friends and come for a tour of the animal park! Feed Edward the emu and the pigs, rabbits, sheep, peacocks, deer and alpaca (just to name a few). We have some beautiful and rare birds. Watch the ponds come alive as the giant trout fight for food. www.guidefallsfarm.com
Cecilia Alderighi, Your Own Tour, Bologna, Italy.
In her own words: "My name is Cecilia and I love meeting people from different cultures so much that, in 2016, I left my previous job as an export manager in a company in Italy to become an authorised tour leader and manage my business: "Your Own Tour" which provides tailor-made private tours in my beautiful region, Emilia Romagna, Italy, the capital of gastronomy. I like to talk about all the food specialties of my land and show visitors how the products we eat every day are born. I'm an expert in food tours inside factories, farms and agritourism. During the Masterclass I will be more than happy to tell you how we bring authentic agritourism visits to life in northern Italy both in person and virtually creating fabulous unique experiences for visitors". Cecilia will be zooming in live for this event. https://www.yourowntour.it/
Trevor Jonas Benson, Culinary Tourism Alliance, Canada.
Trevor is a social-minded systems thinker, progressive project manager, and extroverted intrapreneur. Since 2006, he has been supporting the development of local sustainable food systems in Canada and abroad. Trevor is passionate about collaborating with others to create meaningful change in the way that locals and visitors experience food, and he enjoys nothing more than working with the people that make it taste so great.
Trevor has worked for the famous Monmouth Coffee Company in Borough Market—London's premier food market—opened and operated food-based businesses in Barbados—the culinary capital of the Caribbean—and after working in social innovation and enterprise, he now oversees all aspects of the Culinary Tourism Alliance's social enterprise consultancy.
In his role as Vice President, Destination Development, Trevor scopes and manages highly participatory and asset-based food tourism development projects at the local, regional, and national levels. This means that, on a daily basis, he has the pleasure of engaging with diverse businesses, various levels of government, educational institutions, industry associations, community groups, and not-for-profit organizations. Trevor also regularly speaks on developing food and agritourism in an inclusive and impactful way. https://www.culinarytourismalliance.com/
Date and time
Location
Refund policy
Refunds up to 7 days before event
Eventbrite's fee is nonrefundable.
Organiser of Growing the Tasmanian Agritourism Experience.
Seedlab Tasmania Masterclasses and Workshops provide global insights and best practices to provide inspiration, information, and connections for your food and beverage business.
Who for: Food, beverage and agribusinesses who want to keep abreast of the latest global developments in their sector, and develop innovative new food and drink products that meet more consumer needs.