Steve & Annie together will share their own stories of marriage & parenting, their failures & successes, their struggles & their hopes.
About this event
Steve and Annie Lawrence will present a series of talks (delivered live over Zoom) for this event due to border restrictions.
Steve and Annie Lawrence, have been married thirty years and they have six children - three girls and three boys - between 27 and 14 years of age. Through speaking and mentoring they have served Catholic married couples and families for more than twenty years through schools and at parishes and at national and international conferences.
Annie facilitates "Momnipotent," a course to support and encourage Catholic mothers to thrive in their vocation and, through her business, In Search of Beauty, Annie shares her passion of helping girls become women of character.
Steve is a motivational speaker and coach through his business, Altum Leadership Group, and the author of three books, the most recent of which he wrote for his sons called The Tiny Book for Giant Men, due to be published in late 2021. He draws from his rich experience as an AFL Premiership player with Hawthorn, as well as overcoming the wounds of his own parents' separation, to provide reasons for hope to married couples.
Steve and Annie together will share their own stories of marriage and parenting, their failures and successes, their struggles and their hopes, and what they have learnt by trying to live according to the Gospel of Jesus.
A children's and teen's program will be run in parallel with the adult talks.
The Growing in Love family day 2021 will be in keeping with government COVID-19 guidelines.
Please do not attend if you have:
• A fever, runny nose, cough, sore or itchy throat, or shortness of breath;
• Travelled overseas or in an Australian COVID-19 'hot-spot' in the last 14 days, or;
• Been directed by public health authorities to self-isolate for any reason.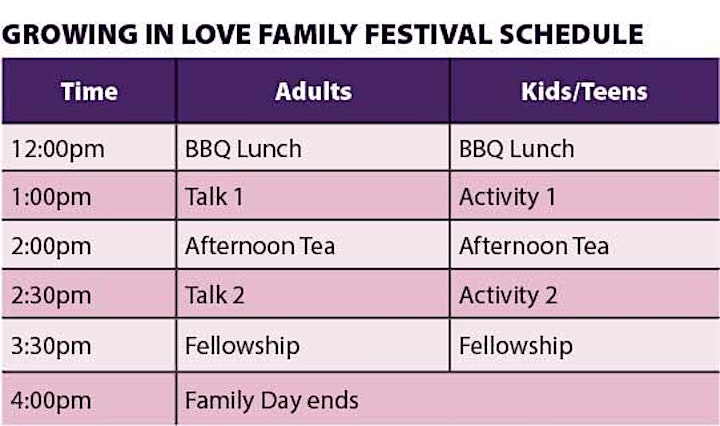 Organiser of Growing in Love Family Day
The Catholic Archdiocese of Hobart is the principal organiser.  Its mission is the sharing of the love of God and nourishing of the fullness of human life. The Archdiocese fulfills its mission though the charitable works of its many agencies and entities. People of all faiths, cultures, religions and backgrounds deliver a broad range of social, education, health care, aged care, affordable & social housing services, and employment options to Tasmanians.