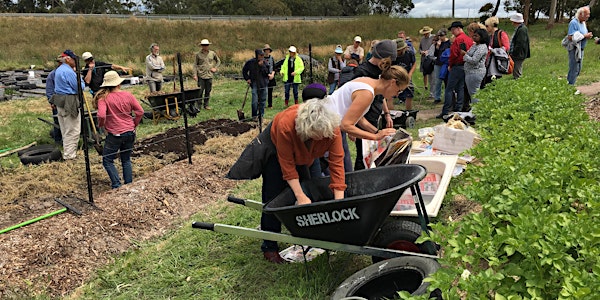 Growing Community, Growing Food at the River Garden - Hands on learning day...
Location
2-4 Bass School Rd
2-4 Bass School Road
Bass, VIC 3991
Australia
Description
Come along and 'learn by doing' to help establish this great community space. Expert horticulturalist Jarrod Ruch will lead a series of four practical hands on days, sharing his wealth of knowledge on sustainably growing food at the River Garden in Bass this year.
Saturday 24th March
Discussion topics - Property management planning and land capability, Rotational grazing systems, promotion of pasture species diversity, Natural/biological soil improvement, non-chemical weed control methods, steaming, scythe, solarisation, newspaper and mulching.
Hands on activities - Assisting with Sheet Mulching, solarisation, weeding trials.
Saturday 28th April
Discussion topics - Crop diversification, Stacking and sequential rotation, Compost trials/teas – aerobic and anaerobic systems, Mineral additives, The making and use of biochar
Hands on activities - Compost Trials, making compost teas, planting.
Saturday 26th May
Discussion topics - Alternative crop trials for a changing climate, including aquatic plants, aquaponics systems, fruit and nuts, Extending the seasons for crops, Novel crops, Pests and diseases.
Hands on activities - Sheet Mulching, setting up new beds, planting,
Saturday 30th June
Discussion topics - Shelterbelts, structure, succession, species selection, zones and sectors, Food forests, Bush food plants and indigenous cultural heritage, Trees on farms, Fire protection plantings.
Hands on activities - Sheet Mulching, planting, food demonstrations