Description
If you're looking to Grow your Online Business for more Website Traffic and Online Sales - Then this Workshop is for you.
This workshop is perfect for:
Online Businesses struggling to rank on Google or get great Website Traffic

eCommerce - Online Stores not getting enough Online Sales or WebsiteTraffic

Website Owners who are still confused about Google, SEO or Online Marketing

Beginners or Start-ups Online Businesses who want to Make Money Online


Website Owners & Bloggers who need a quick crash course to get their head around all the above

You'll learn what they are and how to use them to increase your Website Traffic and Grow your Online Sales in EASY STEPS and without the mumbo jumbo! We teach you in language that you can understand – so don't worry if you're not a tech literate or have no developer skills.
We are known for EASY LEARNING and are BIG on supporting Australians online.

Our Five Star signature Workshops are designed to teach you in EASY STEPS to help you LEARN all about:
The world of Online Business, Google, Building Website Traffic, Building eCommerce Sales or Leads, Search Engine Optimzation (SEO), Search Engine Marketing (SEM), Online Marketing and multiple ways to Make Money Online.

So if your Website, Blog or Online Store is struggling to get website traffic and Online Sales or leads, don't worry because we have you covered with our Online Business super tips and tricks to help you improve straight away.

With Online Sales sky-rocketing year after year and Global E-Commerce expected to hit $4.5 Trillion Dollars by 2021, it's a no wonder individuals are looking for a piece of the online action and getting online.
With promising numbers like these, E-Commerce is proving to grow and shows no signs of slowing down. But competition is also at an all time high - so regardless of where you are with your Online Business, you need to be open to Learning so you can grow your current website and enjoy the benefits of Making Money Online.

So why do we teach Google and Search Engine Optimization (SEO)?
Google is the number ONE visited website in the WORLD and in AUSTRALIA and receives over a staggering 3.5+ BILLION searchers EVERYDAY.
Understanding how Google works and how it can give you huge website traffic is VITAL for website success. If you want your website to rank high on Google for greater traffic to your website, then you are going to HAVE to learn how Google works. In our experience many Online Businesses are failing because of this reason and this is why we teach you Google & SEO.
So, if greater website traffic and online sales is what you are struggling with, then learn SEO because it will help you understand what search engines want from your website.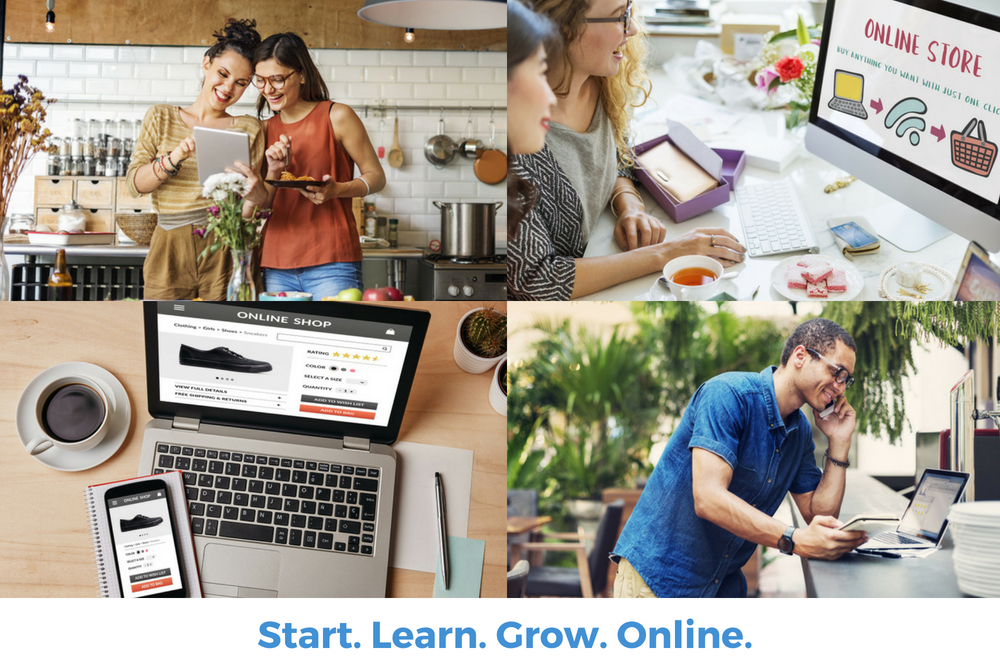 Did you know The Australian Online Retail Market was worth 24+ Billion Dollars in 2017 alone!
Online Business has never looked better in Australia & Globally. So if you have an Online Business and your website needs some CPR then you NEED to invest in learning.
To successfully Make Money Online you need to increase your website traffic and you need to learn how. You will ALSO receive the best tips and tricks for Online Marketing and how to beat your competitors!
What Will I Learn In My Online Business Workshop?
Welcome to the world of Google

How to make Google love your website

How content really works for higher rankings

SEO made easy

Search Engine Marketing (SEM)

How to grow your Website Traffic

How to grow your Online Sales for eCommerce success

Give your website CPR

Online Marketing resources to help you succeed

Online Business education, support and resources

Questions and discussion
Our workshops are EASY TO FOLLOW and learn.

Our Workshops are run by Online Business Australia's founder Maddy, who is an Online Marketing and independent Google Specialist and sought after Guest Speaker. So why not be taught the best Online Marketing tips and tricks and how to make Google love your Online Business for better rankings!
Tickets are refundable only up to 7 days of event, or they are transferrable to another person- just email us. JOIN our FIVE STAR RATED WORKSHOPS today!

Got questions? We offer free advice for your Online Business - Just email us at hello@onlinebusinessaustralia.com.au
We look forward to meeting you so we can help you take your Online Business to the next level!
Proudly Supporting Australians Online www.onlinebusinessaustralia.com.au
This Online Business Workshop training runs in Melbourne.