GROW - March 2018 - Emotionally You
Description

Welcome to our monthly GROW with doTERRA events……..
We invite you to come along, to be inspired, delighted and have fun being educated on this wonderous journey with doTERRAessential oils
We are hosting these events for all wellness advocates to help learn about all the different ways we can Gently Renew Our Wellness with essential oils and how they can also connect with other healing modalities on our wellness journey.

This month's event is EMOTIONALLY YOU

We have some incredible presenters who are gifting there time to share their love of giving the gift of wellness for the month of march.

PRESENTERS;
Mental Health support - the taboo subject - Michele Wragg

Emotional Aromatherapy kit - The Oils within the blends - Peta Copley

DIY basics - Hand, Body & Face - Jen Donovan

Emotions & oils of the seasonal shift - your personal season -

Jemma Doak
Oils to support Grief & loss - Dee Shelton

**GROW stall holders will be set up from 12pm with lots of EO accessories and goodies.**
STALLS -
Aussie Aroma Supplies - Andrew Wragg
Wild oils - Killian O Shea/ Bronwyn Young
Crystal connections - Adam Barralet/ Jonathan Mozingo
Shantistar - Noel Blanchard & John Croft
Lava Jewelry - new stall TBA
*** Raffle Prizes ***

PLEASE NOTE -
Tickets purchased online are $8.50 + 2 raffle tickets
Tickets at door are $10 + only 1 raffle ticket

Each ticket will get you entry and 1 ticket for the raffles, more available to purchase on the day, Proceeds go to dōTERRA Healing Hands.
Cafe/restaurant is available next door to order drinks and any lunch or snacks needed, free parking at venue.
PLUS..........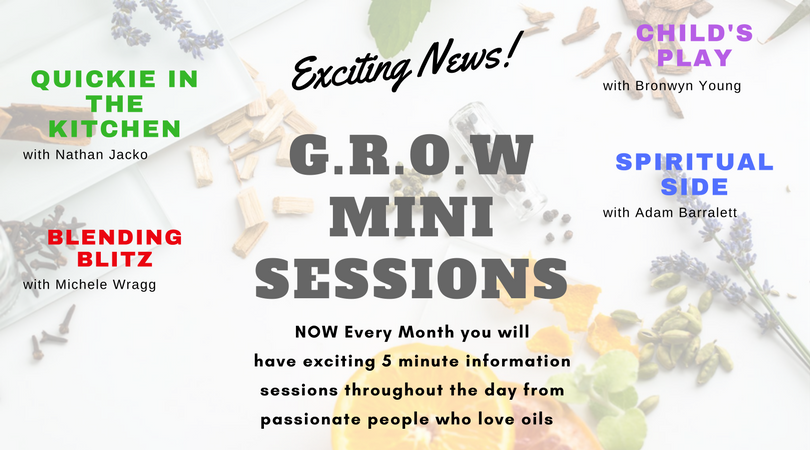 SEE YOU THERE !!