GROUNDBREAKER PROTOTYPING SESSION: 100% HUMANITY

Thursday, July 5, 2012 from 8:00 AM to 9:15 AM
Event Details

PROTOTYPING SESSION:
      HOW DO WE MAKE THE WORLD WORK FOR 100% OF HUMANITY?
This is an experiment! We have 60 minutes to generate a 'Wish for The Future'!
The session uses alternative methods to harness collective 'imaginence' and build a platform for micro agents to solve big social problems together. It's tied to a global project to inspire collaborative storytelling across all demographics and create positive visions of the future.
We're looking for hackers, educators, activists, dopamine traffickers, homeless
feeders, entrepreneurs, everyone, who's keen to ideate under B. Fuller's design
question: 'How do we make the world work for 100% of humanity?'
Given the daring scope, we absolutely encourage absurdity and creative mayhem!
To ensure our solutions are put into action, they will be hosted on
www.learndoshare.net for other people to follow-up and create something yet
Come and join the consciousness collective!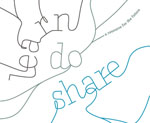 GROUNDBREAKER Prototyping Session
 With Ele Jansen and Jordan Bryon
 Thursday 5th July 8am-9.15am
 Object Gallery, Upstairs, 417 Bourke St, Surry Hills
 More info: curious@groundbreaker.org.au
This prototyping session concept is developed by Ele Jansen (www.learndoshare.net, Sydney),
Lance Weiler (www.rebootstories.com, New York) and Jorgen van der Sloot (www.freedomlab.org,
Amsterdam). After running several 72-hour sessions, we condensed our method, so that teachers
can use it with their students in a 60-minute class (www.robotheartstories.com).

Have questions about GROUNDBREAKER PROTOTYPING SESSION: 100% HUMANITY?
Contact U.lab
When & Where

OBJECT AUSTRALIAN DESIGN CENTRE
Upstairs, 417 Bourke St
Surry Hills
2010


Thursday, July 5, 2012 from 8:00 AM to 9:15 AM
Add to my calendar
Organizer
U.lab is an emerging interdisciplinary framework for innovation projects at UTS. U.lab is about 'u', and what you bring to the mix. Innovation occurs between people, not in isolation, and how we innovate is the product of opportunistic interactions. We seek to expand the capacity of design-thinking into a truly interdisciplinary collaboration between corporate R&D and university innovation. The projects we are tackling require radical cross-boundary thinking and embedded cooperation within complex systems of effect.