Sales Have Ended
Registrations are closed
Thank you for your interest in attending our Grief Tending Workshop for Health Professionals. Tickets have now been exhausted for this event, however there may be seats left at our Grief Tending Workshop for Community, being held from 9am-11.30am at Brisbane City Hall on Thursday 27 May. This event features the same presenters and a similar program. Please click here to register for this session if tickets are still available: https://bit.ly/grieftendingcommunity
Sales Have Ended
Registrations are closed
Thank you for your interest in attending our Grief Tending Workshop for Health Professionals. Tickets have now been exhausted for this event, however there may be seats left at our Grief Tending Workshop for Community, being held from 9am-11.30am at Brisbane City Hall on Thursday 27 May. This event features the same presenters and a similar program. Please click here to register for this session if tickets are still available: https://bit.ly/grieftendingcommunity
A free experiential workshop for professionals caring and relating to those experiencing serious illness, dying, death and grief.
About this event
This FREE workshop will explore the intersections of personal and professional grief through evidence-based therapeutic and creative exercises. Featuring presenters from the fields of Thanatology, Palliative Care, therapy, education, and the arts, participants will be encouraged to explore their own relationship to grief in experiential ways.
As an individual increases their own awareness of grief– they are in turn more equipped to effectively support those they work alongside, and care for. This workshop will offer examples of practical tools for working with the intensity & immensity of some aspects of grief and human distress, in ways which are embodied and connected.
For many caring professionals, the COVID-19 pandemic has rapidly intensified their proximity to the fragility of life and the rawness of grief. In the face of increased uncertainty across the world, you are invited to join us for Grief Tending, a professional development workshop that will support your connection to grief from the inside out.
Featured presenters:
Elham Day (Event Host & Hospice Manager)
Judy Gordon (Art Therapist )
Jeunae Rogers (Musician & Educator)
Leigh Donovan (Thanatology Consultant)
Tarquin Ward (Integrative Psychotherapist)
Have a question? Please email events@palliativecareqld.org.au or call PCQ at 07 3842 3242.
10 x TRAVEL BURSARIES are available for health professionals (registered doctor, nurse or allied health professional) who live over 150km away and would like to attend this workshop. Apply here: https://www.surveymonkey.com/r/V7YC3Y8
This event is co-hosted by Hummingbird House and Palliative Care Queensland and supported by Council on the Ageing (COTA) Queensland and Carers Queensland.
Please note that registrations close on Friday 21st May, 5:00PM.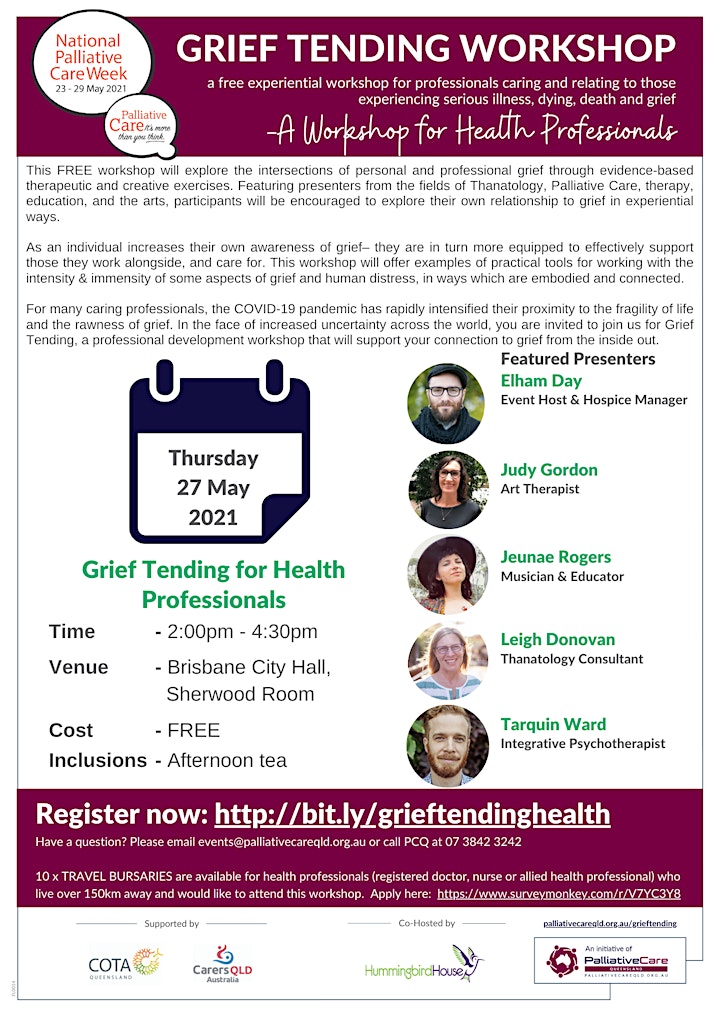 Organiser of Grief Tending Workshop for Health Professionals
Palliative Care Queensland (PCQ) is a leading charity and independent peak body representing palliative care providers, consumers and their families and those with an interest in palliative care in Queensland. PCQ was established in 1988 and is a membership-based organisation, supporting the individuals, families, carers, community members, as well as specialist and generalist health care professionals working with Queenslanders experiencing serious illness, dying, death and grief. Collectively, the PCQ membership body holds tremendous knowledge and wisdom about the challenges the sector faces and the opportunities those challenges can bring. PCQ is a founding member of Palliative Care Australia.
Our belief: The way we care for our dying is a significant indicator of our society's values
Our mission: Quality care at the end of life for all
Our vision: to hear Queensland community members say:
"I live in a community where everybody recognises that we all have a role to play in supporting each other in times of loss, ageing, dying and grief. We are ready, willing and confident to have conversations about living, ageing, dying and grieving well, and to support each other in emotional and practical ways".
PCQ is committed to hosting an inclusive event. We want everyone to feel welcome. We encourage people of all genders, gender identities and expressions, nationalities, sexual orientations, ages, cultural backgrounds, and religions (or lack thereof) to attend. We are committed to supporting our participants' accessibility needs. Please contact the team if you have any special needs that we should be aware of for this event.