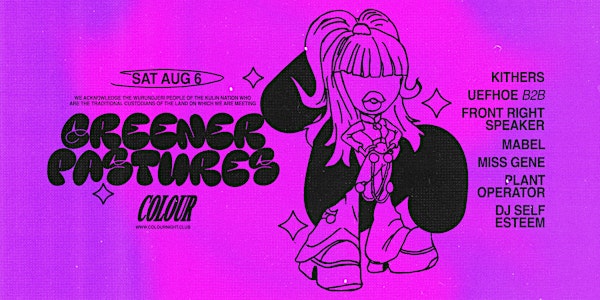 Greener Pastures at Colour w/ Mabel, miss gene, FRS b2b Uefohoe and Kithers
Location
Colour Club
229 Queensberry Street
Carlton, VIC 3053
Australia
Greener Pastures get deep at the late show with Colour Club. Join us for our fist do at Colour with Mabel, miss gene, Kithers, FRS & Uefhoe.
About this event
Greener Pastures get deep at the late show with Colour Club.
We acknowledge the Wurundjeri Woi Wurung people of the Kulin nation who are the traditional custodians of the land on which we are meeting. Greener Pastures and The Night Cat pay respect to Elders past, present and emerging.
Greener Pastures Resident DJs and some new faces join us for our first do at Colour. Prog queen Mabel, GP founding father Front Right speaker goes b2b with the illustrious Uefhoe, Ikigai party Don, Kithers, and the tech-talent miss gene lineup for heavy duty dance duties.
Greener Pastures is committed to providing a safe space for all attendees. Under no circumstances will any form of discrimination or harassment be tolerated. If you feel unsafe please approach a Greener Pastures staff member, the door staff or contact the phone number that will be released to attendees so help can be requested discreetly.
_______________________________________
We live, work and play on land that was forcibly taken from Aboriginal people. There has been no Treaty with the First Nations of this place and the effects of colonisation continue to this day. We would like to acknowledge the Wurundjeri Woi Wurrung people, on whose land this event will take place. We pay our respects to the Elders past, present and emerging and recognise that sovereignty has never been ceded.
There is a strict zero tolerance policy towards racism, homophobia, transphobia, sexism, ableism or harassment of any kind. Please report any unwelcome behaviour to staff or event organisers. There may be some strobe lights used in performances.