Description

GREEN LEADERS SUMMIT
September 9th -12th 2013 – Sydney, Australia
The Green Leaders Summit brings together the world's most influential Sustainability Leaders for inspiring thought provoking days of exchange and solution collaboration. This summit is structured to not only deliver a global picture of current sustainability challenges and innovations, but also to afford international leaders the opportunity to gain insights on solutions from some of the world's leading minds.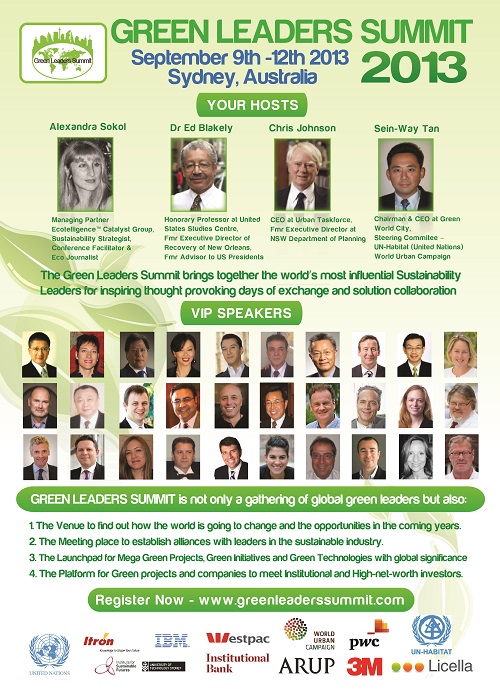 GREEN LEADERS SUMMIT is not only a gathering of global green leaders but also:

1. The Venue to find out how the world is going to change and the opportunities in the coming years.

2. The Meeting place to establish alliances with leaders in the sustainable industry.

3. The Launchpad for Mega Green Projects, Green Initiatives and Green Technologies with global significance.

4. The Platform for Green projects and companies to meet Institutional and High-net-worth investors.


Registration is essential for this event as places are very limited.

For list of Speakers, please see:
www.GreenLeadersSummit.com