Sales Have Ended
Ticket sales have ended
Thank you for your interest in this event. Unfortunately, we are at capacity, please contact Justine Biddle via email with your query. jbiddle@maiatechnology.com.au
Sales Have Ended
Ticket sales have ended
Thank you for your interest in this event. Unfortunately, we are at capacity, please contact Justine Biddle via email with your query. jbiddle@maiatechnology.com.au
About this Event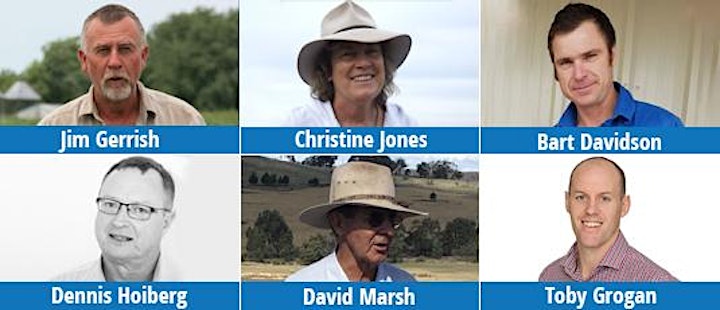 Featured Speakers
Jim Gerrish | Bart Davidson | Christine Jones | Dennis Hoiberg | David Marsh | Toby Grogan | Nick & Alex Anderson
Jim Gerrish - American Grazing Lands Services
Jim Gerrish is an independent grazing lands educator and consultant providing service to farmers and ranchers on both private and public lands across the US and internationally. He currently lives in the Pahsimeroi Valley in central Idaho and works with numerous ranchers using both irrigated pastures and native rangeland as well as working in high natural rainfall environments. His past experience includes over 22 years of beef-forage systems research and outreach while on the faculty of the University of Missouri. His research encompassed many aspects of plant-soil-animal interactions and provided the foundation for many of the basic principles of Management-intensive Grazing.
He typically speaks at 40 to 50 producer-oriented workshops, seminars, and field days around the US and internationally each year. Jim keeps his day-to-day grazing tools sharp through the management of a ranch unit consisting of 450 centre pivot irrigated pastures, 100 acres of flood ground, and several hundred acres of rangeland.
Christine Jones - Soil & Carbon Biologist
Dr Christine Jones is an internationally renowned and highly respected groundcover and soils ecologist. She has a wealth of experience working with innovative landholders to implement regenerative land management practices that enhance biodiversity, increase biological activity, sequester carbon, activate soil nutrient cycles, restore water balance, improve productivity and create new topsoil. Christine has organised and participated in workshops, field days, seminars and conferences throughout Australia, New Zealand, South Africa, Zimbabwe, Western Europe, Central America, USA and Canada and has a strong publication and presentation record.
Christine received a Community Fellowship Award from Land and Water Australia in 2001. The LWA Community Fellowship Program was designed to 'provide recognition to individuals with an outstanding track record in mobilising and inspiring the community to better manage their land, water and vegetation'.
In February 2009, Christine established the prestigious A & K Hill Green Agriculture Innovation Awards (GAIA) with generous support from Allan and Kay Hill, who viewed an Australian Broadcasting Commission 'Landline' program documenting her vision to improve landscape health and farm productivity through the regeneration of topsoil. The GAIA awards ran for five years.
Christine is a member of Arizona State University's 'Carbon Nation Team' and sits on the advisory board of 'The Carbon Underground'. These organisations recognise that farming and grazing practices designed to improve levels of soil biological activity through the active management of diverse yearlong green groundcover are key to the restoration of soil function, clean water and nutrient dense food.
Bart Davidson - Agronomist & MaiaGrazing Co-founder
As a consultant for over 15 years across a diverse range of farming operations, Bart applies a system-based approach, relying on principle, to work with and train land managers in the development of and reporting to farm management plans. Bart's experience spans throughout the agriculture sector, from low input certified organic systems through to high input, intensive dairy and irrigated cotton and grains.
Bart has presented to 1000's of graziers over the past few years at various live events across Australia and the US. He has also been featured on a number of podcasts.
David S Marsh - Regenerative Farmer - Boorowa, NSW
The 2018 National Landcarer of the Year, 2017 NSW Landcarer of the Year.
An award-winning regenerative farmer, professional speaker and author from Boorowa on the south west slopes of New South Wales. He was the founding President of the Boorowa Community Landcare Group in 1989 and served on the committee for 15 years. David has been a regenerative farming practitioner since 1999. The Marsh family have been managing holistically since 1999. David holds a Master's Degree in Sustainable Agriculture (U.Syd, Orange Campus 2001). He won the Central West Conservation Farmer of the Year in 2004. He is a founding member and co-ordinator of Alliance for Regenerative Landscapes and Social Health, ARLASH.com where since 2014 he has published blogs on many land-related issues. In 2017/18 he recorded a series of interviews with Charlie Arnott on regenerative farming that have been available on the internet. He has hosted many groups to Allendale and spoken to farmers and at conferences in all Australian States and Territories except the Northern Territory.
He has sat on NSW Sustainable Grazing on Saline Land Committee; NSW Native Vegetation Advisory Council; Lachlan Catchment Management Authority; Soils for Life Board; current member Growing the Grazing Revolution Board (Mid Lachlan Landcare).
Toby Grogan - Natural Capital Specialist, Impact Ag Partners
Having grown up on a family farm Toby began his career over 15 years ago in the agriculture sector, working on sheep and cattle operations in southern NSW. After gaining a Bachelor of Environmental Science, Toby's career exposure grew to include resource, infrastructure and government sectors across Australia and NZ. More recently Toby has played key roles in large-scale environmental impact assessments, feasibility studies, remediation projects, due diligence and M&A across a variety of sectors and geographies. Since joining Impact Ag Partners, Toby's focus has been on the identification, measurement and monetisation of natural capital in agricultural settings.
The pathway to monetising natural capital
Dennis Hoiberg - Lessons Learnt Consulting
Dennis is the founder of Lessons Learnt Consulting. He has over 30 years of experience working with a wide range of businesses and individuals to help them achieve more in the areas of personal satisfaction, excellence and high performance.
The core focus of his consulting involves helping individuals thrive through change. Utilising his unique insight into human psychology Dennis has developed highly effective strategies and tool to bounce forward and thrive through change as it pertains to individuals, community's and organisations. His strategies also promote emotional well-being and resilience.
The personal and professional programs developed by Dennis make use of world class instrumentation including the strength-based Gallup material, Values in Action, Myers Briggs Instrumentation and the Geier Learning Systems.
Nick & Alex Anderson - Newstead Pastoral Company
Nick and Alex Anderson share their experience of how they have managed through the extremes and how planning has helped them make better decisions. Taking action early based on sound data has helped them avoid significant financial loss and has positioned them well for the future.
Extra details:
Morning tea and lunch is provided
Tickets are limited
Tickets will not be available on the day
Get ready for an awesome lineup of speakers!