Description
There is a movement afoot.
Across the globe, people are discovering that having a live illustrator present in the room fundamentally changes the dynamic of a conference, workshop, sales pitch, or board meeting.
This live illustration is known as graphic recording, which is a subset of the field of visual facilitation. You also may hear it referred to as scribing, graphic facilitation, or live sketching. Put simply, it is the ability to listen, create, and capture a conversation in words and pictures, in real-time, on a large, visible canvas. Graphic recording is fast becoming an in-demand skill, and this is your opportunity to learn how to do it.
Who is this for?
This 4-hour workshop (including a break for morning tea) is for anyone who is interested in learning more about graphic recording. You don't need to be an accomplished illustrator, but it will certainly help if you have some confidence in your ability to draw basic shapes, which is why it's pitched at illustrators. However, more important is your ability to be a good listener, to have neat handwriting, to be quick at taking notes, and be full of enthusiasm for learning a new skill!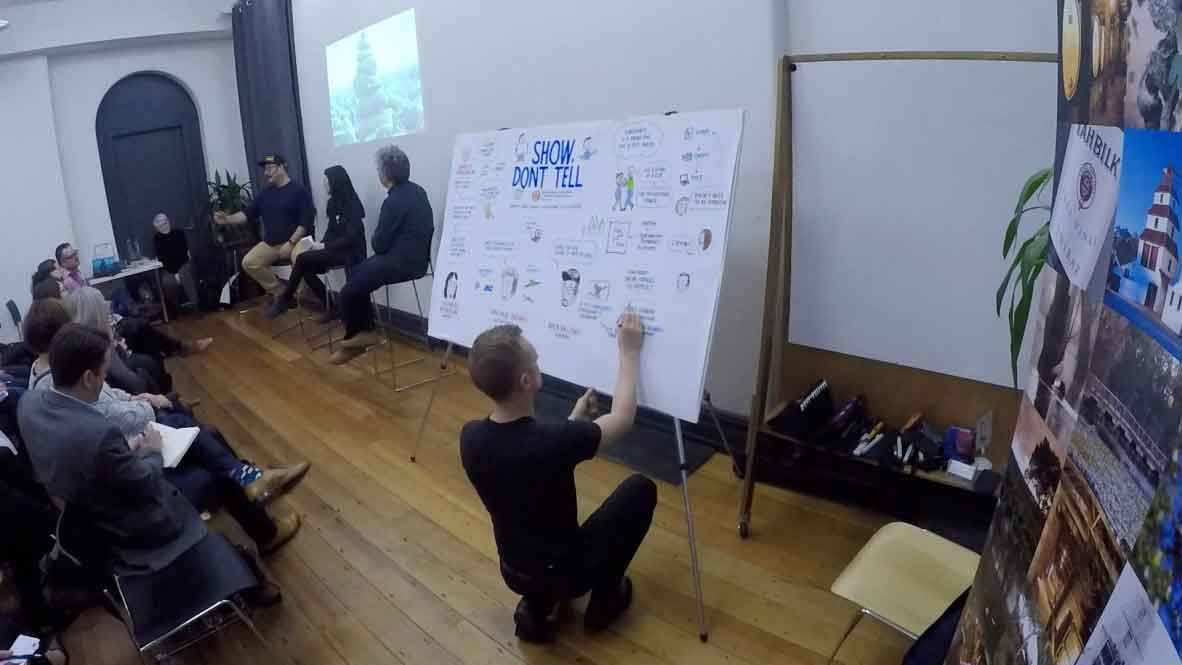 What will you learn?
We're not pretending that we can turn everyone who attends this workshop into an accomplished graphic recorder in only 4 hours—there are practitioners who have dedicated their life to honing their craft. But this will be an intense, hands-on session that will allow you to grasp the basics, and give you the opportunity to try your hand. We'll cover everything from materials, working with a facilitator, sketching objects and people, typography, metaphor, layout, timing, types of engagements, and whatever else we can manage to squeeze in.
Why is it so cheap, and what's included?
Transparency alert! Our passion for sharing what we've learned about graphic recording over the years, while very real, is not our only motivation for running this workshop. At Sketch Group, we've developed a reputation as a provider of high quality graphic recording services, and there is more work than our team can handle.
The obvious solution is to grow the Sketch Group team. Last time we ran this workshop, a handful of illustrators came on board to make videos, create illustrations, and continue to work on their live sketching skills. We're hoping the same will happen again from this workshop—that we'll meet some talented people who show potential and interest in graphic recording, who we then might be able to actually engage professionally down the track. That said, please don't come along feeling like this is a job interview—all skill levels are welcome. But if you decide after the workshop that you're interested in pursuing this as more than a hobby, we are indeed looking to build a team of talented people to subcontract out to the amazing clients that we're currently working with.
So the ticket price is purely to cover the costs of materials and venue hire—you'll be provided with a canvas and markers to draw with. Normally our Chief Doodler, Matt, charges upwards of $900 for similar workshops, so this really is a unique opportunity to learn some rad skills that could change how you work.
Will there be food?
Morning tea will be provided. If you're worried about lasting three hours then we recommend starting the day with a hearty breakfast, so you're not starving while exercising your brains and your drawing hand.
Who is the instructor?
Your instructor for this session will be Max Harman.
From a background of project management in the government and corporate sectors, Max developed a love of mass communication when touring internationally with her rock band.
She was inspired to embark on a new career when she saw a public speaker draw symbols to augment his speech. A visual spark was lit…
Max now uses graphic recording to capture and interpret complex concepts, engage audiences, and raise conference profiles in the South East Asian region.