Refund policy
Contact the organiser to request a refund.
Eventbrite's fee is nonrefundable.
Sales Have Ended
Ticket sales have ended
Thanks so much for signing up to our Graphic Facilitation Workshop - Virtual 'Become a Whiteboard Ninja' 5-week course. I am absolutely delighted to have you on board and really looking forward to spending time with you starting the 30th September. Check your email for all the course details and what your equipment you will need for the course. Chat soon, Simon Banks
Do you want to take your storytelling and visual communication to the next level?
About this event
Mark Monday 22nd November as a date not to be missed.
It's our FINAL Whiteboard Ninja for 2021 and we are going VIRTUAL!!
Before you sigh and go "Uugh...Virtual", the great news is that this medium - visual communication - works beautifully over a screen and you're joining a bunch of other happy Whiteboard Ninja's who have had a mighty fine time online over the last two years.
Even more great news, you are going to learn online over 3 weeks what it takes some to learn in 4 years.
This Visual Facilitation Workshop will show YOU how to:
Take your workshops and facilitation to another level
Cut out the clutter and make the complex simple
Communicate with key stakeholders more efficiently
Be able to easily prototype an idea using design thinking principles
Present ideas to management in a compelling way (that our brain craves)
Stop killing your audience with text-heavy PowerPoint
Grab your audience's attention by including people in your presentations
Develop visual communication skills across all mediums
Ditch the 'I can't draw' mindset once and for all!
What you will leave with:
Understanding the science of why our brain loves pictures
Developing a new of thinking – what does that look like?
Learning to draw what you see, not what you think you see!
Knowing what NOT to do
The confidence and skill to stand up in front of a room and say 'let me draw that'
The ability to take people on a journey through visual storytelling
A complete tool kit of tips and resources to use going forward
Post event 1:1 coaching session
Post event 10 week drawing challenge to keep the learning and skills alive
Some added secret bonuses (We share this over the course)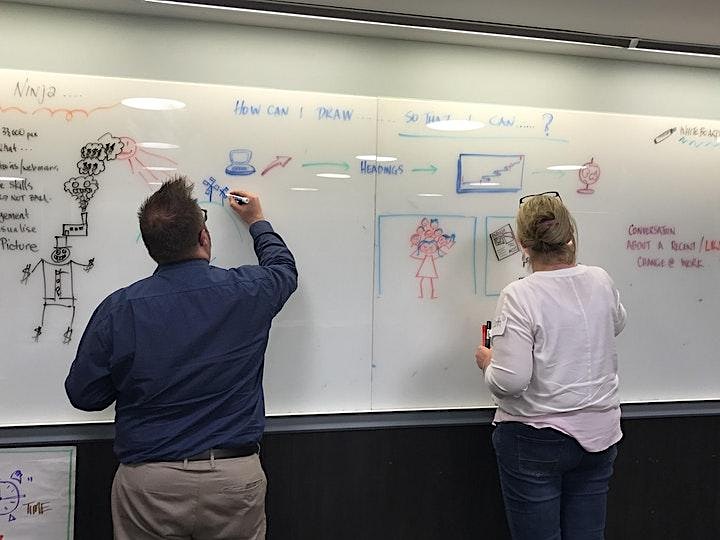 Who is this course for?
Trainers and Facilitators
Presenters
Learning and Development Professionals
UX and CX Designers
Innovation Professionals
Design Thinkers and Design Leads
Team Leaders and Problem solvers
Change managers
Storytellers
Strategists and strategic thinkers
Communication professionals
Anyone who wants to engage an audience and turbocharge the way they communicate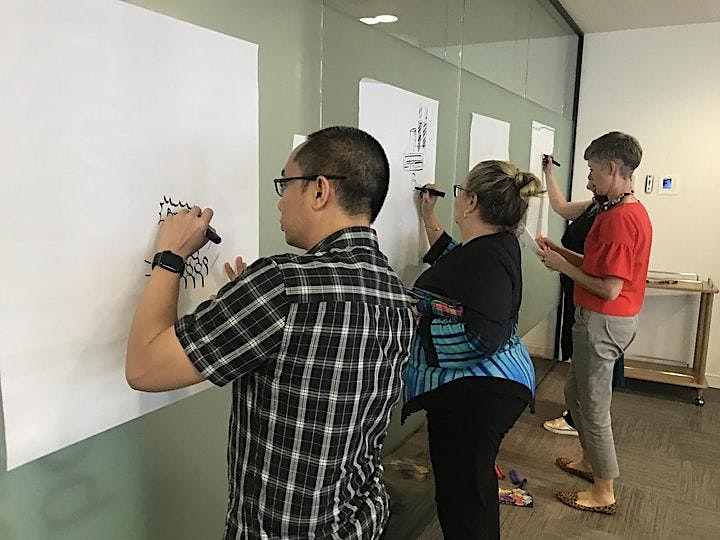 How does it work?
Simon has developed a unique approach over the past 15 years that focuses on 3 fundamental principles. These are principles that allow ANYONE who walks away from our VIRTUAL VISUAL FACILITATION workshops to express their thoughts visually.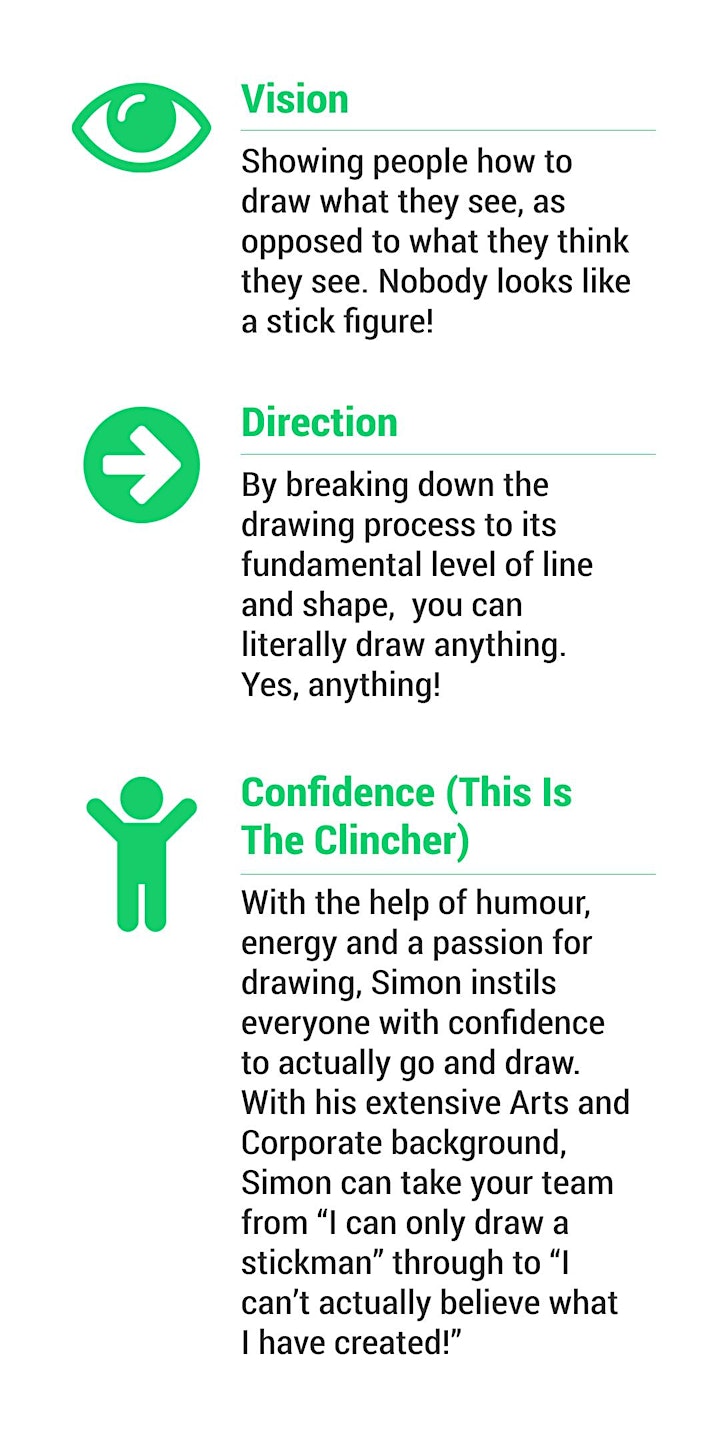 Sound great, but who facilitates this?
Simon Banks is an Author, Podcaster and International Keynote Speaker and happily recovering artist. Not your usual corporate-turned-creative, Simon knows his art and has a passion for helping people to draw and rediscover their most human elements of curiosity, creativity and imagination and let these thrive. He has run drawing programs for NAB, ANZ, Queensland Government, EY, numerous Federal Government organisations and Sydney's University of Technology, MBA Entrepreneur program.
Want to know more about Simon? Click here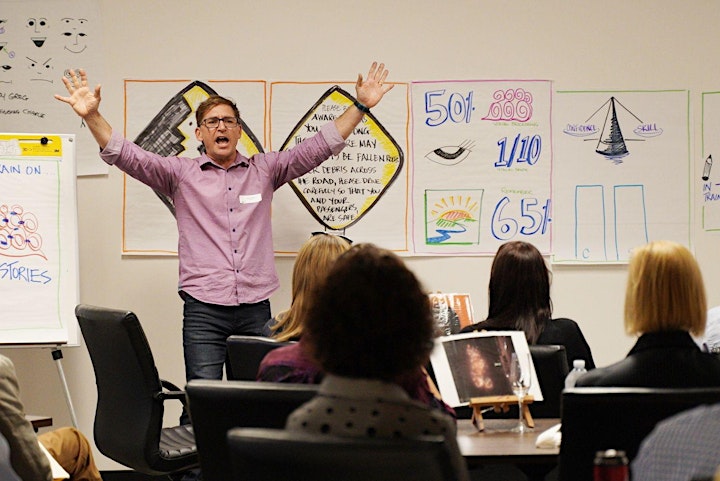 Where is this held and what does it cost?
Our virtual 'Become a Whiteboard Ninja' workshops will be held for 5 x 2 hour sessions over three weeks every Monday and Thursday. The first program kicks off Monday 22nd November 2021.
Cost of the 3 week course: $650 ex GST.
Discounts for buying 2 tickets with a saving of $70/pp. Grab yours now via the ticket options.
Each session will go for two hours (with a break!)
Day Session from 9:30am - 11:30am AEDT
Evening Session from 6:00pm - 8:00pm AEDT
The dates are:
Monday 22nd November
Thursday 25th November
Monday 29th November
Thursday 2nd December
Monday 6th December
Our virtual programs are kept close and personal with a maximum of 10 people for each workshop, to ensure you get the most value out of your time.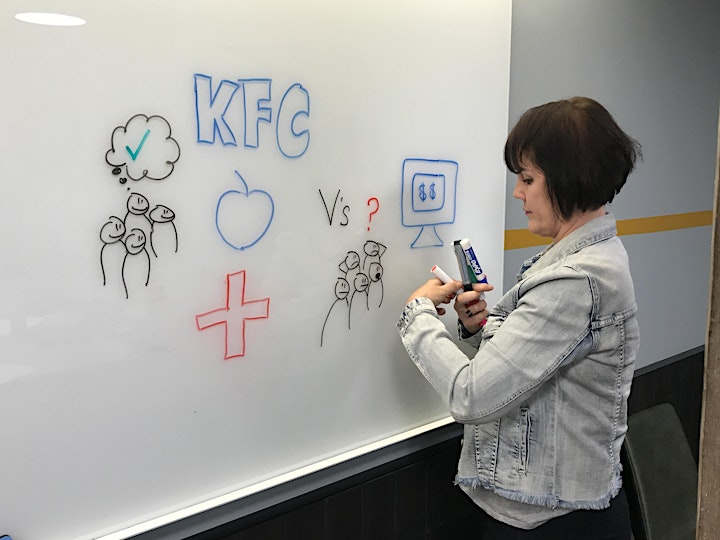 Testimonials
I brought Simon in to a client site to run a 3-hour workshop for 25 Business Improvement folk on visual facilitation (How-to-do). He was awesome. Super easy to work with, and excellent facilitation of the workshop itself. Weeks later the new skills are still being used and the team is communicating much more effectively with their stakeholders. Highly recommend!
Jennifer Frahm, Senior Consultant, Personal Banking, Business Improvement NAB
I had the pleasure of attending Simon's full-day Graphic Facilitation course recently in Sydney and could not recommend it highly enough. True to his word, Simon packed a punch of content into the day - there is great ROI in attending this workshop as I walked out literally ready to go and implement my new graphic facilitation skills. Simon's friendly and funny expert facilitation and guided learning ensured that by the end of the day we had each achieved our individual objectives, and so much more! I would definitely recommend this workshop for anyone who's looking to level up in facilitation and visual communication. I would love to attend more of Simon's workshops in the future.
Jane Waterson, Change Management | Transformation | Leadership | Founder and Director @ Delta Mash
I invited Simon to facilitate one of our MBA in Entrepreneurship (MBAe) masterclasses at the UTS Business School on the topic of Visual Communications, which he delivered with great energy and skill. Simon challenged attendees to think differently and develop more confidence around their visual expression. It was noticeable how in the following weeks students were more likely to uses simple graphics and sketches in their communication. I look forward to working with him again on future classes.
Jochen Schweitzer, Director MBA Entrepreneurship, University of Technology Sydney
Here is someone who knows how to distill years of experience in creativity into bite-size nuggets of gold. Simon's 'Whiteboard Ninja' training was one of my highlights in this Covid confinement chaos. The course is playful, highly interactive and both practice and application-focused. The final session with a series of scenarios as prompts for fast drawings is brilliant! A great confidence-builder for facilitators/presenters who understand that a picture tells a thousand words.
Rachel Audigé, Facilitator | Coach | Author| Trainer & Advisor in Innovation & Marketing Strategy
Simon and his team designed and delivered workshops and visual facilitation activities for the entire leadership team (200 or so) to explore the vision for the new city of Canterbury Bankstown. The outcome was a visual representation of our new organisation, what we do and how we deliver services to our community which will be essential to driving our organisation forward. Simon was brilliant. Well done!
Janelle Davidson, Senior Project Officer Organisational Development at Bankstown City Council
I have recently been a participant in Simon's Whiteboard Ninja course. What can I say! Simon has provided me with the tools to help me communicate more effectively with my clients, but also the confidence to try and express what is in my head on paper without the fear of my artistic limitations being exposed. The classes have been fabulously facilitated and the collaboration with other participants in a virtual environment has been awesome. I would highly recommend Simon to help unleash your potential and your inner visual story teller.
Sean Walker, Change Management Professional, Project Lead at Arafmi
Check out what a recent Whiteboard Ninja participant has to say about the course:
Need more information?
Download the full course overview here, why our brain loves visuals, location, timings, and what's included.
Have questions?
Email Simon @ letschat@simonbanks.com.au
Or call 1300 227 215